Neo-Nazi among 5 dead in Arizona shooting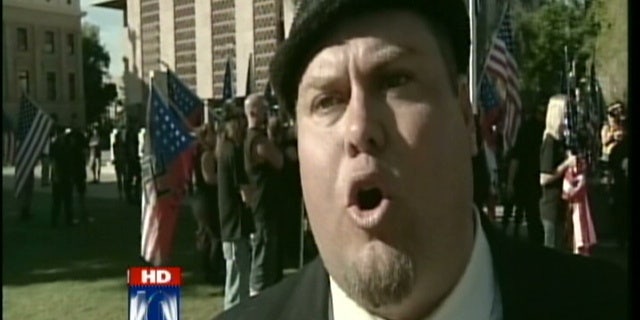 Police have identified one of the five people killed in a shooting in a Phoenix suburb as a former Marine with ties to new-Nazi and Minutemen groups.
Jason Todd Ready organized a militia in the Arizona desert with the goal of finding illegal immigrants and drug smugglers.
The 39-year-old, known as "JT," outfitted himself with military fatigues, body armor and gas masks, and carrying assault rifles. He also had led the white supremacist National Socialist Movement, and entered as a candidate for the position of Pinal County Sheriff at an upcoming election.
On Wednesday, police responded to reports of shots fired at the home of 47-year-old Lisa Mederos, MyFoxPhoenix reports.
Mederos was reportedly the girlfriend of Ready, who had allegedly been living at her home for the past two years.
Police say in addition to Ready being killed in the shooting, 16-month-old Lily Lynn Mederos, 23-year-old Amber Nieve Mederos, 38-year-old Lisa Lynn Mederos and 24-year-old Jim Franklin Hiott were also found dead.
Phoenix-area media reports that Amber and Lily were Mederos' daughter and granddaughter.
Police say the gunman is among the dead but haven't said who it is.
At a briefing for reporters, Gilbert police Sgt. Bill Balafas said all the evidence points to the shooting being related to domestic violence. He didn't elaborate. Officers have recovered two handguns and a shotgun.
Gilbert police told FoxNews.com they are still looking at suspects, but based on witness reports they think the shooter is one of the deceased.
MyFoxPhoenix also reports Ready's car was parked in the driveway at the home. Witnesses said a SWAT team sealed off part of the area and investigators told residents to remain indoors.
Police are testing an unknown liquid found in 55-gallon drums found in the backyard of the home where the shooting took place. Officers are staying out of the home while a hazardous materials crew samples the liquid as a precautionary measure.
Ready made headlines in the past when he started a militia, named the U.S. Border Guard, to hunt illegal immigrants and drug gangs in the Arizona desert.
The former marine was open about his dreams of a white-only America and was a featured speaker at many Neo-Nazi rallies.
"Lets face it - we are it," Ready recently posted on Facebook according to MyFoxPhoenix. "SEALs and SF are not stepping up to the plate to train American patriots to defend their homeland. We have traitors in office, an apathetic population, hostile media, narco-terrorists, cartel invasion, narco-insurgency, street gangs the size of armies, vicious prison gangs - if not fight back now while we have a chance then when?"
Ready's campaign's Facebook page posted after the shootings were announced that they had heard reports a "cartel assassination squad murdered JT Ready and several of his friends and family this afternoon," and vowed to keep the page updated.
Click here for more on this story from MyFoxPhoenix.com.
The Associated Press and Newscore contributed to this report.