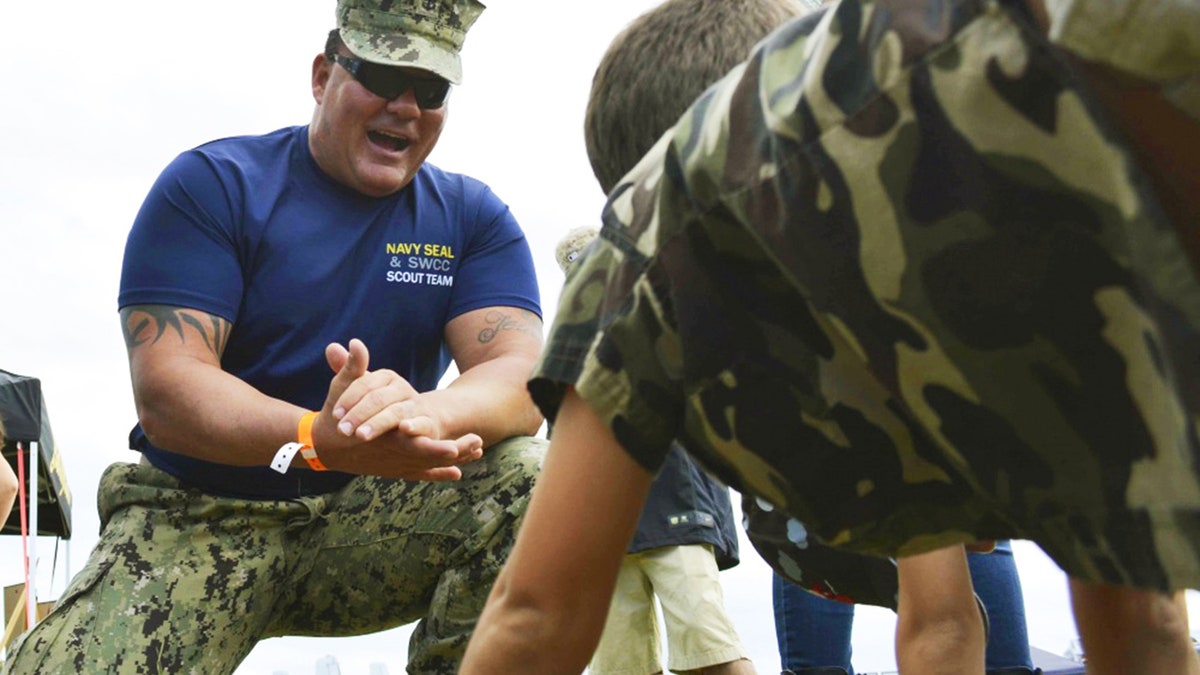 A decorated Navy SEAL is under investigation for allegedly moonlighting as a porn actor with his wife.
The Naval Special Warfare Command is looking into whether Chief Special Warfare Officer Joseph Schmidt III obtained permission from his commanders for outside work and whether they condoned his acting career, The San Diego Union-Tribune reported Friday.
"There are very clear regulations which govern outside employment ... as well as prohibitions on behavior that is discrediting to the service," said Capt. Jason Salata, a SEALs spokesman.
Schmidt, 42, has been in the military for 23 years, obtaining numerous medals including a citation of valor for combat overseas. He has appeared in recruiting campaigns, even serving as the face of the SEAL program on its website, the Union-Tribune said.
However, he has also appeared under the name Jay Voom in a least 29 adult films over seven years, many of which feature his wife, porn star Jewels Jade.
Schmidt declined to comment to the newspaper, but his wife said many of his fellow SEALs at the Coronado base in Southern California watched the videos online.
"They knew about it at work," Jade said. "He got called in and they said, 'Look, keep it on the low, don't mention the SEAL name and blah, blah, blah.' "
"He was always pretty open about it with the command," she said. "I mean, honestly, all of his buddies knew about it. Everybody knew about it.
The paper said the titles include "Apple Smashing Lap Dance" and "Strippers Come Home Horny from the Club."
Jade first appeared in porn films in 2001, but she left the industry by 2003 to become a wife and mother and help run a real estate firm the couple founded in 2005 while Schmidt was assigned to Virginia.
The business foundered, and the couple filed for bankruptcy after running up nearly $2 million in debt, the Union-Tribune said.
As business losses deepened, Jade turned to stripping to make ends meet and then returned to making porn films.
"It's helped our family. It got us out of a lot of financial issues we were going through," Jade said. "I could take care of the child. I could try to get us out of financial debt."
Jade said she has tried to obtain other work. But her fame, with millions of fans worldwide, made it difficult.
She sought a management job at a San Diego luxury hotel last year but was recognized before she finished her employment interview. "Once you're recognized and you build a brand and you've got your fans who know who you are, when you go to try to find a job, you can't get another job," she said.
Schmidt was transferred to Coronado in 2009. Jade said she recruited her husband as an unpaid performer to cut the costs of making films for her website and film-distribution service.
The military has taken a dim view of its members engaging in racy pursuits.
U.S. Air Force Staff Sgt. Michelle Manhart, a training instructor, was reprimanded and demoted after she posed nude for Playboy in 2007. The Navy discharged or otherwise disciplined about a dozen servicemen and servicewomen in 1980 for posing in Playboy or Playgirl.
The Associated Press contributed to this report.