Navy Launches Massive Search for Missing F/A-18 Pilot after Crash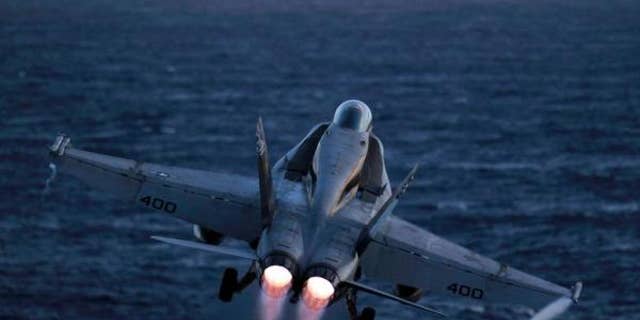 Navy rescue swimmers and helicopters are searching the western Pacific near Guam in hopes of finding the missing pilot following Thursday's crash of two F/A-18C Super Hornets, service officials said.
The two F/A-18s collided roughly 250 miles off of Wake Island near Guam, according to multiple reports. The two aircraft were assigned to Carrier Air Wing 17 aboard the aircraft carrier Carl Vinson, said Navy Lt. Lauren Cole, a 7th Fleet spokesman.
One pilot was immediately rescued near the crash scene and is currently receiving medical attention on board the Carl Vinson. Cole said the pilot is said to be in "fair condition."
"We're glad that we have one pilot that we were able to recover immediately. We continue an exhaustive search effort to find the other pilot," she said.
Along with the Carl Vinson, the ongoing search for the missing pilot involves the USS Bunker Hill, USS Gridley, USS Sterett, USS Dewey and helicopters with the Carl Vinson Strike group, Cole explained. At least three helicopters are currently searching for the pilot, she said.
"The helicopters are conducting airborne searches. They fly search patterns and they look for indications of where the pilot may be. The search assets include a variety of sensors from FLIR (Forward-Looking Infra-red) sensors on the MH-60s to the naked human eye. FLIR comes in handy at night because you can pick up a heat signature," Cole said.
The MH-60 helicopters involved in the search are equipped with on-board rescue swimmers. Service officials did not want to speculate on water temperature near the crash area or venture an estimation of how long a downed pilot might be able to survive in the water.
"There are all kinds of factors that go into a search like this. We will continue to provide every asset and every effort that we have to ensure that the search and rescue effort is as exhaustive and as thorough as it can be," she said.
The two F/A-18C Hornets have not been recovered and the cause of the incident is under investigation. Navy officials said there is no indication that there was any kind of hostile activity in the area which may have contributed to the crash.
The Carl Vinson is currently on assignment in the Indo-Asia-Pacific region and scheduled to take part in a training exercise.
Wake Island is a coral atoll with a coastline of 12 miles north of the Marshall Islands. It is referred to as an unincorporated U.S. territory that is home to about 150 people. All activities on the island are managed by the Air Force and the area also has an Army missile facility.
"We have a lot of assets that operate in and around the Guam area," Cole said.
-- Kris Osborn can be reached at Kris.Osborn@monster.com