The gunman who opened fire Friday morning at Naval Air Station Pensacola in Florida, fatally shooting three people, has been identified as Mohammed Saeed Alshamrani, an aviation student from Saudi Arabia, and investigators are looking into whether the attack is terrorism-related, a U.S. official told Fox News.
The shooter -- who was wielding a handgun, despite firearms not being allowed on base -- was confronted and taken out by a pair of responding officers, officials said. Two people were killed at the scene while a third victim died after being rushed to a local hospital. Seven others suffered injuries and are undergoing treatment, including the two officers, one of whom was shot in the arm and the other in the knee. Both are expected to survive.
TRUMP SAYS SAUDI KING CALLED HIM ABOUT NAS PENSACOLA SHOOTING, SAID SAUDIS ARE 'GREATLY ANGERED'
Investigators have not yet determined a motive and were not ready to confirm the shooter's identity, Rachel Rojas, an FBI Special Agent in charge of the Jacksonville Field Office said at a news conference late Friday.
The U.S. Attorney for the Northern District of Florida, Larry Keefe, also added that more details about the shooter are expected to become available on Saturday.
Six Saudis were also arrested near the scene of the shooting on Friday and are being questioned by investigators, a senior U.S. defense official told Fox News.
"The government of Saudi Arabia needs to make things better for these victims," Florida Gov. Ron DeSantis, who said he had spoken to President Trump about the shooting, told reporters during a news conference Friday afternoon. "They are going to owe a debt here given that this is one of their individuals."
The Saudi Arabian Ministry of Foreign Affairs expressed "its deep distress" following the shooting and offered "its sincere condolences to the victims' families, and wishes the injured a speedy recovery," they said in a statement on Friday.
"The perpetrator of this horrific attack does not represent the Saudi people whatsoever. The American people are held in the highest regard by the Saudi people," the statement said.

"Building upon the strong ties between the Kingdom of Saudi Arabia and the United States of America, and in continuation of the ongoing cooperation between the two countries' security agencies, the Saudi security agencies will provide full support to the US authorities to investigate the circumstances of this crime.​"
"Anyone who serves in the Navy knows that this is a special place, Naval Air Station [NAS] Pensacola," DeSantis added. "All these brave warriors who wear the wings, they come through here for flight training. And so this is a dark day for a very great place."
PEARL HARBOR NAVAL SHIPYARD SHOOTING LEAVES GUNMAN, TWO OTHERS DEAD
NAS Pensacola is home to the Naval Education and Training Security Assistance Field Activity's International Training Center, which the Navy says was "established in 1988 to meet the aviation-specific training needs of international officers and enlisted students from allied nations."
"Immersing international students in our U.S. Navy training and culture helps build partnership capacity for both the present and for the years ahead," Cmdr. Bill Gibson, the center's officer in charge, said in 2017. "These relationships are truly a win-win for everyone involved."
The majority of the hundreds of foreign aviation students who have participated in the program are from Saudi Arabia, the Navy says. The Naval training program has about 1,500 pilots in total.
Saudis have received training at the Pensacola site since the 1970s, with as many as 20 students from the Middle Eastern country in any given class, sources told Fox News. Many of the students are often from the Royal Family, putting pressure on officials to pass pilots through the training program in an attempt to preserve diplomacy with the U.S. ally.
Many U.S. military pilots have complained for decades that some of the Saudi pilots are not safe flyers, sources said.
Sources told Fox News that the scene of the shooting -- a classroom, where students usually spend three months at the beginning of the program -- indicated that the shooter was a student who was "early" in his training.
Sen. Rick Scott, R-FL, later said on Twitter he is calling for a "full review" of the Navy training programs after investigators said they were exploring the possibility that the attack is related to terrorism.
"I'm very concerned that the shooter in Pensacola was a foreign national training on a U.S. base. Today, I'm calling for a full review of the U.S. military programs to train foreign nationals on American soil. We shouldn't be providing military training to people who wish us harm," Scott wrote.
Security at the base had been beefed up over the last 5 years and the addition of a front gate barred access to civilians from neighboring Pensacola. It would take civilians about 45 minutes to get through security at the front gate but not every car is always checked, sources said.
Further details about the shooting incident Friday were not immediately available.
PEARL HARBOR NAVAL SHIPYARD SHOOTER IDENTIFIED, SURVIVING VICTIM IN CRITICAL CONDITION
Police say they first received a call about the shooting at 6:51 a.m. At 7:48 a.m., police confirmed that the shooter was dead.
The base will remain closed until further notice and the FBI, ATF and the U.S. Attorney General's Office are said to be assisting in the investigation.
Escambia County Sheriff David Morgan praised the responding officers during a news conference Friday, saying that "they ran to the fight, not from the fight."
"The best of our community was on-scene today," Morgan said. "And that's why it turned out the way it did."
Jeff Bergosh, an Escambia County commissioner who works at NAS Pensacola as a civilian contractor, told the Pensacola News Journal that he saw ambulances and fire trucks racing toward the base while he was waiting in line to enter at one of its gates.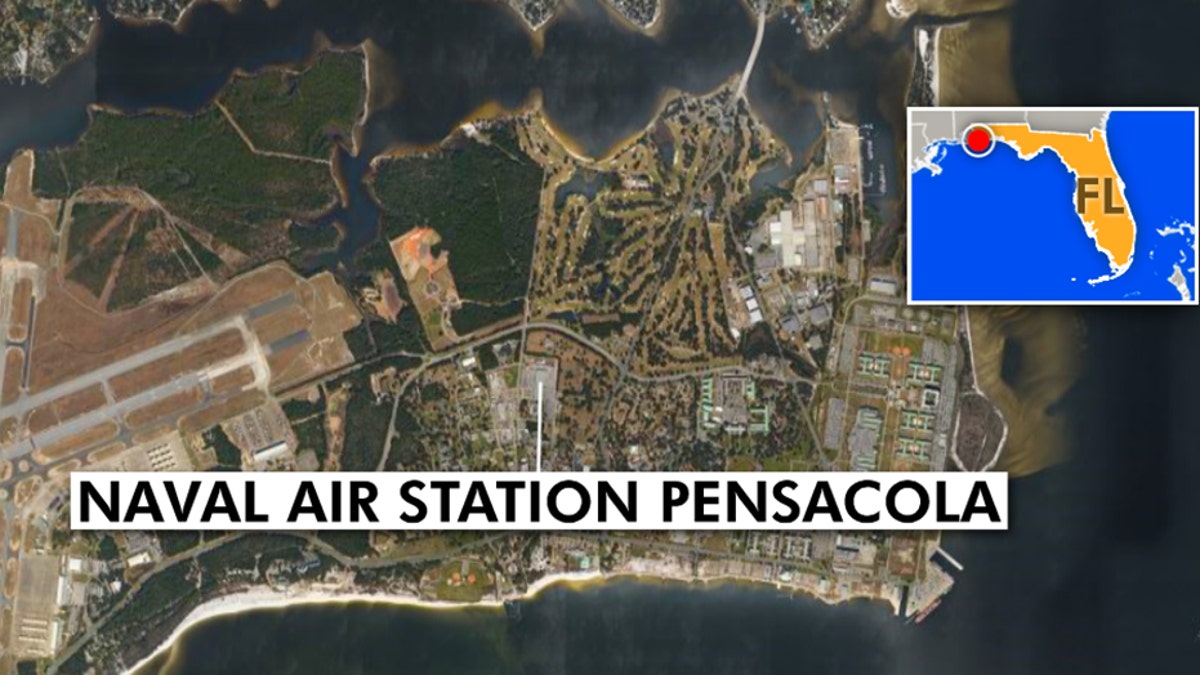 "There's probably been 100 or so various law enforcement vehicles zooming down the wrong side on Navy Boulevard," he said, adding that he received a call from co-workers on base who reported being on lockdown.
Lucy Samford, 31, said her husband, a Navy reservist and civilian worker on the base, was about 500 yards from where the shooting happened. She said she got a call from him a little after 7 a.m. and "one of the first things out of his mouth was, 'I love you. Tell the kids I love them. I just want you to know there's an active shooter on base.'"
Her husband, whom she declined to identify, later told her he was OK.
The incident comes days after a sailor fatally shot two people and injured a third before turning a pistol on himself at Pearl Harbor Naval Shipyard.
CLICK HERE FOR THE FOX NEWS APP
"This has been a devastating week for our Navy family," Adm. Mike Gilday, Chief of Naval Operations said in a statement Friday. "Our hearts break for those who lost their lives in Pensacola and the wrenching pain it causes their loved ones. When tragedy hits, as it did today, and Wednesday in Pearl Harbor, it is felt by all. Those who grieve do not do so alone. We grieve together alongside you."
"We serve together as one team, as one Fleet, as part of one Joint Force. As shipmates - uniform and civilian, active and reserve - we must come together to be the strength and support for those who need us now. No one should feel alone. Gilday said, offering a number of counseling services for those affected by the shootings. "That extra effort to extend a hand or lend an ear to those who need help should never be underestimated. It will make a difference."
Defense Secretary Mark Esper also offered his condolences to the families and victims of both shootings.
"The Department of Defense continues to monitor the situation in Pensacola and gather all the facts of each attack. I've spoken with Governor DeSantis, the Secretary of the Navy, and Deputy Secretary Norquist and am considering several steps to ensure the security of our military installations and the safety of our service members and their families," Esper said in a statement Friday.
"I'm grateful for the heroism of the first responders and law enforcement who helped confront both situations and kept further loss of life from occurring. To all our sailors, soldiers, airmen, and marines, and civilian personnel, we stand ready to assist and make resources available to deal with the grief in the aftermath of these tragedies as well as life's challenges in general."
NAS Pensacola employs more than 16,000 military and 7,400 civilian personnel, according to its website. One of the Navy's most historic and storied bases, it sprawls along the waterfront southwest of downtown Pensacola and dominates the economy of the surrounding area.
It's home to the Blue Angels flight demonstration team and includes the National Naval Aviation Museum, a popular regional tourist attraction.
Fox News' Jennifer Griffin and Lucas Tomlinson contributed to this report, as well as The Associated Press.