Myanmar falls short on key reform pledges made to Obama 2 years ago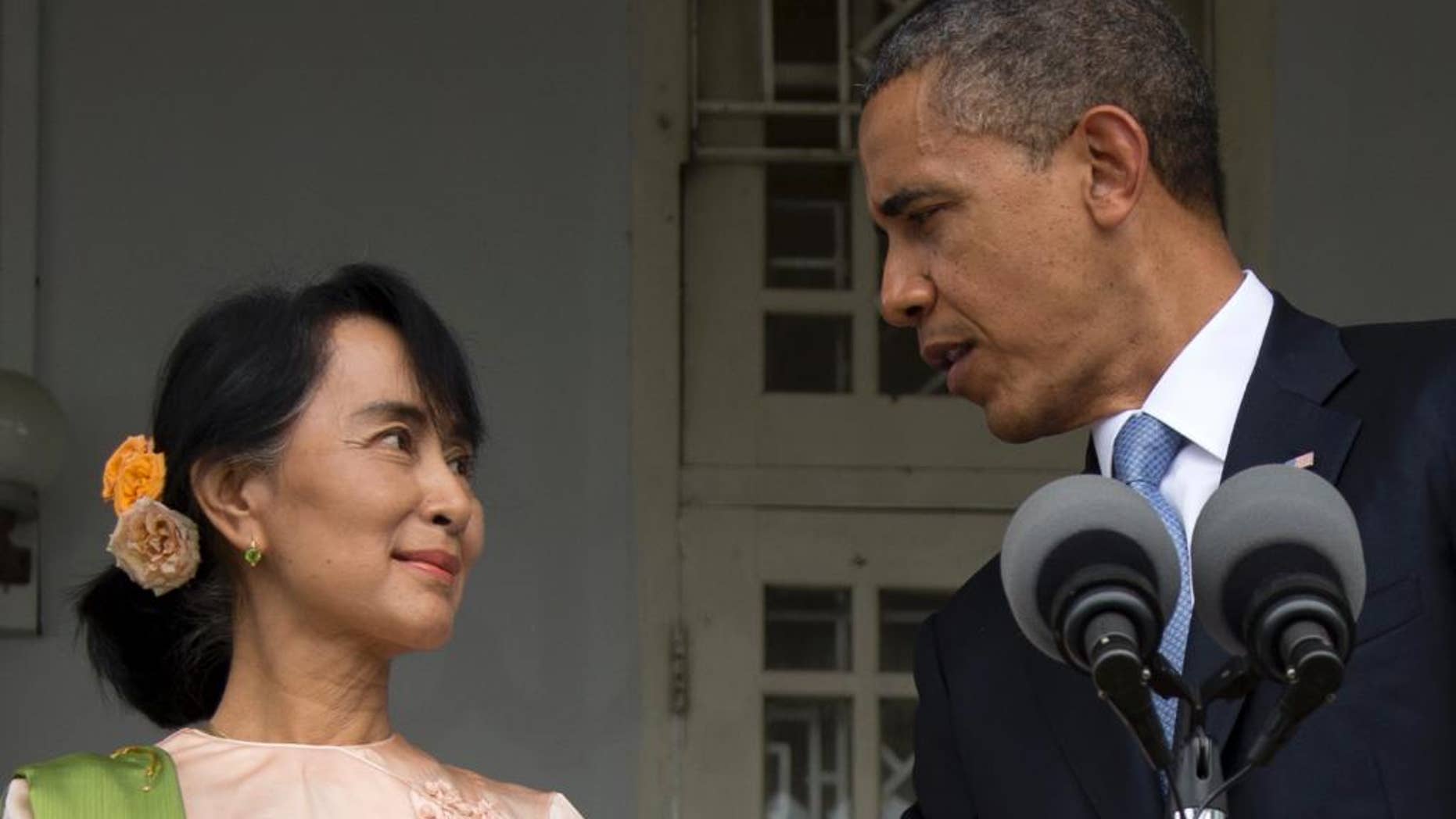 WASHINGTON – President Barack Obama's visit to Myanmar in 2012 was a celebration of the nation's historic shift from military rule. But as Obama returns this week, optimism over economic and political reforms has faded. Revered opposition leader Aung San Suu Kyi has questioned what's been accomplished in the last two years.
The answer is mixed — according to the standards set by Myanmar's own government.
On the eve of Obama's first visit, Myanmar President Thein Sein made 11 policy pledges. The quasi-civilian government has progressed on some counts, but there are deep problems on others.
The pledges don't touch on the now-burning issue of the military's role in politics ahead of elections next year, but they address key human rights concerns, the arms trade with North Korea and anti-Muslim violence.
An Associated Press review of how Myanmar has done:
___
GOAL: Allow the International Committee of the Red Cross access to prisons.
UPDATE: In early 2012, the government agreed to first Red Cross prison visits in seven years. Spokesman Ewan Watson said the humanitarian agency has visited 28 places of detention this year with full cooperation from the Home Affairs Ministry. Rights activists view Red Cross access an important step in reducing reports of torture, but says allegations of ill treatment of detainees persist.
___
GOAL: Invite the U.N. High Commissioner for Human Rights to establish an office in Myanmar.
UPDATE: The government issued the invitation in November 2012 but has refused to let the U.N. agency open an office that could monitor human rights rather than just provide training. So U.N. staff visit on a rotating basis, and a special rapporteur on human rights visits and issues a report twice a year. In this case, a rapporteur is a person appointed by the U.N. to report on human rights in that country.
___
GOAL: Allow blacklisted people to enter and leave the country.
UPDATE: Formerly blacklisted human rights activists, journalists and others have been able to visit. Also, exiled Myanmar dissidents have returned. But some returning exiles have been unable to secure Myanmar citizenship, and several members of the Burmese diaspora say they have been denied visas in the past year. Some freed political prisoners face travel restrictions because of parole conditions.
___
GOAL: Initiate a process to assess the criminality of remaining political prisoners.
UPDATE: The government says all political prisoners from the days of military rule have been freed. The State Department says more than 1,300 have been released in the past three years, including several hundred since Obama last visited. But 27 prisoners are still held, according to main nongovernment group tracking the issue. And rights groups say hundreds of new dissenters, including writers, activists and farmers demonstrating against land grabs, have been detained in the past year.
The government is preparing to disband a committee, set up after Obama's 2012 visit, that determined which inmates were eligible for pardons and amnesties. It plans to replace it with a task force that would be controlled by the Home Affairs Ministry — the very institution that controls prisons.
___
GOAL: Pursue a durable cease-fire in Kachin state, scene of the largest ethnic rebellion. Pursue sustainable political solutions with ethnic minorities.
UPDATE: Since independence, Myanmar has been plagued by fighting between its army and ethnic minorities seeking more autonomy. Thein Sein's administration has done more to pursue sustainable peace than any Myanmar government for decades, holding several rounds of talks with a coalition of rebel groups, aimed at reaching a nationwide cease-fire that could lead to political talks.
But deep distrust remains, and fighting escalated in October between government forces and ethnic Shan and Karen rebels. In northern Kachin state, where the largest rebel group is based, about 100,000 villagers remain displaced by fighting that has rumbled on since 2011.
___
GOAL: Take decisive action in Rakhine state, the scene of communal violence, to prevent attacks against civilians, hold perpetrators to account and meet the humanitarian needs of the people. Address contentious political issues.
UPDATE: Attacks by Buddhist extremists since mid-2012 have left hundreds of minority Rohingya Muslims dead and 140,000 trapped in dire conditions in camps. More than 100,000 Rohingya have fled Myanmar by boat — with departures reported to be accelerating in recent weeks. Hundreds of the migrants have died at sea. Few perpetrators have been arrested or punished for attacks.
Authorities have obstructed humanitarian access, worsening conditions for camp inmates and leading to preventable deaths. The main international aid group in Rakhine state, Doctors Without Borders, was expelled in February. Operations adviser Reshma Adatia said the group is hopeful it can resume its medical activities in the coming week but hasn't yet received formal authorization.
A draft government plan would enable the estimated 1.3 million Rohingya in Myanmar to seek a form of citizenship but only if they categorize themselves as "Bengalis," which they object to as it implies they are illegal migrants from Bangladesh. Those denied citizenship would be put in camps with a view to being deported. The U.N. special rapporteur Yanghee Lee said the plan could result in "permanent segregation."
___
GOAL: Expedite negotiations with international humanitarian organizations for broader access to conflict-affected areas.
UPDATE: The International Committee of the Red Cross has opened new offices in Shan and Kachin states and been allowed into conflict zones, including areas both inside and outside government control in Kachin. But Lee said the U.N. and humanitarian agencies should be given more regular access, particularly in rebel-held areas. Hundreds of thousands of members of ethnic minorities remain displaced in the nation's border regions.
___
GOAL: Sign the Additional Protocol to the U.N. nuclear agency's Comprehensive Safeguards Agreement.
UPDATE: Myanmar signed the protocol in September 2013, but has yet to ratify it. The agreement requires the government to declare all nuclear facilities and materials and allow greater scrutiny by U.N. inspectors. That could lay to rest suspicions that the former ruling junta dabbled in nuclear technology, possibly with North Korea's help, which Myanmar has always denied.
___
GOAL: Abide by U.N. Security Council Resolution 1874 prohibiting imports of weapons from North Korea.
UPDATE: Ending North Korean arms sales to Myanmar has been a key aim of the U.S. engagement policy. U.S. officials say Myanmar has taken significant steps in that direction. But Myanmar has not cut all military ties to North Korea. In December 2013, the U.S. Treasury blacklisted a Myanmar military officer and three companies accused of continuing the illicit arms trade. A general was blacklisted in July 2013 on similar grounds.
___
GOAL: Strive for more open and accountable government.
UPDATE: The government has fired hundreds of civil servants for petty corruption. There's increasing disclosure of the government's budget and parliamentary scrutiny. Myanmar has applied to join the Extractive Industries Transparency Initiative, an international compact intended to ensure full disclosure of taxes and other payments made by oil, gas and mining companies to governments.
But reporting of revenues by state-owned enterprises, including on jade and timber, remains patchy. The military and cronies of the former ruling junta dominate the economy. In Transparency International's annual Corruption Perceptions Index, Myanmar ranks among the worst: 157th out of 177 countries worldwide.
____
GOAL: Combat human trafficking.
UPDATE: For the past three years, Myanmar has stayed off the annual U.S. list of the worst offenders among nations that fail to combat human trafficking. Myanmar has taken steps to tackle cross-border sex trafficking. But there's growing evidence Myanmar's security forces are profiting off the mass departure of Rohingya Muslims by extracting payments from those fleeing by boat.
___
Associated Press writer Aye Aye Win in Yangon, Myanmar, contributed to this report.