Murder suspect used Mississippi cop's gun to kill him inside police headquarters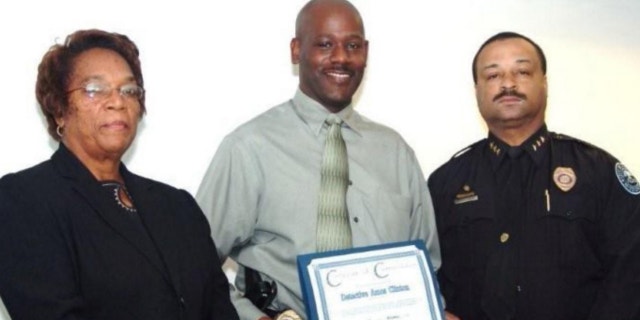 JACKSON, Miss. – A murder suspect wrestled a gun away from the detective interrogating him at police headquarters in Mississippi's capital, then fatally shot the officer before killing himself, authorities said Friday.
Mississippi Bureau of Investigation spokesman Warren Strain said Friday that 23-year-old Jeremy Powell seized the gun from Jackson Police Detective Eric Smith in a third-floor interrogation room.
Smith, 40, had been with the agency nearly 20 years, was physically fit and was praised for his work leading numerous high-profile murder investigations, officials said.
"Eric was killed with his own gun," Strain said. Strain said he didn't have details about the gun but said it was Smith's service weapon.
Officials are slowly releasing details of how the men died Thursday. The state agency took over the investigation from the Jackson Police Department.
Powell was being questioned in connection with the stabbing death earlier this week of a 20-year-old Jackson man.
Autopsies were being performed Friday at the state crime laboratory, but Strain said it could be several days before the findings are released. The policy of the Mississippi Department of Public Safety is that autopsy reports are not released until they are completed, and some tests could take a few days, he said.
Meanwhile, city and state officials continued to mourn the death of Smith.
"He had a lot of analytical intelligence," said Hinds County Supervisor Robert Anderson, a former Jackson police officer who instructed Graham in a training class at the city's police academy. "He could develop his own leads and his own information. No one had to tell him what to do."
Mayor Harvey Johnson Jr. and Jackson Police Chief Rebecca Coleman asked for a moment of silence at noon Friday.
"Let us all come together as a city to mourn the loss of this exceptional member of the Jackson Police Department family," Johnson said in a statement. "Though we will never know the full measure of sorrow experienced by the family of Detective Smith, we can let them know that we stand with them during this difficult time."
Gov. Phil Bryant, a former Hinds County sheriff's deputy, also noted Smith's passing at a ceremony marking the 75th anniversary of the Mississippi Highway Patrol.
Smith is survived by his wife, Eneke, a sergeant with the Jackson Police Department, and two sons, Eric Smith Jr. and Quentin Smith. The family lived in a recently-built subdivision in Clinton, a western suburb of Jackson.
Clay Norton, the athletic director and head basketball coach at Clinton High School, said Eric Smith Jr. played on the basketball team before graduating in 2012. The younger Smith now attends Copiah-Lincoln Community College, where he was a forward on the school's basketball team. Quentin Smith is a high school senior this year participating in football, track and powerlifting, Norton said.
"Eric was involved in Quentin and Eric's sporting lives," Norton said. "He was always there to pitch in, working concessions or selling programs."
The Smiths live near the high school, and Norton said many students visited the family home. He said school counselors had spoken to some students Friday about the death.
"Eric was real close to a lot of the kids. Their home was always open," Norton said. "Eric and Quentin know how to act. They are always respectful and polite, and that indicates good parenting."