Mummified monkey found in century-old department store in Minnesota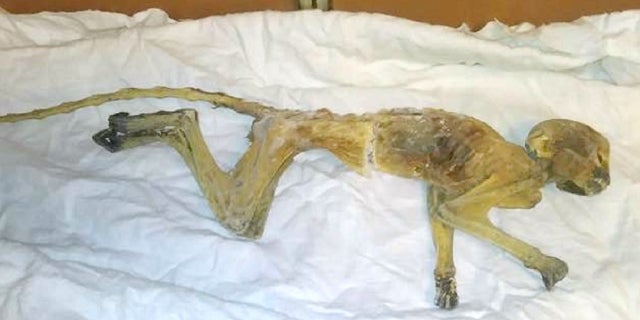 Crews working in a historic department store building in downtown Minneapolis made an unexpected discovery recently -- the mummified remains of a monkey.
Demo worker Adam Peterson submitted a photo to the "Old Minneapolis" Facebook page, a site dedicated to curating historic images of the Minnesota city. The page then posted the photo Sunday.
The monkey was found last week in an air duct on the seventh floor of the 116-year-old Dayton's building.
The Facebook post said the "long-deceased" monkey "revealed itself in a ceiling during the renovation."
Cailin Rogers is a spokeswoman for the Dayton's Project, in which the old store is being converted into an office, retail and restaurant complex. She said developers don't know where the monkey came from or how it ended up in the air duct.
"We continue to find pieces of history in the Dayton's Project as we redevelop the building," Rogers said in an email to the Minneapolis/St. Paul Business Journal. "Unfortunately this was one of the recent discoveries. We don't know the story or origin behind this, but we have been working with local museums to learn more and find homes for artifacts like this."
Steven Laboe, who commented on the Facebook post of the photo, said he used to work in the building in the early 2000s and was told by a longtime building worker that a monkey had escaped from the eighth floor pet store in the 1960s, the Business Journal reported.
Staff reportedly determined that the monkey escaped into the air conditioning ductwork -- they later discovered an odor.
The monkey was apparently caught in an exhaust fan, which may explain a cut seen in the animal's abdomen.
"If you look at the photo," Alan Freed, one of the site's co-administrators, reportedly said, "there is a definite injury to the body. There is a cut to the body that isn't natural."
Another commenter posted a Dayton's ad from 1963 of an exotic pet sale, which included two kinds of monkeys, Fox 9 Minneapolis reported.
The "Pet-O-Rama" decades ago was touted in a newspaper ad as being "a menagerie of delightful pets from all over the world!" the Minneapolis Star Tribune reported.
"They are finding so many interesting things as they get into the bones of that building, but who would ever have thought you would come across a dead monkey," Freed said, according to Fox 9.
The Dayton's project is scheduled to open to the public next summer, the report said. The office and retail complex will have a food hall in the basement.
The Associated Press contributed to this report.