Morning brief: White House asks Supreme Court to revive travel order
TRUMP'S TRAVEL ORDER HEADS TO SUPREME COURT
The Trump administration asked the Supreme Court late Thursday to let the revised travel ban to take effect. The administration filed two emergency applications with the nine Court justices seeking to block two lower court rulings that blocked President Trump's executive order. In the filing, the Justice Department argued that the appeals court in Richmond, Va. made several mistakes in ruling against Trump's travel order. "The president is not required to admit people from countries that sponsor or shelter terrorism, until he determines that they can be properly vetted and do not pose a security risk to the United States," Justice Department spokeswoman Sarah Isgur Flores said.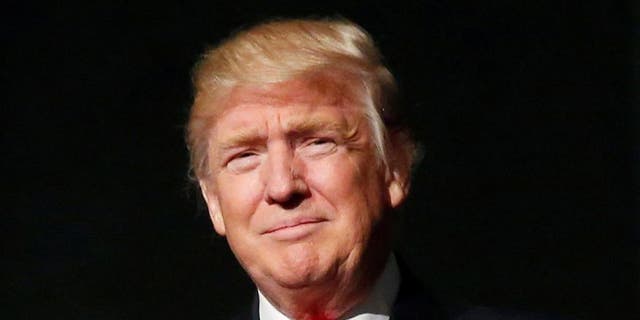 DHS IS 'NO CLOSER' TO EXPANDING LAPTOP BAN, OFFICIALS SAY
PUERTO RICAN NATIONALIST STEPS ASIDE FROM ROLE IN NYC PARADE, DE BLASIO SAYS
VICE PRESIDENT PENCE PRAISES TRUMP FOR WITHDRAWING FROM CLIMATE PACT
In an interview on "Hannity" Thursday night, Vice President Pence praised Trump's decision to withdraw from the Paris climate accord. He told host Sean Hannity that Trump was "fighting for American jobs." Pence described the 2015 agreement "a bad deal from the moment it was signed. He added: "This is an agreement that puts an enormous burden on American consumers [and] on the American economy while allowing countries like India and China to virtually get off scot-free for a decade or more," Pence said.
PENCE ON 'HANNITY': CLIMATE ACCORD PUT ENORMOUS BURDEN ON AMERICANS
WORLD REACTION TO US PULLOUT OF CLIMATE PACT
US WITHDRAWS FROM PARIS ACCORD AS TRUMP CALLS IT 'UNFAIR'
KATHY GRIFFIN TO ADDRESS TRUMP PHOTO, ALLEGED TRUMP FAMILY BULLYING
Kathy Griffin is set to explain the reasoning behind her controversial photo shoot with a bloodied mask of President Trump and respond to alleged bullying from the Trump family on Friday, her attorney announced. Griffin, along with attorney Lisa Bloom said in a joint news release the press conference will take place in Woodland Hills, Calif., at about 9 a.m. It will be the first comments Griffin has made since she was relieved of her duties as CNN's New Year's Eve host. (WATCH LIVE ON FOX NEWS CHANNEL AND FOXNEWS.COM AT 12:00 P.M. ET)
KATHY GRIFFIN'S PHOTO SHOOT SPARKS OUTRAGE AMONG VETERANS OF FOREIGN WARS
DONALD TRUMP JR. LASHES OUT AT 'JEOPARDY!' WINNER FOR MOCKING BARRON
POLICE HUNT FOR MAN WHO ALLEGEDLY STOLE ITEMS BELONGING TO PORTLAND STABBING VICTIM
Authorities in Oregon were searching Thursday for a man suspected of stealing the wedding ring and backpack of one of the victims in a stabbing attack last week. The ring and backpack belonged to Rick Best, one of the two men killed in the attack at a Portland train station, The Oregonian reported. Surveillance images released by police show a man in a black Jordan-brand hat and black shirt with an image of Marilyn Monroe on it with black shorts and black shoes carrying two bags off the train in the midst of chaos and confusion. One of the bags contained personal items, police said.
THREE DOZEN DIE IN BLAZE SET BY GUNMAN IN MANILA CASINO ATTACK
At least 36 people suffocated at a resort in the capital of the Philippines Friday after a gunman set several gambling tables on fire in what appeared to be a botched robbery, police said. The gunman was found dead in an adjacent hotel room of an apparent suicide. Metropolitan Manila police chief Oscar Albayalde said the bodies were found in smoky rooms by firefighters and all died from suffocation and smoke inhalation. None of the bodies had gunshot wounds.
SUSPECT FOUND DEAD IN MANILA CASINO ATTACK
REPORTS: MEN IN BLACK HOODS STORMED MANILA RESORT
COMING UP ON FNC
8:00 a.m. ET: "Fox & Friends'' Ainsley Earhardt sits down with Vice President Pence.
9:00 a.m. ET: Ryan Zinke, secretary of the interior, joins "America's Newsroom."
10:20 a.m. ET: Ohio Attorney General Mike Dewine joins "America's Newsroom."
10:40 a.m. ET: South Carolina Sen. Lindsey Graham joins "America's Newsroom."
1:30 p.m. ET: Press Secretary Sean Spicer holds press briefing.
FBN COVERAGE
Paris agreement on climate change: Top U.S. CEOS irked by Trump's decision (Click here for more)
Rhino Trading Partners Chief Strategist Michael Block and Club for Growth President David McIntosh on how the Paris climate agreement would impact the U.S. economy (Click here for more)
Paris climate agreement is not a good deal for the U.S: Treasury Secretary Mnuchin (Click here for more)
COMING UP ON FBN
WATCH JOBS IN AMERICA AT 8:00 A.M. ET ON "MORNINGS WITH MARIA": Economists forecast 185,000 new jobs were created in May, down from 211,000 created in April, with the unemployment rate holding steady at 4.4%.
6:00 a.m. ET: Joanie Courtney, president and COO of Employbridge, appears on "Mornings with Maria.
9:45 a.m. ET: Mick Mulvaney, director of the White House Office of Management and Budget," joins "Varney & Company."
10:00 a.m. ET: Gary Cohn, chief economic advisor to President Trump, appears on "Varney & Company."
11:30 a.m. ET: George Michael, CEO of Boston Market," joins "Varney & Company."
5:00 p.m. ET: Adam Carolla joins "Risk & Reward."
8:00 p.m. ET: Ken Langone, Home Depot co-founder, joins "Wall Street Week."