Montana woman says 'Yes' after missing scoreboard proposal at Cubs game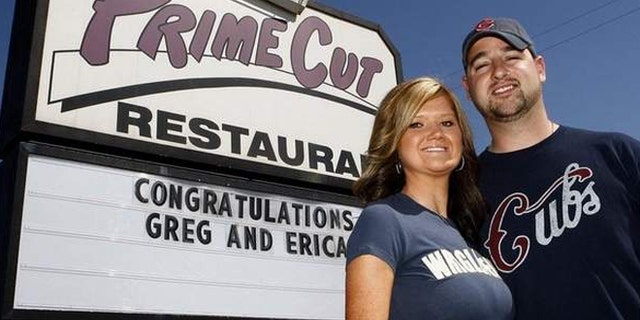 She said 'yes' but only after one spectacular swing and miss.
Greg Altringer, a lifelong Chicago Cubs fan, had planned out his idea of the perfect way to ask his girlfriend to marry him.
Altringer had never been to Wrigley Field. But he grew up in Great Falls, Mont., following the club. He told FoxNews.com that three years ago, he walked into his father's restaurant, the Prime Cut, and was taken by a beautiful blond bartender.
They've been dating ever since. Altringer went to work on planning, as he put it, "a once-in-a-lifetime proposal for a once-in-a-lifetime girl."
He arraigned for a sign to appear on the giant scoreboard Monday night at Wrigley Field that reads, "Erica, Will You Marry Me."
Everything was going as planned. They flew in on a red-eye from Montana and attended Monday night's game.
Before he knew it, it was the top of the fifth inning. The proposal message would be on display in the middle of the fifth inning, so he sent Erica Kresge, his girlfriend, to fetch a few cold beers.
This, he figured, would allow him to ask a few people around him to take their pictures during the proposal.
But the Pittsburgh Pirates had a 1-2-3 inning and Kresge took longer than expected at the refreshment stand.
"Erica Will You Marry Me?" flashed on the scoreboard, but she was nowhere to be found.
"I was bummed," Altringer said.
Perhaps all these years being a Cubs fan helped Altringer become resilient. A woman behind him, after all, told him, "OK, time for Plan B.'"
Kresge finally returned to her seat with the two beers. Altringer was apparently dead-set on popping the question before popping open the beers and put the drinks down and pulled her into the aisle.
He knelt down the old-fashioned way, and asked her to marry him and she said, 'Yes.'
"I felt confident she would marry me," he said. "But of course there's nerves."
Altrigner said the fans were overwhelmingly supportive and the Cubs organization fully embraced the couple and even put the proposal message back onto the scoreboard after she had already agreed to marry him.
"It was the best game ever," Kresge told The Great Falls Tribune.