Montana earthquake: 5.8 magnitude quake strongest in 20 years
A magnitude 5.8 earthquake that rocked western Montana early Thursday morning was the largest quake to hit the area in the past 20 year, the U.S. Geological Survey said.
USGS geophysicist Robert Sanders told the Los Angeles Times that the quake of this magnitude was a "very rare event" but not "impossible."
The earthquake struck around 12:30 a.m. local time with the epicenter located in Lincoln, which is outside Missoula. Some Twitter users posted feeling tremors as far as Spokane, Wash., Boise, Idaho and Calgary, Canada. The quake was followed by aftershocks in the magnitude 3 and 4 range over the next hour, Sanders said.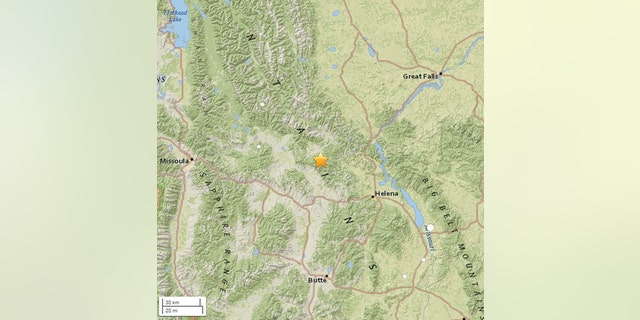 Residents in Lincoln briefly lost power and there was a gas leak in Helena, the National Weather Service in Great Falls said on Twitter.
There have been no immediate reports of damage or injuries, but residents will get a better sense as day breaks.
The Independent Record reported the tremblor was strong enough to knock items off shelves and walls in homes in Helena, which is about 34 miles away from the epicenter.
Lisa Large, a bartender at the Wheel Inn Tavern in Lincoln, told the newspaper that the power went out and bottles flew off the shelves when the earthquake hit.
"It slopped all the grease outta the fryer," she said. "The kitchen's a mess right now. The lights have been out and they just came back on. Hopefully we don't get any more aftershocks."
Ray Anderson, 76, told the Associated Press that it was the strongest quake he had ever felt.
Carolyn Kennedy, who lives in South Calgary, said she felt about 20 seconds "of waves" from the tremors.
"We heard rumbling noises," she messages FoxNews.com, adding that perfume bottles on her desk shook from the tremblor.
Musician John Mayer, a part-time Bozeman resident, took to Twitter to marvel at the event.
"Wow," he wrote on Twitter. "Earthquake in Montana."
There have been more than 70 quakes measuring larger than 4.5 in Montana and parts of Wyoming and Idaho since 1925, according to the USGS. The largest quake in state history was magnitude 7.2 in 1959 near west Yellowstone.
Sanders told the LA Times that Thursday's earthquake is unrelated to the ongoing earthquake swarm northwest of Yellowstone Lake, which has been going on for a little over two months. Yellowstone is home to an active volcano that last produced a lava flow about 70,000 years ago.
Fox News' Edmund DeMarche and The Associated Press contributed to this report