Mistrial declared in retrial of ex-Blackwater security guard accused of massacring Iraqi civilians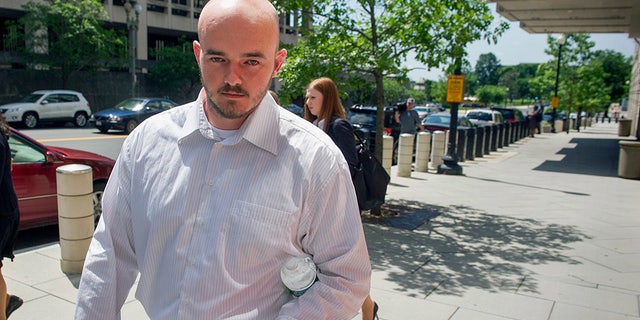 NEWYou can now listen to Fox News articles!
A mistrial was declared Wednesday in the retrial of a former Blackwater security guard convicted of murder in 2014 for his role in a mass shooting of unarmed Iraqi civilians that touched off an international firestorm.
Nicholas Slatten, 34, a decorated former Army sniper from Sparta, Tenn., who served two tours in Iraq, went on trial for a second time in June.
The latest decision is a setback for the Justice Department, which had long sought to hold Slatten and the three other employees of the military contracting firm accountable for the incident.
Slatten and three other guards, Paul Slough, a decorated Army and National Guard veteran; Dustin Heard and Evan Liberty, both Marine veterans, were all working for Blackwater, at the time under contract by the State Department.
ERIK PRINCE FIGHTS ACCUSATIONS HE TRIED TO HELP SET UP RUSSIA BACK CHANNEL AT SECRET SEYCHELLES MEETING
On Sept. 16, 2007, in the midst of President George W Bush's "surge", Slatten's convoy traveled to downtown Baghdad as part of an effort to evacuate a U.S. diplomat.
At some point during the trip, the guards began opening fire with machine guns and grenade launchers, fearing they were under attack from a potential car bomb. No evidence of a bomb was ever found.
As a result of the firefight, some 14 unarmed Iraqi civilians were killed, and another 17 were injured.
During the first trial in 2014, prosecutors had argued Slatten fired the first shots without provocation, spurring a fusillade of machine gun and grenade fire. They also claimed he harbored deep-seated hatred of Iraqis.
Slatton's attorneys argued he was innocent, citing the confession of Slough, who told investigators he in fact fired the opening shots.
FIRST IRAQ ELECTION SINCE ISIS TOPPLED DRAWS LOW TURNOUT OF 10M VOTERS
Slough's testimony was never presented to the jury during Slatten's trial and Slatten was convicted of first-degree murder. He had been serving a life sentence in Sumterville, Fla., before being moved to Virginia and D.C. for the retrial.
Slatten's original sentence of life in prison for first-degree murder was overturned in 2017 by the U.S. Court of Appeals of the District of Columbia Circuit after they ruled a lower court had erred by not allowing him to be tried separately from his three co-defendants in 2014.
But jurors in the subsequent retrial were deadlocked on the 16th day of deliberations. Jurors had indicated in a note to the judge last week that it had reached an impasse, the Washington Post reported. They had been sent home for the weekend and asked to return to court Tuesday.
Speaking after the mistrial was declared, U.S. District Judge Royce Lamberth for D.C., told the jurors: "I commend you for your efforts. You strove to be good jurors."
A spokesman for the U.S. Attorney's office told Fox News: "A mistrial was declared today, and the U.S. Attorney's Office for the District of Columbia is reviewing the matter and have no further comment at this time."
It is unclear if prosecutors will attempt to retry the case.
Slatten's attorneys did not return a request for comment.
The three other convicted defendants, Slough, 38, of Sanger, Tx., Heard, 37, of Maryville, Tenn., and Liberty, 36, of Rochester, NH., still face resentencing.
The U.S. Court of Appeals that ordered Slatten's retrial, also threw out the sentences of the other trio, saying they violated the constitutional prohibition against "cruel and unusual punishment."