Mistaken identity causes red light camera nightmare for California man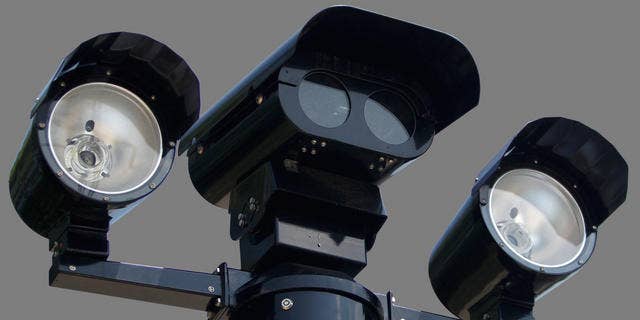 Lawrence Armstrong's legal nightmare began when someone he's never met was photographed running a red light.
Armstrong has a similar name as the Mitsubishi-driving man who was caught by a red light camera in San Bernardino, Calif., in March 2012 -- and an unexplained error led to a conviction for Armstrong, who was hit with points on his license and a hike on his insurance rates. While the conviction was eventually overturned, justice for Armstrong did not come without legal fees, elevated insurance rates and endless headaches, according to his attorney, Bob Conaway.
"There is an old law school action that there's a legal remedy for every wrong. Well, not for red light cameras," Conaway told FoxNews.com. "The only remedy you have is to spend money to undo their screw-up."
Armstrong, who lives in San Bernardino County, noticed his insurance rates increased in March 2013, but did not know who was responsible for raising them. The traffic citation was filed on March 22, 2012, but he never received it, his lawyer said. Armstrong sued his insurance company, Amco Insurance, along with American Traffic Solutions, or ATS, which owns and operates the cameras, for violating the federal Driver's Privacy Protection Act (DPPA) by misusing his personal information.
Conaway believes everyone involved - except his client - benefited from sticking Armstrong with a ticket he didn't earn. Red light camera operators get a cut of every ticket they issue and insurance companies benefit when they have an excuse to raise rates, Conaway said. And while he suspects an error by the state department of motor vehicles started the chain of events, Conaway said Armstrong could not get answers from the government agency. U.S. District Court Judge Jesus G. Bernal, who dismissed the case against Amco and ATS, said state law precluded Armstrong from finding out from the state who made the mistake because, in an ironic twist, that could violate the rights of the violator.
"The DPPA does not protect against improper rating of his insurance policy; it protects against improper use of plaintiff's personal information," Bernal ruled. In this case, the only person whose information was wrongly passed on was the Mitsubishi driver's, the judge ruled.
"Who's responsible for putting in the wrong data? Apparently the court doesn't feel anyone's responsible for that," noted Conaway, who was eventually able to get his client's DMV record scrubbed and his prior insurance premium restored. "There should be some compensation. He [Armstrong] is a veteran and a law-abiding citizen who was minding his own business. This really stressed him out."
In many states, a red light camera violation results in a ticket issued to the car's owner, but not a moving violation assigned to the individual. In Armstrong's case, the ticket would have still been improperly issued to him, but it may not have resulted in higher insurance rates.
Conaway, a Democrat who is running for the U.S. House to represent the 8th Congressional District of California, is proposing a federal legislation ban on automated red light cameras without legal protections put into place.
"It can be reliable but no one is spending the money to make it reliable," Conaway said of the system. "If a law enforcement officer or an IT person worked 24/7 monitoring the system, I say there's a good argument that you can have them."
"Legislation I would propose would require Redflex and American Traffic Solutions to make available experts who can verify the system and its software was working for each and every violation on the day the images were allegedly taken and be available for cross examination before any conviction can be entered and that each and every violation only be issued by a peace officer that observed the violation on the monitor when it happens and that officer is available to be cross examined at trial before any conviction can be entered," Conaway says in a statement on his campaign website.
An ATS spokesman was not immediately available when contacted Monday. Red light cameras have been long been controversial in cities across the U.S. Advocates of the system claim it makes the roads safer because drivers are more conscious of of running red lights, while critics say the cameras are simply money-making machines for towns and cities and often unreliable.
FoxNews.com's Cristina Corbin contributed to this report.