Miss USA finalists named in pageant taking place in Vegas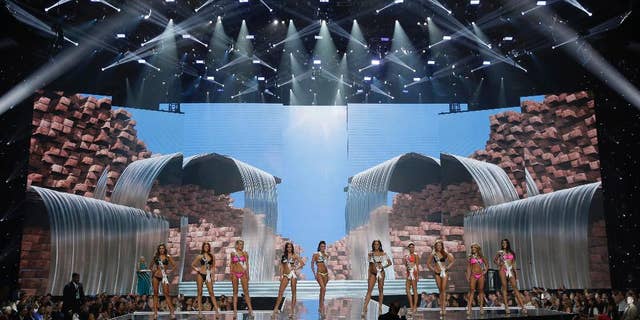 LAS VEGAS – The top 10 finalists have been named at the Miss USA contest in Las Vegas.
Contestants from Minnesota, New Jersey, Missouri, Tennessee, California, District of Columbia, South Carolina, New York, Illinois and Alaska will continue on in the beauty pageant.
The winner of Sunday's 2017 Miss USA competition held at the Mandalay Bay Convention Center on the Las Vegas Strip will go on to compete in the Miss Universe contest.
The two-hour show featured 51 contestants representing each of the 50 states and the District of Columbia. The Fox network is carrying the broadcast that started at 8 p.m. EDT.
The beauty pageant this year includes five women who immigrated to the U.S. at a young age and now as citizens hope to represent the nation on a global stage. The women from Florida, North Dakota, Hawaii, Connecticut and New Jersey told The Associated Press this week they have faced challenges and opportunities as immigrants.
"As Miss USA, I would love to be able to be that inspiration for our immigrant community," Linnette De Los Santos, who emigrated with her family from the Dominican Republic when she was 5, told The Associated Press days ahead of the competition. "If I would have stopped following my dreams and working hard towards what I wanted, I wouldn't be sitting here as Miss Florida USA or in law school ready to become an immigration attorney."
The contestants' remarks stand in stark contrast to the scandal that enveloped the pageant in 2015, when then-part owner and now U.S. President Donald Trump offended Hispanics when he made anti-immigrant remarks in announcing his bid for the White House.
Trump co-owned The Miss Universe Organization with NBCUniversal, but the network and the Spanish-language broadcaster Univision quickly cut ties with him, refusing to air the show. Trump sued both networks, eventually settling and selling the pageant to talent management company WME/IMG.
The show kicked off with a performance from a Cirque du Soleil show — a Las Vegas staple — based on Michael Jackson songs. The contestants took the stage as Jackson's "Black or White" played and acrobats performed.
The broadcast also aired a Mother's Day clip with messages from the contestants to their moms.
The show is being hosted by Julianne Hough, Ashley Graham and Terrence J. Grammy winner Pitbull and CMA Award winner Brett Eldredge will perform.
Last year, District of Columbia resident Deshauna Barber became the first-ever military member to win Miss USA.