Minnesota woman ordered detained on terror, arson charges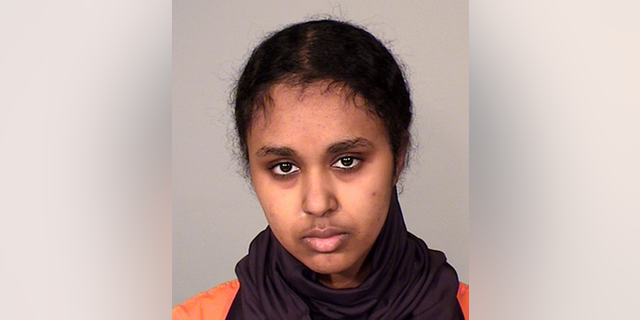 NEWYou can now listen to Fox News articles!
ST. PAUL, Minn. – A Minnesota woman who is accused of trying to travel to Afghanistan to join al-Qaida was "self-radicalized" and intended to kill people when she set several fires on a college campus last month, a federal prosecutor argued Monday.
Tnuza Jamal Hassan, 19, of Minneapolis, was arrested last month after allegedly setting nine fires at St. Catherine University in St. Paul, where she is a former student. No one was hurt in the Jan. 17 fires, but one was set in a dormitory that houses a day care where 33 children were present.
When interviewed by investigators, Hassan said she had expected the buildings to burn down and "she hoped people would get killed," Assistant U.S. Attorney Andrew Winter said during a hearing Monday in U.S. District Court.
Hassan pleaded not guilty Monday to federal counts of attempting to provide material support to al-Qaida, lying to the FBI and arson. She also faces a state arson charge.
Her attorney, Robert Sicoli, argued she was "unsophisticated" and should be placed on house arrest and electronic monitoring. But U.S. Magistrate Steven Rau ordered her detained, citing a risk of flight and danger to the community.
According to prosecutors, Hassan wrote a letter to two fellow St. Catherine students in March in an attempt to encourage them to "join the jihad in fighting" and to join al-Qaida, the Taliban or al-Shabab. Then in September, she tried to travel to Afghanistan and made it as far as Dubai, United Arab Emirates, before she was stopped because she lacked a required visa.
Winter said Hassan admitted to investigators that she tried to join al-Qaida, saying she'd probably get married and not fight. But when pressed, she allegedly told investigators she guessed she would carry out a suicide bombing if she was the only one to do it.
"By all accounts, she self-radicalized," Winter said, adding that a search of her laptop showed she had been watching videos online and researching places to go to wage a jihad.
Sicoli said Hassan, who is a U.S. citizen, had no contact with anyone in Afghanistan, didn't know she needed a visa and no phone number of anyone to contact if she got there.
According to state court documents, Hassan admitted she set the fires because she read about the U.S. military destroying schools in Iraq or Afghanistan and she wanted to do the same thing. She also told state investigators they were "lucky" she didn't know how to build a bomb, the state criminal complaint said.
Hassan was an English major who last enrolled at St. Catherine's in the fall 2017 semester but is not currently a student.
__
Follow Amy Forliti on Twitter: http://www.twitter.com/amyforliti . More of her work at: https://apnews.com/search/amy%20forliti