Daunte Wright shooting: Ex-Minnesota police officer Kim Potter to make first court appearance
Security fencing and police remain at Potter's Minneapolis suburban home since her release on a $100,000 bond Wednesday
Heightened security measures remain in place at the suburban Minnesota home of former Brooklyn Center Police officer Kimberly Potter ahead of her first court appearance in Minneapolis on Thursday.
Potter, a 26-year veteran of the force who headed the local police union, was charged on Wednesday with second-degree manslaughter in the fatal shooting of 20-year-old Daunte Wright during a traffic stop on April 11 in Brooklyn Center. Security fencing remained erected around Potter's home in Champlin, Minnesota, a suburb of Minneapolis, Wednesday afternoon.
Potter, 48, was released from a Hennepin County jail just before 5:40 p.m. CT Wednesday after posting a $100,000 bond.
DAUNTE WRIGHT SHOOTING: BROOKLYN CENTER POLICE CHIEF, OFFICER RESIGN AFTER 2 NIGHTS OF RIOTS IN MINNESOTA
It's unclear whether she has returned to the residence, but a Champlin Police car was parked in the driveway and at least two uniformed officers were seen standing behind the fencing.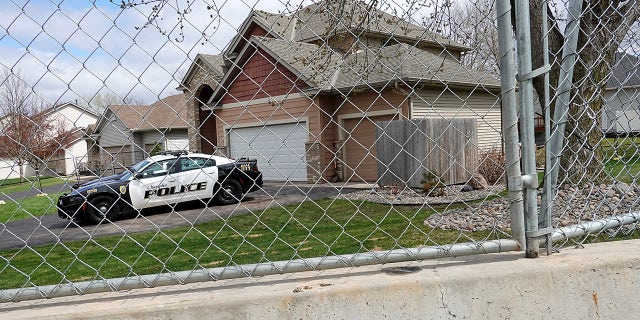 Potter is expected to make her first court appearance Thursday at 1:30 p.m. CT.
Fox News has learned that Potter will appear remotely. The case has been assigned to Hennepin County Judge Regina Chu.
Though she will not be physically present, the hearing will take place at the Hennepin County Public Safety Facility – which is located in the same heavily fortified complex as the trial for Derek Chauvin, the former Minneapolis police officer charged in George Floyd's death. Chauvin's trial is being conducted in a different building and will continue on the 18th floor of Hennepin County Government Center on Thursday.
Potter's defense attorney, Earl Gray, did not immediately return a message left by Fox News on Thursday. Gray also represents Thomas Lane, one of the three other former Minneapolis officers charged with aiding and abetting murder and manslaughter in Floyd's death.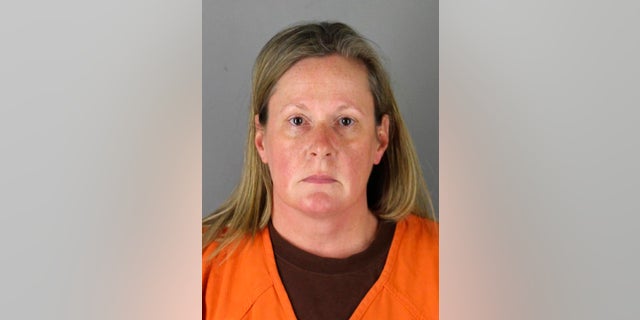 Wednesday marked the fourth consecutive night that hundreds of demonstrators gathered outside the newly fenced-in Brooklyn Center Police Department. Speaking at a press conference around midnight local time, Col. Matt Langer of the Minnesota State Patrol said at least 24 people had been arrested for charges ranging from curfew violations to rioting, FOX 9 Minneapolis reported.
That number was notably lower than the previous night when 79 people were arrested.
The crowd included about 500 people Wednesday, Minnesota Department of Public Safety Commissioner John Harrington said. Several dispersal orders were given before the 10 p.m. curfew. The majority of those arrested Wednesday were not from Brooklyn Center and had come from out of town, Hennepin County Sheriff David Hutchinson said.
"The No. 1 tool that we wanted to use tonight was patience and that's what we exercised for a long period of time, even though we saw groups coming and fortifying and we saw umbrellas, plywood shields and makeshift barricades and blocks and bricks brought in," Langer said.
Some individuals in the crowd Wednesday hurled objects – which included water bottles, milk jugs, bricks, rocks and fireworks – at law enforcement officers from the National Guard, Minnesota State Patrol and Hennepin County Sheriff's Office, the Minneapolis Star Tribune reported. But instances of looting that had spilled into Minneapolis and surrounding areas immediately after Wright's death had died down or stopped by Wednesday, law enforcement officials said.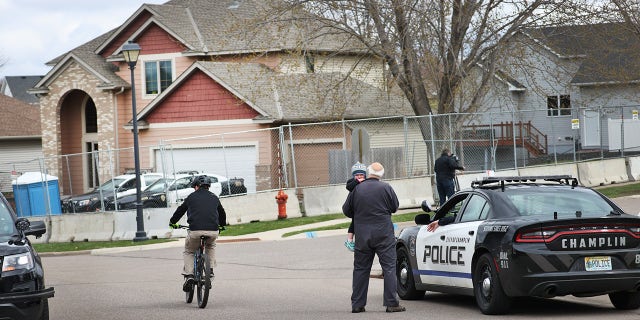 More than 3,000 National Guardsmen remain activated across the region as part of Operation Safety Net, the public safety plan initially put in place for the Chauvin trial that stepped up amid the current unrest. Brooklyn Center Mayor Mike Elliott had denounced the use of tear gas by law enforcement after residents complained of gases seeping into their homes.
In an interview with CNN, civil rights attorney Ben Crump, who represents Wright's family, said Potter has a right to a reasonable bond and a presumption of innocence. He added that he wished Black Americans were afforded the same.
Potter resigned Tuesday along with Police Chief Tim Gannon, who said Potter mistakenly grabbed her gun under the belief that it was a Taser when she shot Wright during a traffic stop, categorizing the incident as an "accidental discharge."
She was on administrative leave at the time of her resignation.
The New York Times reported that her home has been wrapped with barriers and concrete fencing. It was not clear if she will be staying at the residence while out on bail.
The incident happened just 10 miles from where Chauvin was seen in the viral bystander video pressing his knee into Floyd's neck and back on the pavement in front of Cup Foods in Minneapolis on May 25, 2020. It also renewed protests and looting that law enforcement agencies saw after Floyd's death.
CLICK HERE TO GET THE FOX NEWS APP
Dozens of people were arrested Tuesday night and Brooklyn Center Mayor Mike Elliott said the city would once again impose another curfew Wednesday evening.
"We know there are a large number of people who are there to protest peacefully … we know there are agitators that show up looking to stir things up and to confront and engage law enforcement," Elliott said during a Wednesday news conference.