Michigan police dog to receive donated bullet, stab preventative vest in honor of fallen officer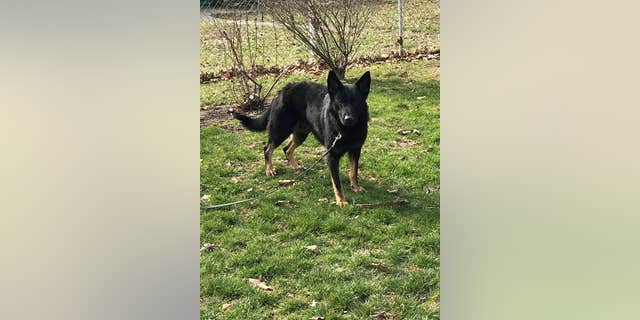 A police dog in Michigan is slated to receive a bullet and stab preventive vest, the Kalamazoo Sheriff's Department announced Monday.
The vest will be donated to Roseco, a 20-month-old German Shepard with the sheriff's department.
The pup was sponsored by the Officer Collin Rose Memorial Foundation to receive the protective gear, which will be donated from a Massachusetts-based non-profit called "Vested Interest in K9s."
In total, the organization has donated 3,000 protective vests to K9s officers since getting its start in 2009, according to the sheriff's office.
The vest will be embroidered with the message "In memory of Officer Collin Rose EOW 11/23/16," according to the sheriff's office Facebook post, which noted that Roseco is named after Rose, a former officer with the Wayne State University Police Department who died in the line of duty in 2016.
Officer Rose, a native of Kalamazoo, Mich., was "passionate about canine safety and was an active volunteer with the Detroit Dog Rescue," according to the memorial foundation's website, which, in addition to helping police dogs, also sponsors an education scholarship.
"It's just a matter of sharing Collin's story and working our way through grief," Chris Powell, president of the Officer Collin Rose Memorial Foundation, told Michigan Live.
He added that the foundation has worked with Vested Interest in K9s over the past year, though Rose worked with the organization prior to his death.
"We're trying to do good in his name," Powell said. "It's terrible how we lost him, but the fact that we've been able to do as much as we have in a short time has been pretty remarkable and speaks to the kind of person we lost."