Michigan man who shot at lost black teen gets at least 4 years in prison
A retired white Michigan firefighter was sentenced Tuesday to at least four years in prison for shooting at a black teenager who knocked on his front door to ask for directions to school.
Jeffrey Zeigler, 53, apologized before he was sentenced Tuesday in Oakland County court. A jury convicted him last month of assault and a gun crime. He could be in prison for up to 10 years.
WIFE TESTIFIES IN TRIAL THAT INVOLVES WHITE HOMEOWNER WHO ALLEGEDLY FIRED SHOT AT LOST BLACK TEEN
Brennan Walker, 14, was not wounded in the incident. The teenager told police he missed a school bus on April 12 and knocked on Zeigler's door in Rochester Hills after getting lost. Surveillance video at the home captured the moment when a shirtless Zeigler ran after the teen, stopped to aim and fired his weapon, authorities said. The teen was seen running away after seeing the man grab a gun.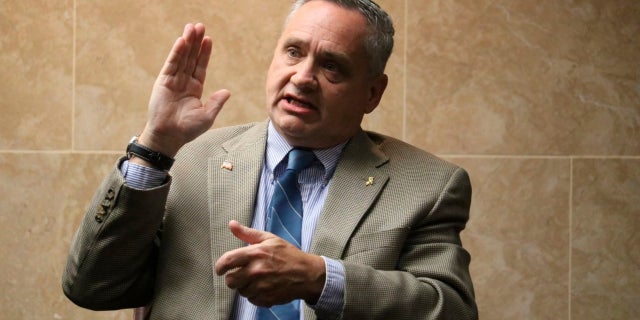 Zeigler said he woke up to his wife's screams and that she believed someone was trying to break into their home. Walker's mom said during the sentencing that she didn't believe Zeigler was sorry, NBC News reported. He apologized to the mother.
SURVEILLANCE VIDEO SHOWS MICHIGAN WOMAN ALLEGEDLY REVERSING CAR INTO STORE
Zeigler will be eligible for parole after four years.
Fox News' Louis Casiano and the Associated Press contributed to this report.