Mexican kingpin Joaquin 'El Chapo' Guzman found guilty of running drug cartel, guaranteed life in prison
Mexico's most notorious drug kingpin, Joaquin "El Chapo" Guzman, will spend the rest of his life behind bars after being found guilty on all 10 counts Tuesday at the conclusion of a three-month trial that detailed grisly killings, a bizarre escape and drugs hidden in jalapeno cans.
The jury of 12 people announced their decision at a federal courthouse in Brooklyn, New York, on the sixth day of deliberations, affirming Guzman was the leader of the Sinaloa cartel and conspired to commit murder.
Guzman, 61, entered the courtroom wearing a charcoal suit just before 12:30 p.m. Tuesday. He stared at the jurors and remained emotionless as the judge read the verdict.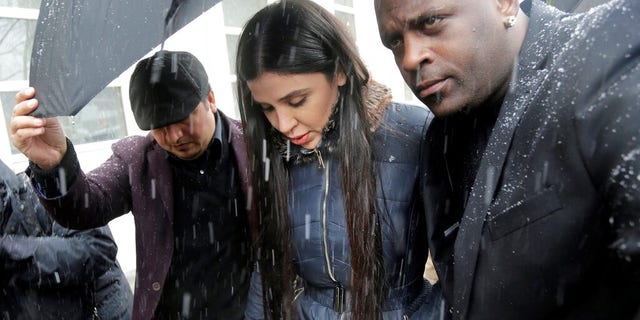 Before the jury was discharged, Guzman briefly looked at his beauty queen wife, Emma Coronel Aispuro, and blew her a kiss before being removed from the room. Aispuro also appeared to not react to the jury's verdict, according to Fox News producers.
OPINION: MEXICAN DRUGLORD 'EL CHAPO' FOUND GUILTY: TRIAL, VERDICTS HOLD MAJOR LESSONS FOR US, MEXICO IN DRUG WAR
"I am pleased that the Department has brought Joaquin Guzman Loera (El Chapo) to justice by securing a conviction against this drug kingpin, who was a principal leader of the Sinaloa Cartel," Acting Attorney General Matthew Whitaker said in a statement. "As was clear to the jury, Guzman Loera's massive, multi-billion dollar criminal enterprise was responsible for flooding the streets of the United States with hundreds of tons of cocaine, as well as enormous quantities of other dangerous drugs such as heroin and methamphetamine."
Guzman's defense team released a statement saying they were "obviously disappointed" with the verdict.
"We are obviously disappointed with the jury's verdict int he trial of Joaquin Guzman Loera but are respectful of the process and the jury's decision," the statement read, adding that they will "review all of Joaquin's options, including appeal."
El Chapo, known as one of the most notorious drug traffickers in modern history, was extradited to the U.S. in 2017 after Mexican authorities captured him a year prior during raids in Los Mochis, Sinaloa. He was free at that point after a dramatic escape in which he tunneled out of a Mexican prison.
Guzman, who has been held in solitary confinement for the last two years, pleaded not guilty to the slew of charges that included engaging in a continuing criminal enterprise and international distribution of cocaine, thus beginning his long-waited criminal trial in November.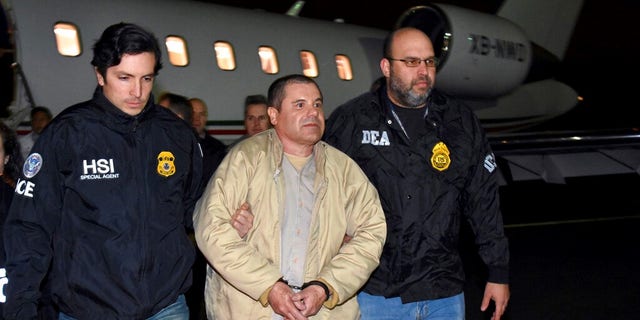 During the trial, 56 witnesses testified to the Sinaloa cartel leader's willingness to use violence against enemies of a cartel that prosecutors say smuggled at least 200 tons of cocaine into the U.S. for more than two decades. The jurors combed through an avalanche of evidence that included text messages and phone calls allegedly showing Guzman making drug deals as the cartel leader.
EL CHAPO'S BEAUTY QUEEN WIFE DISSES MEDIA'S 'UNFAIR' CARICATURE OF HER DRUG-LORD HUSBAND IN RARE INTERVIEW
At least 14 of the witnesses who testified were once close associates with the drug lord and some also held a lengthy criminal history and were drug distributors themselves.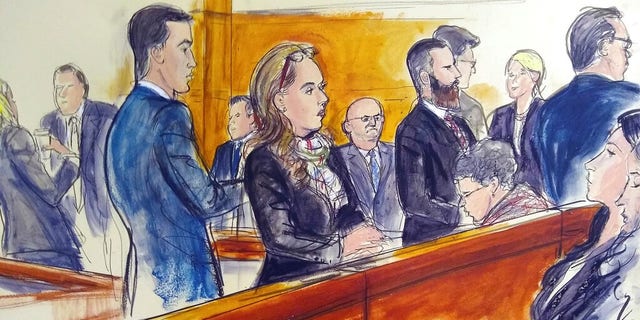 Of the witnesses, one of the trial's most memorable tales came from Guzman's mistress, Lucero Guadalupe Sanchez Lopez. She testified she was in bed in a safe house with an on-the-run Guzman in 2014 when Mexican marines started breaking down the door. She said Guzman led her to a trap door beneath a bathtub that opened up to a tunnel that allowed them to escape.
"He was naked. He took off running. He left us behind," she said in court.
One Sinaloa insider described Mexican workers getting contact highs while packing cocaine into thousands of jalapeno cans — shipments that totaled 25 to 30 tons of cocaine worth $500 million each year.
CRUELTY OF EL CHAPO'S SINALOA CARTEL KNOWS NO BOUNDS: BEHEADINGS BY CHAINSAW, BODY PARTS STREWN IN THE STREETS
The drug lord managed to evade authorities and broke out of Mexican prisons twice. Guzman escaped from jail in 2001 by hiding in a laundry bin and managed to evade authorities by stowing away in one of his mountainside hideaways.
He was recaptured in 2014 but escaped a year later through a mile-long lighted tunnel. The second escape humiliated Mexican authorities who had vowed the drug lord would never escape their grips again.
Guzman was captured again nearly six months later, with then-Mexican President Enrique Peña Nieto announcing the news: "Mission accomplished: We have him."
During his final brief taste of freedom, Guzman met with actors and producers to plan a movie about his life — eventually leading authorities to his hiding place. The drug lord met with Sean Penn and Mexican actress Kate del Castillo.
Penn's infamous interview with Guzman was published in Rolling Stone in 2015. In the article, the drug lord was quoted boasting about how he supplied "more heroin, methamphetamine, cocaine and marijuana than anybody else in the world. I have a fleet of submarines, airplanes, trucks and boats."
CLICK HERE TO GET THE FOX NEWS APP
Jack Riley, 60, a now-retired DEA agent, told the New York Post that Penn put lives at risk when he met the drug kingpin in 2015. Riley said he came close to arresting El Chapo but was interrupted by Penn and Castillo's visit, the New York Post reported.
"Oh, my God! If I could get my hands on Sean Penn!" Riley, a former top agent with the DEA, told the Post. "The people he put at risk because of that stunt. He should be in jail."
Fox News' Marta Dhanis, Bryan Llenas and The Associated Press contributed to this report.