March for Our Lives gun control rally expected to draw thousands from around the world
People from around the world came together Saturday for the March for Our Lives gun control rally organized by the students of the Florida high school impacted by a deadly school shooting last month.
The primary march is taking place in Washington, D.C., on Pennsylvania Avenue at 12 p.m. EST. Some 500,000 people were expected to attend.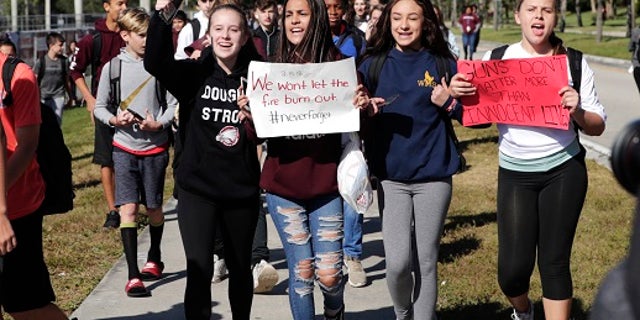 In addition to Washington, D.C., some 800 sister marches were also being planned in London, Tokyo, Sydney, New York City, Boston, Chicago, Los Angeles, Mumbai, and the city where the shooting occurred: Parkland, Florida.
Students from Marjory Stoneman Douglas High School organized the rally following the deadly school shooting on Feb. 14, 2018, that left 17 people dead. The shooter, Nikolas Cruz, 19, used a legally purchased an AR-15 assault rifle to carry out the shooting. The students hope the rally will push lawmakers to pass legislation on gun control. Some students said the ultimate goal of the grassroots movement is to inspire people to vote in November for lawmakers wiling to reform gun control.
While the activists "support the right of law-abiding Americans to keep and bear arms, as set forth in the United States Constitution," they also have a list of demands, urging members of Congress to pass laws to end the sale of high-capacity magazines, improve background checks, and more safety measures.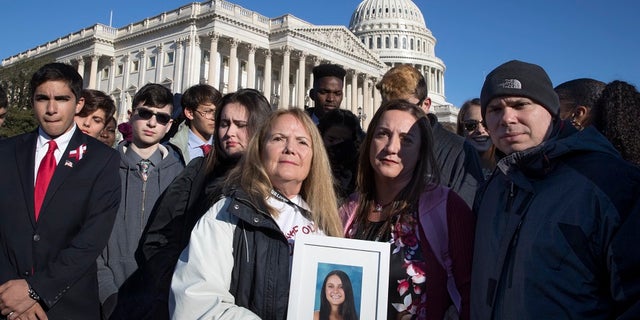 "The high-schoolers and the college students are sick of this normalcy in this environment that we live in where we have to live with mass shootings and code red drills," said Alex Wind, a junior at Stoneman Douglas, told the Associated Press.
"It's going to be very revolutionary," Sheryl Acquaroli told The Guardian. "We are going to change laws there, and I want to be part of that change."
Some of the teenagers have pulled all-nighters organizing the event that will come together Saturday. Celebrities such as Ariana Grande, Jennifer Hudson, George Clooney, Miley Cyrus, and Demi Lovato are expected to march alongside students in Washington. Cyrus, Grande, Hudson, Lovato, Lin-Manuel Miranda and Ben Platt were also expected to perform.
'MARCH FOR OUR LIVES' GUN CONTROL RALLY TO DRAW THOUSANDS ACROSS US: EVERYTHING YOU NEED TO KNOW
The Washington Post reported protesters started filing into Washington, D.C., this week and held tailgate parties, concerts, dinners and sign-making events on Friday. The New England Patriots lent its team plane to Parkland students to travel to the city for the march. The team's owner, Robert Kraft, contacted the school offering the use of the plane. Delta Air Lines also donated two planes to the students to ensure safe and fast travel.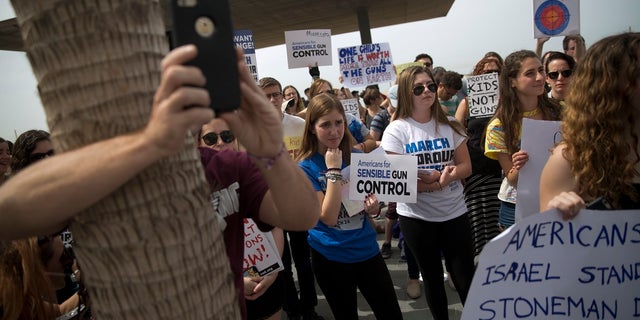 Many celebrities such as Steven Spielberg, Clooney, and Taylor Swift donated thousands of dollars to the march.
However, some people feel left out from the march or believe the rally will not do much to change what is already in place.
Kyle Kashuv, a junior at Stoneman Douglas, has been a prominent advocate for preventing violence while respecting gun rights following the shooting. He has visited the White House, met with President Trump and legislative leaders across party lines, and unveiled an app to prevent school shootings. He slammed Time magazine for not including supporters of the Second Amendment on the cover of their Parkland issue.
Zion Kelly, 17, whose brother, Zaire, died during an armed robbery last year told The Washington Post the students from Parkland appear to be getting media attention because of the school they attend is in a predominantly white, affluent community.
"This is happening over and over again. Dozens of students have been shot and killed — more than in Florida — and we're not getting the same attention," Kelly said. He attends Thurgood Marshall Academy, a charter school in Washington, D.C.
"Daily Wire" editor Ben Shapiro told Fox News he has been contacted by students who are conflicted because they support both the Second Amendment and the school shooting victims.
Shapiro said the media is "celebrating the marches, putting students in photo ops, or using as political human shields."
WATCH THE MARCH FOR OUR LIVES LIVE STREAM HERE
However, the organizers of the march claim it is not political.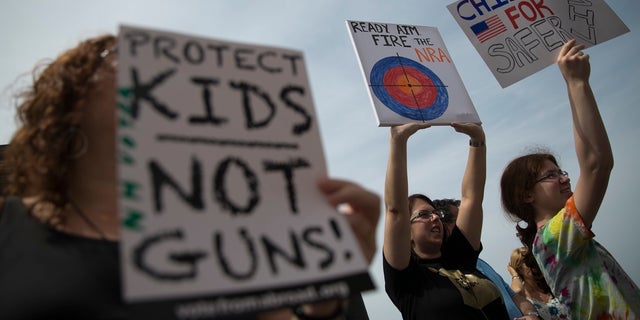 "School safety is not a political issue," a mission statement on the organization's website reads. "There cannot be two sides to doing everything in our power to ensure the lives and futures of children who are at risk of dying when they should be learning, playing, and growing."
The White House told Fox News in a statement: "We applaud the many courageous young Americans exercising their First Amendment rights today. Keeping our children safe is a top priority of the President's, which is why he urged Congress to pass the Fix NICS [National Instant Criminal Background Check System] and STOP School Violence Acts, and signed them into law. Additionally, on Friday, the Department of Justice issued the rule to ban bump stocks following through on the President¹s commitment to ban devices that turn legal weapons into illegal machine guns."
Fox News' Madeline Farber, Gregg Re and the Associated Press contributed to this report.