Man says he was booted from Chicago pizza joint because pants were 'too street'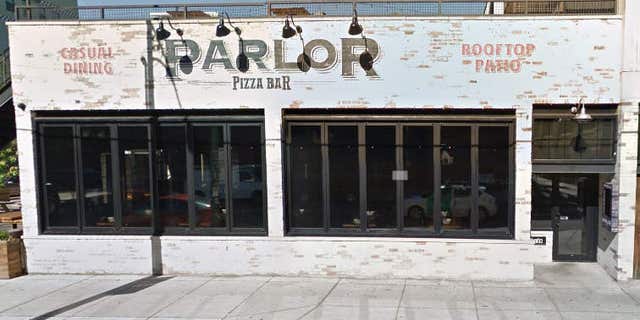 NEWYou can now listen to Fox News articles!
A man is accusing a Chicago pizza joint of racial discrimination after he was denied entry because his pants were apparently "too street."
The Chicago Tribune reported Thursday that Antar Jackson and his wife Christina Jacobson were looking for a place to watch the second game of the NBA Finals back on June 5. The couple settled on Parlor Pizza, but was eventually turned away because an employee told Jackson his pants were "too street."
The couple told the paper that the pants were black herringbone wool trousers made by the Vince fashion brand. The couple claims they were victims of racial discrimination.
Parlor Pizza said in a statement Thursday that the dress code policy is displayed at the facility's entrance and on their website. They said the policy is enforced "uniformly."
"Athletic wear is prohibited under our policy and, unfortunately, the gentleman in question was wearing sweatpants," the statement read. "We are very sorry to hear of the recent accusation and take these situations very seriously. We hope this guest will come dine with us again in the future."
The Chicago Tribune reported that the Parlor Pizza dress attire posted on the building says "appropriate attire required." The company's website said a dress code is enforced after 5 p.m., which includes "no over-sized clothing or athletic attire. The site also lists several types of clothing which are prohibited: athletic wear and sweatpants or sweatshirts; sports jerseys and apparel, pajamas or lounge wear.
Parlor Pizza spokesman Joel Morales told the Tribune that management is conducting an internal investigation to see why "there may have been a misunderstanding."
However, Jackson and Jacobson say they saw other patrons in athletic apparel.
"I had been there once before," Jackson told the Tribune. "We walked in the door to the host stand, and we were told there was a 30-minute wait for the patio."
Jackson said he went to the restaurant's beer garden where a security blocks the door and checks IDs.
"Security asked to see ID, but before I could reach for it he looked down at my pants. He said 'They're too street.' I was so shocked that I didn't react," he said. "(My wife) was already a few feet ahead of me heading to the patio."
According to Jackson, the pants are "joggers" and were purchased for the original price of a whopping $245.
"We saw people sitting on the patio wearing yoga pants, sandals and cargo pants," Jacobson said.
Jackson said they talked to the manager and he pointed out that the dress code was plastered on the door and then walked away.
He said wants the company to issue a "public apology" and rid of their policy if they're not going to enforce the rules.
A discrimination complaint was received by First Deputy Commissioner Kenneth Gunn on Tuesday.
Click for more from the Chicago Tribune.