Man accused of pouring bleach on eggs, spreading white powder on bus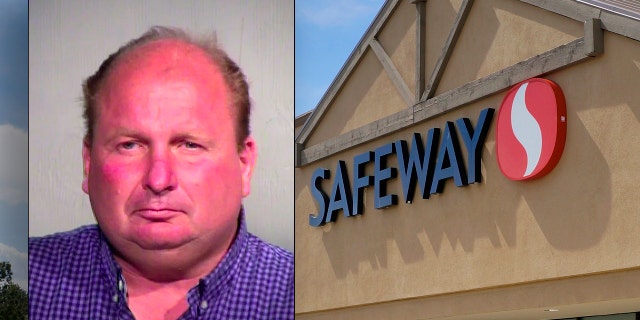 A 48-year-old man has been arrested and charged with the tampering of consumer products for his connection to a number of strange crimes, including pouring bleach on food in grocery stores across the state of California.
David Lohr was arrested on Wednesday in Santa Clara when he allegedly terrified passengers on a bus by spreading white powder and hydrogen peroxide all over it. It was later revealed that he was wanted by the FBI for a string of incidents involving food tampering at various Safeway grocery stores and Targets in California and Arizona.
According to the Los Angeles Times, Lohr allegedly poured bleach into several supermarket freezers, which contained dairy products, frozen seafood, ice and alcohol, in the neighborhoods of Redondo Beach, Manhattan Beach, West Los Angeles, West Hollywood and Sunnyvale.
CALIFORNIA MAN ACCUSED OF STABBING PERSON AT MOTEL SEEN SMILING IN MUGSHOT
After being apprehended in Santa Clara following the bus incident last week, deputies found that the substance he was spreading was salt. Although Lohr left the scene, they later discovered him at a different bus stop with receipts from Safeway stores stuffed in his pockets. Upon further investigation, employees at a nearby Safeway told police they discovered an empty hydrogen peroxide bottle in a rotisserie chicken tray late last month. Surveillance footage reportedly showed Lohr pouring bleach over a carton of eggs at the same store.
Authorities are trying to determine if the tainted products were sold to any customers.
"To date, there have been no known reports of individuals sickened by Lohr's actions; however, further investigation has determined that Lohr has done this in a variety of stores, and the extent of his actions are currently under investigation," FBI officials said.
Lohr's bizarre crimes were first realized last October in Phoenix, when he was arrested for bleaching products at six Target stores. While in jail for those offenses, Lohr reportedly spoke with Fox 10, telling them that he poured bleach on the products at Target in an attempt to clean the chemicals off of them.
"I did nothing wrong," Lohr told Fox 10. "I committed no crime. Absolutely no crime."
CLICK HERE FOR THE FOX NEWS APP
After being released from police custody, he failed to appear in court for the alleged Phoenix incidents, and has been considered a fugitive since then.
Records show that Lohr is no stranger to law enforcement. He was reportedly arrested on suspicion of a misdemeanor assault in Portland, Oregon in 2012, and spent a month in jail for grand larceny in Florida in 2009.