Looters arrested in Northern California, impersonated US Forest Service workers: police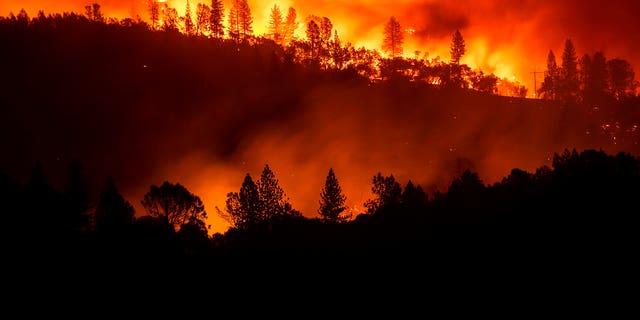 A pair of suspected looters dressed as U.S. Forest Service workers were arrested Saturday in Paradise – a Northern California town that has been demolished by wildfires since Thursday, KPIX-TV reported.
The looters were caught wearing yellow jackets, possibly to impersonate the outfit worn by U.S. Forest Service Personnel, police said. The suspects were arrested in an evacuated area, the station reported.
AT LEAST 29 CONFIRMED DEAD IN NORTHERN CALIFORNIA WILDFIRE, SHERIFF SAYS
The suspects will be prosecuted "to the fullest extent of the law," authorities said.
It wasn't immediately clear what the suspected looters were stealing. No further details were released.
Authorities have received more than 50 reports of suspected looters in the region since the fires began, the station reported.
The Camp Fire began Thursday about 100 miles north of Sacramento. By Sunday evening, the death toll had risen to 29 with an additional 228 people unaccounted for, Butte County Sheriff Corey Honea said.
The fire had burned 109,000 acres and destroyed more than 64,000 residences, according to the California Department of Forestry and Fire Protection.
SOUTHERN CALIFORNIA WILDFIRE FANNED BY RETURN OF 'STRONG' GUSTY SANTA ANA WINDS
Meanwhile, the so-called "Woolsey Fire" in Southern California has killed two people and destroyed more than 170 homes.