Long-forgotten tape could provide clue in 1984 cold case murder of New Jersey boy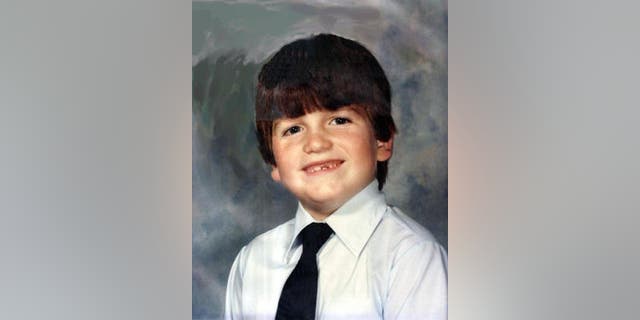 Gary Grant was just shy of his 8th birthday when he was bludgeoned to death with a metal pipe two blocks from his Atlantic City, N.J., home in January 1984 in a case that has remained unsolved.
Now, decades later, a chilling audiotape discovered by the boy's father -- a retired cop -- could yield clues into who kidnapped and murdered the 7-year-old nearly 32 years ago.
"Not a second goes by that I don't think about my son."
Gary Grant Sr., a 27-year-veteran of the Atlantic City Police Department, said he was recently going through old audiotapes in his personal files to convert to MP3 when he came across one labeled "phone calls."
Grant, 66, told FoxNews.com that when he listened to the tape, "I almost fell off my chair."
"Is it possible for me to collect a reward on my own self for the murder of Gary Grant?" a caller asked a police dispatcher on March 8, 1986 -- two years after the crime -- according to the The Press of Atlantic City.
The unidentified male said the call was not a prank and then boasted, "You're never going to catch me," before hanging up.
Three months later, another person contacted police and named a suspect who he claimed confessed to killing the boy "because of his father."
The tapes were given to Grant years ago, but he claims he doesn't recall ever hearing the 911 calls.
"It's a tape that apparently was given to me while I was working the case and I'm sure the prosecutor has a copy of the same tape," he told FoxNews.com Wednesday. "But I don't have any memory of it."
Grant, a former Marine and Vietnam veteran, was working the overnight shift as an officer with the Atlantic City Police Department when his son failed to return home on Jan. 12, 1984. After an exhaustive search, investigators found the boy's body in a vacant lot two blocks from the home he shared with his mother, whom Grant was separated from.
"He was off from school on the day he disappeared," Grant recalled. "His mom told him to go out and play and he said, 'Not right now. I have an appointment.'"
"He went out and never came back," Grant said.
In the days following his son's death, detectives interviewed a 12-year-old boy who implicated himself in the crime, according to police sources. A judge later threw out the boy's alleged confession when defense attorneys argued he did not understand his constitutional rights and was without a guardian during the interview.
The Press of Atlantic City identified that person as Carl Mason -- nicknamed "Boo" -- who lived in the neighborhood and knew Grant's son.
"I totally believe that he was involved, but I don't believe that he did it alone," Grant said of the man. "What amazes me is they never pursued more action toward this kid."
Attempts to reach Mason by phone Thursday were not successful.
Grant said he posted the audio of the 911 calls to his Facebook page in the hopes that, "someone might recognize the voices." He said he believes the calls were made by two separate males.
"I'm hopeful this can be solved. It might strike a nerve with someone," Grant said.
Click here to listen to the tape
In a statement sent to FoxNews.com, Atlantic City prosecutor James McClain said, "This case, and any unsolved murder, is under regular review and re-evaluation, and is continuously assigned to Major Crimes Unit detectives for follow-up investigation until it is solved.
"One unsolved homicide is unacceptable, and we will continue to investigate every homicide with the goal of obtaining justice for the victim-survivors," McClain said.
The Atlantic City Prosecutor's Office declined to comment on the specifics of the Grant case at this time.
Grant, who now lives in Puerto Rico, described his son as "full of life."
"He was only in second grade, but he was a great student," Grant said. "He loved to play street hockey and he loved school. He was no introvert by any stretch."
"Not a second goes by that I don't think about my son," he said.
Anyone with information on the case is urged to call detectives at 609-909-7666.
Cristina Corbin is a New York-based reporter for FoxNews.com. Follow her on Twitter @CristinaCorbin.