Lew presses Beijing to let market set exchange rate, give foreign investors more access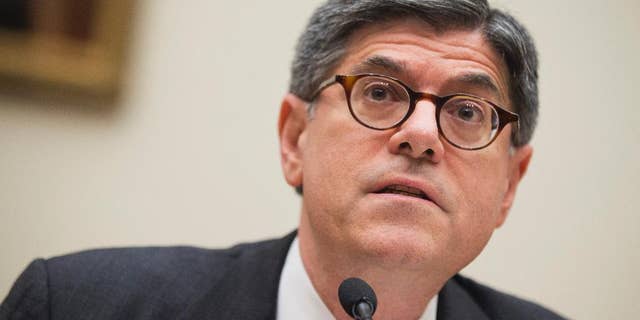 NEWYou can now listen to Fox News articles!
BEIJING – The U.S. treasury secretary pressed China on Tuesday to ease exchange rate controls and lower barriers to trade and investment.
Beijing in March widened the narrow band in which it allows its yuan to fluctuate against the U.S. dollar. But it retained controls that critics complain keep the yuan undervalued and give its exporters an unfair price advantage.
"It is important that China demonstrate a renewed commitment to move to a more market-determined exchange rate," Treasury Secretary Jacob Lew told China's top economic official, Premier Li Keqiang, in a meeting.
Lew appealed for a "more transparent exchange rate policy."
Washington wants a more "open, balanced" trade and investment relationship, Lew said. He said that would include opening China's markets wider to foreign investment and ensuring equal treatment for all companies.
Lew expressed similar sentiments earlier Tuesday in a meeting with a deputy premier, Wang Yang.
Also Tuesday, the U.S. government announced that the next meeting of its Strategic and Economic Dialogue with China will be held in July in Beijing. It said the U.S. delegation will be led by Lew and by Secretary of State John Kerry. Wang and State Councilor Yang Jiechi are to lead the Chinese side.
The dialogue is aimed at improving cooperation between the world's two largest economies on political, economic and other issues and to resolve irritants in trade and other areas.
In his meeting with Lew, the Chinese premier, Li, said achieving results in the dialogue will "bring benefits to both sides and the world."
Communist leaders have promised to give entrepreneurs and market forces a bigger role in China's state-dominated economy in hopes of making it more efficient and productive.
Li promised in an annual policy speech in March that the market would be allowed to play a "decisive role" in allocating credit and other resources.
The March 15 widening of the currency trading band doubled the margin by which the yuan is allowed to fluctuate each day against the dollar, though to a still relatively narrow 2 percent.
Beijing reported a $260 billion global trade surplus last year, a $30 billion increase over 2012 and among the largest ever recorded by any country.
Chinese leaders have said they plan eventually to let the yuan trade freely on global currency markets but some analysts say that might be decades away.
The yuan has been allowed to gain about 20 percent against the dollar since 2005 but this year the central bank has been guiding its value lower. Analysts say that appeared to be an effort to discourage speculators who are moving into China to profit from the currency's rise.
Foreign business groups complain Beijing uses regulatory barriers to shield its companies from competition in violation of its free-trading pledges.
In a report in March, the American Chamber of Commerce in China said 41 percent of its members that responded to a survey believed foreign companies are "less welcome than before."