Lawsuit: Mexican veterinarians hired by Idaho farm forced to work as laborers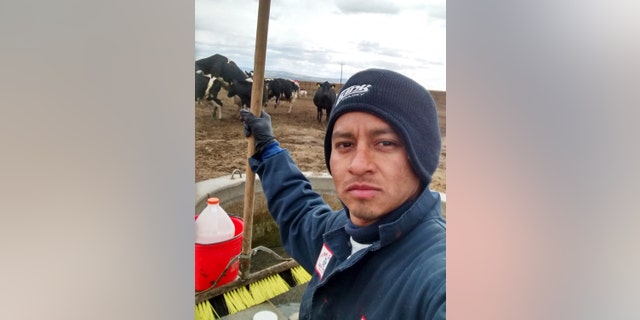 NEWYou can now listen to Fox News articles!
Six Mexican veterinarians who say they were recruited to work at an Idaho dairy farm claim they were instead forced to work as laborers, milking cows and shoveling manure for about a year.
They have filed a federal human trafficking lawsuit against the dairy's owners and the lawyer who arranged work visas.
Cesar Martinez-Rodriguez, Dalia Padilla-Lopez, Mayra Munoz-Lara, Brenda Gastelum-Sierra, Leslie Ortiz-Garcia and Ricardo Neri-Camacho say that their employers exploited their fear, inability to speak English, and unfamiliarity with the American legal system to force them to stay at the dairy from 2014 to 2015.
They say they had been promised that they would oversee animal health and reproduction programs at Funk Dairy Inc. in the small southern Idaho town of Murtaugh. They were brought to the U.S. on TN visas for professionals from Mexico and Canada, according to the lawsuit filed in U.S. District Court in Boise.
The men say they received substandard housing and lower wages than promised and were threatened with deportation if they did not do their assigned work well.
They also say they were denied meal breaks, were forced to eat meals at unhygienic work stations around cows and that there wasn't enough protective equipment and portable toilets at the site for all of the dairy's workers.
They are seeking unspecified monetary damages under federal laws to fight human trafficking and target criminal conspiracies.
The alleged trafficking scheme represented "the fraudulent recruitment of professional Mexican veterinarians for the purpose of evading U.S. immigration laws and hiring workers as low-wage, general laborers," the lawsuit said.
"I'm not sure I can speculate as to why the company chose this route, but in general agriculture companies have been struggling with labor shortages," said the lawyer for the veterinarians, Edgar Ivan Aguilasocho . "As far as we can tell, this criminal conspiracy was aimed at providing a makeshift solution to that kind of shortage."
The Associated Press contributed to this report.