Las Vegas shooter described as 'unstable' sent tens of thousands of dollars overseas
The Las Vegas shooter sent tens of thousands of dollars "overseas," federal law enforcement officials told Fox News Tuesday, revealing new information that could shed light on what sparked him to unleash the deadly massacre.
The revelation came amid questions about the whereabouts of Stephen Paddock's girlfriend, Marilou Danley, who left the U.S. before Paddock committed the horrific attack that killed 59 and injured at least 515 others. Police said Tuesday afternoon that they considered Danley a person of interest in the investigation.
Investigators are looking into whether Paddock sent the cash to Danley amid conflicting reports she's in either the Philippines or Japan, the officials said.
In addition, a U.S. government source told Fox News that federal investigators have interviewed an "immediate relative" of Paddock's girlfriend. This relative said the family found Paddock "unstable," and he made relatives "uncomfortable." FBI officials declined to comment on this interview.
Investigators noted the money crossing hands was a significant amount and authorities were trying to uncover who received the cash and where it currently is. It was not immediately clear when the money was transferred.
Sources also tell Fox News the FBI ran Paddock through its federal databases and got no hits indicating ties to international terrorism. The FBI now has Paddock's electronics and will take "a day or two" to process them.
Senior law enforcement in the Philippines also confirmed to Fox News that they are reviewing a photo that was taken around 2012 or 2013 purportedly showing Paddock in the country.
The photo was posted online Tuesday by a relative of Danley, and, if confirmed, is the first documented evidence of the shooter visiting the Philippines.
The photo shows a man who appears to be Paddock sitting down at a table of food and talking to a woman -- possibly Danley. Two other women are in the photo as well.
FULL COVERAGE OF MASSACRE ON THE STRIP
The windows in the background of the photo have grills that are of a typical Filipino style of most middle class urban homes.
Law enforcement in the Philippines told Fox News that they are looking into Paddock's potential past visits and they have been contacted by the FBI.
An Australian newspaper, Brisbane's Courier-Mail, reported Monday that Danley was an "Australian citizen originally from the Philippines."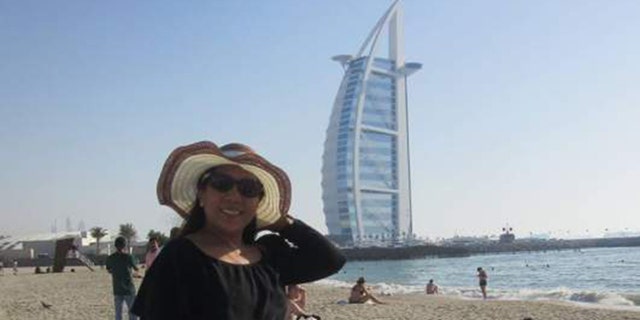 Police say they want to question Danley further when she returns to the U.S.
Paddock was a prolific gambler who was known to play poker games for $1,000 a hand, and was spending up to $30,000 a day on the casino floor in the days leading up to the shooting, according to casino accounts.
"It's like a job for him," his brother, Eric Paddock, said Monday. "It's a job where you make money. He was at the hotel for four months one time. It was like a second home."
The gunman was purportedly well known in Las Vegas and was even comped free rooms and given access to special casino facilities thanks to the large sums of money he spent on the Strip.
MARILOU DANLEY: WHAT WE KNOW ABOUT LAS VEGAS GUNMAN'S COMPANION
Despite his time gambling, his family said he was simply a wealthy former accountant who enjoyed the Vegas lifestyle, and there is no clear evidence he had incurred massive gaming losses.
ISIS, which has a strong presence in the Philippines, claimed Monday that Paddock was "a soldier" who converted to Islam months ago. But the FBI on Tuesday discounted any connection between Paddock's deadly rampage and international terrorism.
Fox News' Jake Gibson, Catherine Herridge, Mike Cohen and The Associated Press contributed to this report.