An armed, veteran police officer stood idle for several minutes last October as the Las Vegas gunman slaughtered dozens of concertgoers from a perch one floor up, and now that cop's actions -- and inaction -- are being reviewed by the Metropolitan Police Department.
The investigation into Cordell Hendrex, and the rest of the city's police department, comes as Las Vegas prepares to release its ninth batch of footage and records related to the shooting, which left 58 dead and hundreds injured.
"Every officer's actions that night are being evaluated," police spokesperson Carla Alston told the Las Vegas Review-Journal last week. "One of the things Sheriff [Joseph] Lombardo has said from the beginning is that this is an ongoing investigation. Part of that investigation is the evaluation of the performance, actions and conduct of every officer and civilian employee involved in the incident."
The actions of Hendrex -- which have drawn comparisons to those of Scot Peterson, a former school resource officer labeled a "coward" by President Trump after Peterson failed to act during February's Parkland high school shooting -- have come into the spotlight following record releases in May and June.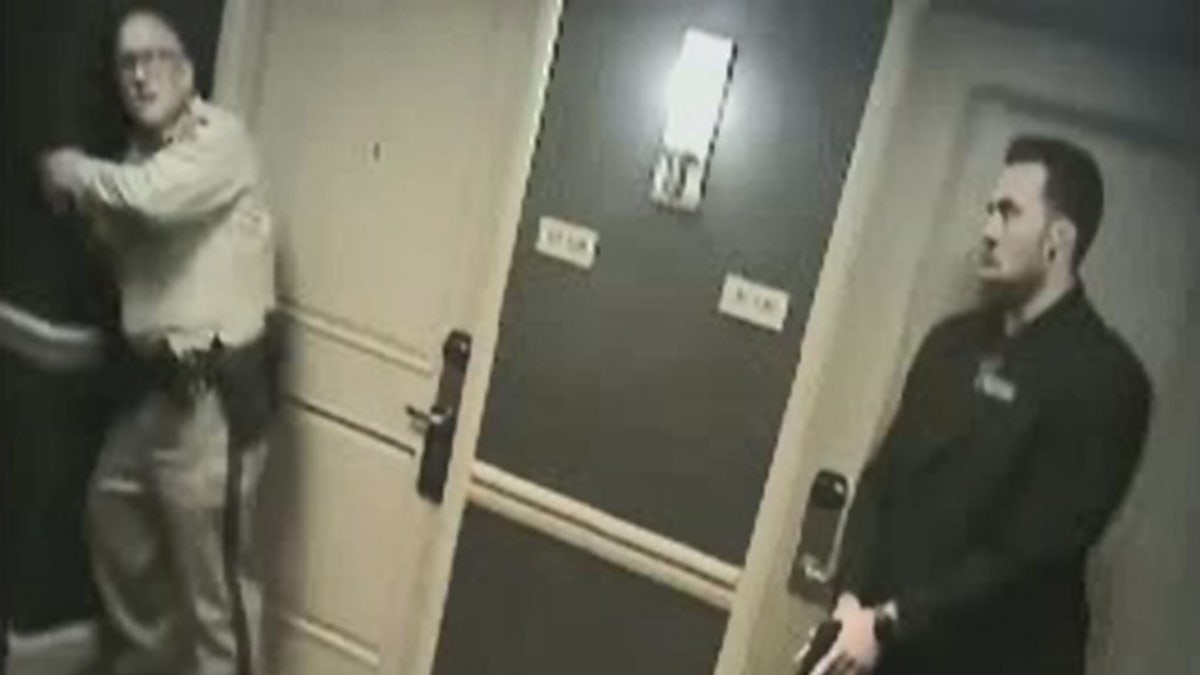 Video footage showed Hendrex leading a police trainee and three Mandalay Bay security guards to the sounds of gunfire coming from the hotel's 32nd floor, where Stephen Paddock set up his sniper post, but not confronting the shooter.
In body cam videos released last week, Hendrex is seen directing the group, with their handguns drawn, on the 31st floor.
"Holy s---. That's rapid fire," Hendrex is heard saying amid the sounds of Paddock unloading his rifle. "Oh my God," he later says, before letting out an exasperated sigh.
Hendrex, who has reportedly worked with the police department since 2009, also told police radio he was "inside the Mandalay Bay on the 31st floor, we can hear automatic fire coming from one floor above us."
"Just be advised it is automatic fire, fully automatic fire from an elevated position," he is told in response. "Take cover."
The video footage, captured by the body camera of Las Vegas Officer Elif Varsin, then shows the group standing in the hallway for about two minutes before taking refuge in a stairwell heading up to the 32nd floor for around 15 minutes, at which point the clip ends.
"I know I hesitated and remember being terrified with fear and I think that I froze right there in the middle of the hall for how long I can't say," Hendrex later wrote in a police report that was made public in May.
"I knew that if I could come at the shooter or shooters from another side or a different angle then we could surround and contain them from escape and keep them from hurting more victims," he added, while noting he forgot to turn his body camera on until later in the shooting.
"I could feel my mouth was extremely dry and cotton mouth and I had no spit I also felt myself starting to get tunnel vision and I can remember concentrating on tactical breathing to calm myself," he said.
But for retired Las Vegas Metropolitan Police Department Lt. Randy Sutton, Hendrex's actions weren't good enough.
"The body cam footage that came out, it's really disturbing… and you know it's frustrating to me both as a retired police officer, especially with Metro, to see this made public and to feel the frustration that he didn't do anything, that he just froze, even by his own report, was so frightened that he didn't do anything," Sutton told Wayne Allen Root on the June 29 edition of Root's radio program. "And not only him but since he was the senior officer, the trainee that was with him didn't act nor did the security people because they were waiting for his lead."
Sutton added: "Just like in the Parkland shooting I have to face the facts and treat matters like this legitimately and so when there is a screw-up or when there is an embarrassment like this, I have to be truthful about it as much as I find it distasteful to talk about."
Other law enforcement experts, though, said they could understand why Hendrex hesitated as the shooting unfolded.
"We teach officers to respond directly to the active killing. Every second that it continues to go on, more lives are at risk," J. Pete Blair, a criminal justice professor and director of the Advanced Law Enforcement Rapid Response Training center at Texas State University, told the Associated Press. "But we don't expect them to take unnecessary risks."
Thor Eells, the executive director of the National Tactical Officers Association, told the AP that "you can simulate an active shooter scenario, but it's not the same as when real bullets are flying."
And Eugene O'Donnell, a former New York City cop and now instructor at the John Jay College of Criminal Justice, said "we have to be realistic."
"Police officers are civilians with guns," he told the Associated Press. "The notion that they can spring into action and take on a mass murderer who is running up the body count is probably something you can't ask."
Las Vegas police are expected to release a report about the shooting by August and the FBI has said its report – which will focus on the motive for the attack – is due sometime before October 1.