Kidnap victim says she's a 'survivor' in first TV interview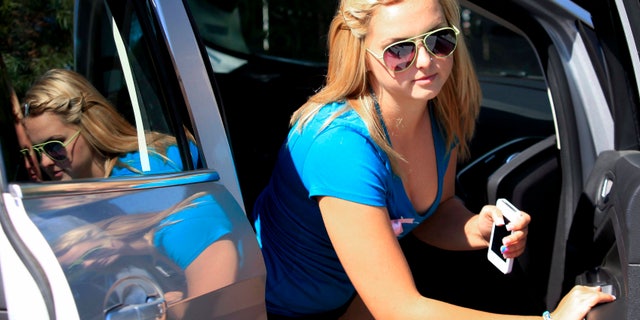 NEWYou can now listen to Fox News articles!
Hannah Anderson refers to herself as a "survivor" in her first television interview since her rescue August 10 after she was kidnapped by a family friend accused of murdering her mother and brother.
"In the beginning I was a victim, but now knowing everyone out there is helping me I consider myself a survivor instead," she told NBC's "Today" Show in an interview to air Thursday morning. "My mom raised me to be strong."
The 16-year-old was kidnapped by James Lee DiMaggio August 4. He and Anderson were spotted traveling in his Nissan Versa on a Border Patrol surveillance camera shortly after midnight on that date. The vehicle became the subject of an Amber Alert that covered California, Nevada, Oregon, and Washington.
20 hours later, DiMaggio's home caught fire in Boulevard, Calif. When the flames were extinguished, firefighters found the bodies of 44-year-old Christina Anderson and 8-year-old Ethan Anderson, Hannah's mother and brother, respectively.
On August 10, Hannah Anderson was rescued and DiMaggio was killed following a shootout in a remote wilderness area in central Idaho.
The NBC interview is not Hannah's first public statement since her rescue. On August 13, she answered questions from users of the social media site ask.fm. Among the statements she made was one saying that DiMaggio "deserved what he got." Another said that she would never forgive herself for not trying harder to save her mother and brother.
Meanwhile, Hannah's father is striking back at the suggestion that the suspect fathered his children.
Brett Anderson finds it "disgusting" that the family of James Lee DiMaggio is mentioning the suspect as the possible father of Hannah and Ethan Anderson, Stacy Hess, an Anderson family spokeswoman, told the Associated Press
DiMaggio, 40, didn't meet Brett and Christina Anderson until Christina was six months pregnant with Hannah, Hess said. And investigators used Brett Anderson's DNA to confirm the identity of 8-year-old Ethan Anderson, whose remains were found in the rubble of DiMaggio's burned home, she said.
Andrew Spanswick, a spokesman for the DiMaggio family, said rumors have circulated on social media that DiMaggio fathered the children and that it was "a little strange" that the suspect named the girl's paternal grandmother as his life insurance beneficiary.
Lora Robinson, DiMaggio's sister and lone survivor of his immediate family, collected DNA from her brother and wants samples from Hannah Anderson and her brother to determine paternity, Spanswick said. She has not yet asked for the samples but intends to at a later date.
"The biggest issue is, I think, that Lora wants closure on the case," Spanswick said. "As Lora has heard these rumors, she would like to confirm whether they are true or not."
DiMaggio was like an uncle to the Anderson children and Brett Anderson's best friend. DiMaggio named Hannah's grandmother, Bernice Anderson, as the sole beneficiary of his employer-issued life insurance policy, making her eligible to receive $112,000, according to Spanswick, who believes the money was intended for Hannah.
San Diego County Sheriff Bill Gore has called Hannah "a victim in every sense of the word." He has declined to discuss a possible motive and investigators haven't publicly addressed other aspects of the case, including why the family went to DiMaggio's home, how Christina and Ethan Anderson died, the nature of letters from Hannah that were discovered in DiMaggio's home and how Hannah was treated in captivity.
DiMaggio used a timer to set the fire, giving him a 20-hour jump on authorities, San Diego County Sheriff's Department Jan Caldwell said.
The Associated Press contributed to this report