Judge Tosses Iraq Vet's Lawsuit Over 'Hurt Locker'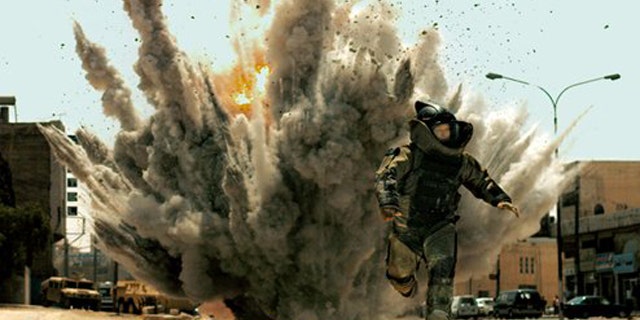 LOS ANGELES – A federal judge on Thursday dismissed a lawsuit filed by an Iraq war veteran who claimed "The Hurt Locker" was based on his experiences as a bomb disposal expert.
The ruling by U.S. District Judge Jacqueline Nguyen ended Sgt. Jeffrey Sarver's case against the producers of the Oscar-winning film, its screenwriter and director Kathryn Bigelow.
Sarver sued over the film days before it went on to win best picture at the Academy Awards in 2010. He claimed screenwriter Mark Boal based the film on him and that Sarver was presented in a false light, which resulted in ridicule from fellow service members.
Nguyen rejected those arguments and ruled that Sarver was unlikely to win the case if it proceeded.
"Here, the value of `The Hurt Locker' unquestionably derived from the creativity and skill of the writers, directors, and producers who conceived, wrote, directed, edited, and produced it," Nguyen wrote in her 22-page opinion.
"The Hurt Locker was inspired by many soldiers I met and interviewed during my time reporting in Iraq and elsewhere," Boal wrote in a statement. "It was a disservice to all of those other soldiers for Sgt. Sarver to claim that he was the only soldier that was the basis for the hero of the film. I am glad that the Court has decided to dismiss the lawsuit."
Attorney Todd Weglarz, who represented Sarver, said he was disappointed by the ruling and intended to appeal it.
"We are not going to stop representing the rights of Sgt. Sarver and other military members and the privacy of their families," Weglarz said.
He noted that Nguyen had issued a tentative ruling earlier this year that didn't dismiss all of Sarver's lawsuit, but her final ruling did. Weglarz said he thought the case should be decided by a jury.
Tim Gorry, an attorney who represented the film's financiers and producers Nicholas Chartier and Greg Shapiro, said Nguyen's ruling reinforces First Amendment protections for filmmakers.
"This should reduce the chilling effect that lawsuits such as this one have on creative expression for all the arts," he wrote in an email.
Boal and the producers have repeatedly denied Sarver's claims and sought dismissal of the case. As part of Nguyen's ruling, they were awarded attorney's fees.
Attorney Jeremiah Reynolds, who represented Boal and Bigelow, said the ruling was a huge victory for filmmakers.
"No artist should ever be forced to create entire fictional worlds that have no basis in reality simply because they fear the threat of meritless lawsuits," Reynolds said in a statement.
In court filings, Sarver said using him as a basis for Jeremy Renner's character in the film had harmed his reputation and placed his life at risk.
"Defendants have essentially placed a bulls-eye on the back of my army uniform/bomb suit for my current and future deployments," Sarver wrote in a sworn declaration he signed in Afghanistan in March.
Boal was embedded with Sarver's unit in 2004 and wrote about Sarver and other bomb disposal experts in an article for Playboy magazine titled "The Man in the Bomb Suit."
Sarver claimed Boal wanted to stay with him exclusively because he didn't trust other bomb techs