Jewish leaders fear online surge of Hitler's 'Mein Kampf' fuels new wave of hate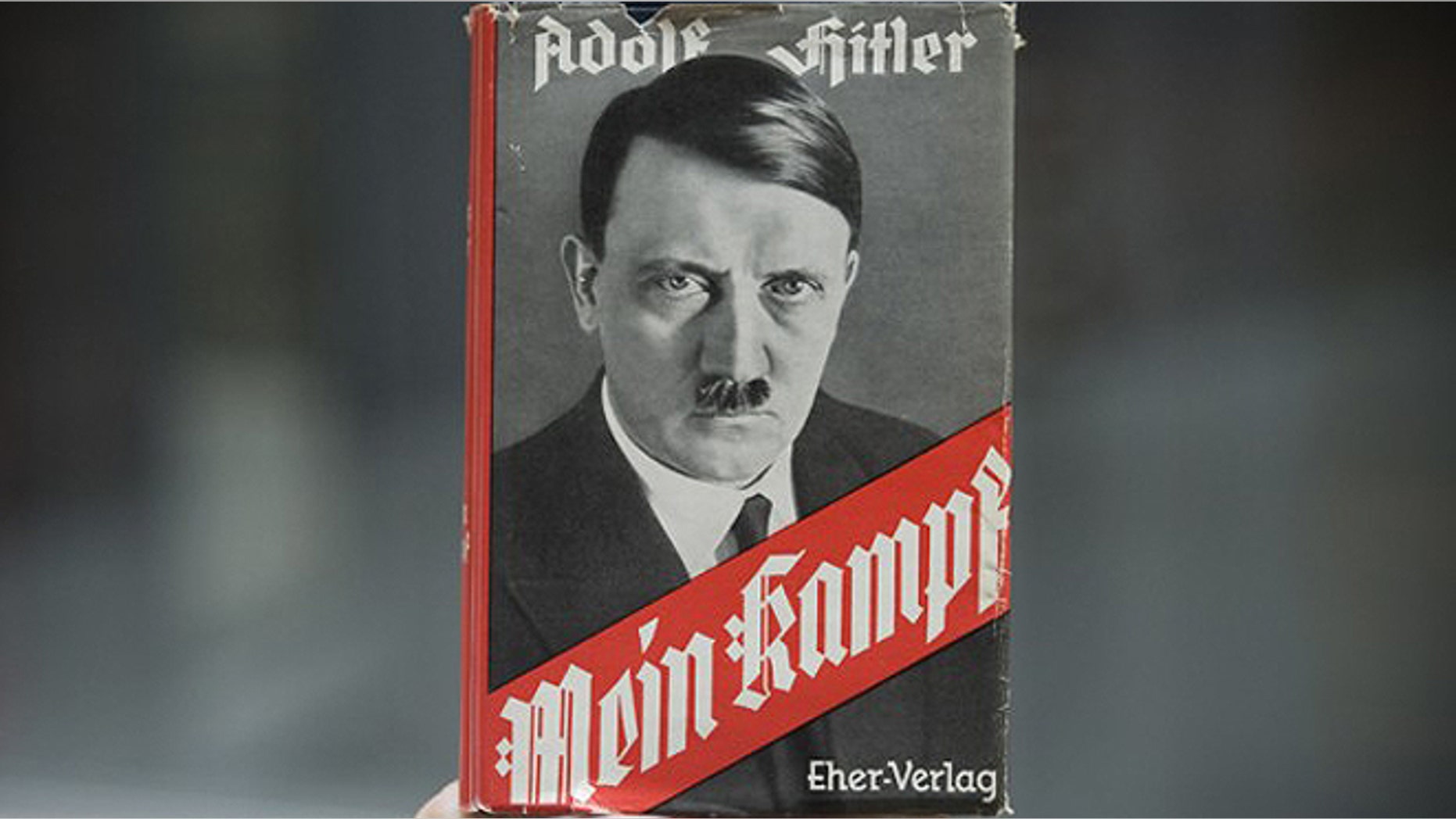 As Adolf Hitler's "Mein Kampf" enjoys a disturbing second act as a wildly popular e-book, Jewish activists are appealing to publishers to mute Adolf Hitler's manifesto with annotations that put its hateful message into historical and humanitarian context.
Originally published in 1925, the 387-page anti-Semitic manifesto on the "Jewish peril" and the Nazi ideology has become a bona fide online sensation, topping Amazon's Propaganda & Political Psychology section as of Thursday for just 99 cents. Elsewhere, two different versions ranked No.12 and No. 15, respectively, in the Politics & Current Events section of the iTunes bookstore as of Wednesday. While such rankings in one of several categories does not make the book a true best-seller, they do indicate a spike in popularity.
But Rabbi Abraham Cooper, associate dean of the Simon Wiesenthal Center in Los Angeles, thinks online sellers large and small should only sell annotated versions of the book since there's "no way for those who apply democratic rules and values to the Internet" to ban it outright.
"We know that the facts of life are that you cannot censor any idea from the Internet, it's simply impossible," Cooper told FoxNews.com. "But an annotated version is important for someone who doesn't know the context of the time and so that they're not reading pure genocidal hate."
[pullquote]
Publishers of the book have acknowledged the concerns of Jewish groups before. Random House, which holds the U.K. copyright on the most popular English translation of "Mein Kampf," has donated in excess of $1 million to the Holocaust Survivors' Memoirs Project. In 2000, under pressure from the World Jewish Congress, U.S. rights holder Houghton Mifflin also agreed to fund Jewish causes. But the WJC is now asking the world's largest online retailer, Amazon, to stop selling "Mein Kampf" and other books that promote hate altogether.
Cooper stopped short of asking for the book to be banned, but said annotating it is a thoughtful compromise that would help new generations of readers properly understand a book he says continues to propel "very disturbing, very corrosive" views of Jews worldwide.
"It adds fuel to the fire of hatred," Cooper said. "It's shorthand for Jew hatred, and that makes it an automatic seller."
Cooper, along with historical consultant Harold Brackman, said Hitler's posthumous e-book surge is not entirely unexpected.
"It exploits pent-up demand in Germany, where print versions have been verboten, but cyberspace again makes a joke of the Maginot Line of censorship laws," Cooper and Brackman wrote on JewishJournal.com.
The glorification of Hitler, Cooper claims, is being seen among Muslims and Arabs in the Netherlands, Lebanon, Turkey, Egypt, Thailand, Japan, India and South Korea.
Cooper also noted that the German dictator's book — whose title means "My Struggle" and was written in a Bavarian prison prior to his ascent to power — was also distributed last year by North Korean ruler Kim Jong-Un to his top officials as a leadership skills manual. Kim reportedly handed out translations of the text during his birthday in January, according to a report by New Focus International, an online outlet operated by North Korean defectors.
"This in a regime already using gas chambers to experiment on and murder selected political prisoners and that is incarcerating as many as 200,000 citizens in inhuman forced-labor camps," Cooper and Brackman wrote.
Had the book "been taken seriously" upon its publication, the 20th century could have been very different, according to its description on Amazon.com.
"Beyond the anger, hatred, bigotry and self-aggrandizing, 'Mein Kampf' is saddled with tortured prose, meandering narrative and tangled metaphors (one person was described as "a thorn in the eyes of venal officials")," Amazon.com reads. "That said, it is an incredibly important book."
One possible reason behind the surge is the anonymity offered by electronic books, according to Chris Faraone of Vocativ.com.
"'Mein Kampf' hasn't made The New York Times nonfiction chart since its U.S. release in 1939, the same year Germany invaded Poland, and its print sales have fallen steadily ever since," Faraone wrote. "But with a flood of new e-book editions, Hitler's notorious memoir just clocked a banner digital year.
"Trying to curb Hitler's sales has proven a futile exercise worldwide," he wrote. "Since showing up in Asia 15 years ago, 'Mein Kampf' has sold in excess of 100,000 copies in India. In 2005, the debut of the first-ever Turkish translation sold 100,000 copies in the first two months. And now, with the e-book revolution in full swing, readers are downloading Hitler everywhere."
Cooper agreed with Faraone's take, saying the anonymity provided by e-books has "absolutely" been a factor, particularly in Germany. He's not hopeful, however, that online merchants like Amazon will make his suggestion of selling only annotated versions of the book a reality.
"I'm not holding my breath," he said. "I'm not sure this is a problem we're going to solve. But would it make a difference?"
In response to the surge in digital downloads of the book, as well as the expiration of its Bavarian copyright next year, the Anti-Defamation League is offering an introduction to the English translation written by Holocaust survivor and ADL National Director Abraham Foxman.
"We believe it is important for Mein Kampf to continue to be published as it does have value to historians and students of World War II and Holocaust history," Foxman said in a statement.  "There is always the concern, however, that some people who are already infected with anti-Semitism will misuse the book in an attempt to glorify Hitler or reinforce their own warped views about Jews. We think the only constructive way for the book to be published is with an introduction that explains the historical context and the impact of the thinking behind Hitler's words, which led right up to the murderous, racist Nazi regime."