Indiana Becomes Potential Game Changer in Race for White House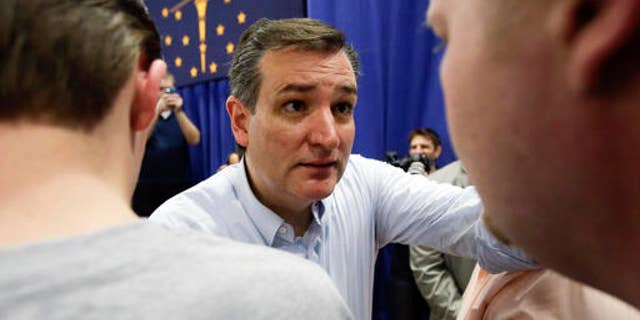 Another important Tuesday in the race for the White House. Indiana voters head to the polls today, and could help seal the deal for Donald Trump and Hillary Clinton.. and end the race for Ted Cruz or Bernie Sanders.
Trump says "it's over" for Ted Cruz if Trump wins Indiana. The latest polling suggests Trump has a double digit lead in the state. If Trump wins Indiana, his path to the nomination becomes easier and much more likely.
Ted Cruz got in a huge verbal confrontation with Trump supporters at a rally yesterday in Indiana.
1130EDT -- Sen Cruz & Carly Fiorina make a retail stop at Wolf's Bar-B-Q Inc. Evansville, IN. LIVE via LiveU
John Kasich has not been campaigning in Indiana per his agreement with Ted Cruz to try and divide and conquer. He's hoping for victories in New Mexico and Oregon.
Hillary Clinton leads Bernie Sanders in Indiana by just a few points according to recent polling, though she has not been campaigning hard there. Instead she kicked off a two day campaign tour through coal country including stops in Kentucky and West Virginia.. where she was met by tiny crowds and a heckler at one stop.
Sanders campaigned yesterday in Evansville, Indiana telling voters he'll "fight as hard as we can for every vote."
Bernie Sanders campaign reported disappointing numbers for fundraising last month.
1030EDT -- Hillary Clinton holds a campaign event. Univ of Charleston, Charleston, WV. LIVE via LiveU
President Obama will hear directly from residents of Flint, Michigan today that has been suffering from a major water crisis.
An American soldier has been killed fighting ISIS in Irbil, Iraq. He's the third served member killed in Iraq since the withdrawal in 2011.
The U.S. could ban travel to North Korea after a second American was arrested.
The clothing retailer Aeropostale plans to file for bankruptcy this week and close more than 100 stores.
Apple has fallen 8 days in a row after reporting disappointing results last week.
We get earnings today from Pfizer, Sprint, Starwood, CBS, Halliburton and more.
The EU is cutting its forecast for economic growth.
Australia cut interest rates today sending the Aussie dollar down by 2%.
China released manufacturing data today that disappointed analysts.
For more news, follow me on Twitter: @ClintPHenderson