Hurricane Michael sends Florida, Alabama residents scrambling: 'It's very chaotic'
Hurricane Michael's rapid intensification as it speeds towards Florida's Panhandle has left residents scrambling Tuesday to make final preparations before the storm closes in -- and officials warn the storm could grow even stronger in the hours before landfall.
The National Hurricane Center said as of 2 p.m. ET that Michael is a Category 2 storm with winds of 110 mph and is moving north-northwest at 12 mph towards Florida. The storm is located about 335 miles south of Panama City and 310 miles south-southwest of Apalachicola, Fla. 
Hurricane Center Director Ken Graham said there were just a few hours left until Michael's wind gusts and rain bands would start whipping the coast.
"Guess what? That's today," Graham said. "If they tell you to leave, you have to leave."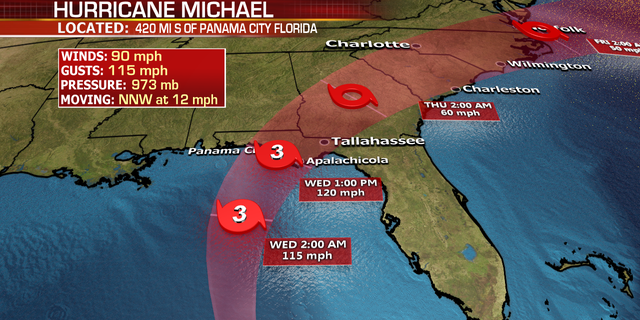 Mandatory evacuation orders went into effect Tuesday morning for some 120,000 people in Panama City Beach and across other low-lying parts of the coast. The NHC said the storm's eye continues to move north, and Michael is expected to bring "life-threatening" storm surge with hurricane-force winds along the northeastern Gulf Coast.
In Mexico Beach, located just outside of Panama City, residents and realtors were busy with final preparations of waterfront homes.
"It's very chaotic," broker and owner Cathey Parker of Parker Realty of Mexico Beach told WJHG/WECP. "We have to bring the porch furniture in on all of them and then some of them want the windows boarded up, the sliding glass doors."
Elsewhere in Bay County, residents reported waiting up to 40 mins in long lines for gasoline as they gathered supplies ahead of the storm.
"It's really different to be under that kinda pressure: to try to save your home, to try to save your family, to try to, you know, prepare yourself," Tammy Wilson told WJHG/WECP.
HURRICANE MICHAEL TARGETS NORTH FLORIDA AS 'MONSTROUS' STORM GAINS STRENGTH
Further inland, officials warned residents living in mobile homes that are especially vulnerable to hurricane-force winds. Leon County officials issued a voluntary evacuation notice to mobile home residents, the Tallahassee Democrat reported.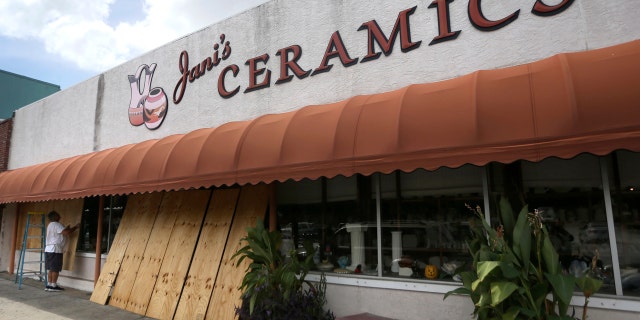 Joanne Palazzi, 77, told the paper it was going to be her first time riding out a storm in her mobile home.
"Mobile homes are very, very scary (during storms)," she told the Tallahassee Democrat. "And especially — look at the trees."
During a news conference on Tuesday, Florida Gov. Rick Scott warned Michael is a "massive storm" that could bring "total devastation" to parts of the state. The governor activated 2,000 members of the Florida National Guard on Tuesday to deal with the fast-moving storm, adding he is very concerned about a potentially "historic" storm surge when it makes landfall.
HURRICANE MICHAEL'S PATH: TRACK THE STORM HERE
Scott said some places could experience a storm surge of between eight and 12 feet of water as Michael blows ashore.
"There's nowhere to hide from a massive storm surge," Scott told reporters. "We can rebuild your house, we cannot rebuild your life."
But some residents in Michael's path said they don't plan on heading out ahead of the storm. Aja Kemp told the Associated Press she spent over $800 when her family fled Hurricane Irma's uncertain path last year.
"I just can't bring myself to spend that much money," she told the AP. "We've got supplies to last us a week. Plenty of water. I made sure we've got clean clothes. We got everything tied down."
Further west, dangerous surf was reported along the Alabama coast with some coastal flooding on Dauphin Island, FOX10 reported.
AS HURRICANE MICHAEL NEARS, LIVE SURF CAM VIDEOS SHOW IMPACT ON FLORIDA
Gulf Breeze, Fla.-resident Cathy Gaudette told FOX10 she was getting gas in Alabama along Interstate 10 before heading back to prepare her home for Michael.
"We will probably evacuate to like Alabama or wherever we can go to be safe," she said.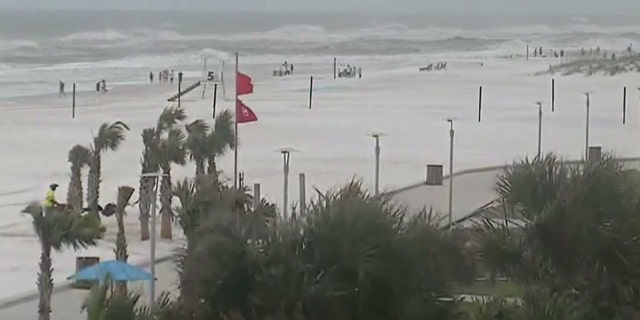 Besides heavy rain and ferocious winds, Michael also dump up to a foot of rain over some Panhandle communities before it sweeps through the Southeast and goes out to sea over the next few days.
Forecasters said it could bring 3 to 6 inches of rain to Georgia, the Carolinas, and Virginia, triggering flash flooding in a corner of the country still recovering from Hurricane Florence.
While Florence took five days between the time it turned into a hurricane and the moment it blew ashore in the Carolinas, Michael gave Florida what could amount to just two days' notice. It developed into a hurricane on Monday.
"I know people are fatigued from Florence, but don't let this storm catch you with your guard down," North Carolina Gov. Roy Cooper during a news conference on Tuesday.  "A number of homes have rooftop tarps that could be damaged or blown away with this wind."
The Associated Press contributed to this report.