Hurricane Harvey called 'grave risk' ahead of landfall in Texas
Hurricane Harvey is now being considered life-threatening and considered a "grave risk" by the National Hurricane Center as the "rapidly intensifying" storm is now forecast to become a Category 3 storm before making landfall on the Texas coast.
The head of the National Weather Service said Harvey is a "grave risk to the folks of Texas."
Forecasters believe the storm, predicted to have 125 mph winds, and bringing upwards of 20 inches of rain to parts of Texas, might last for longer than expected, according to the Hurricane Center.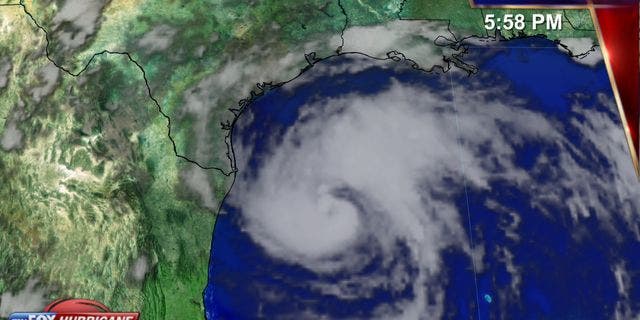 The storm is expected to produce devastating floods with up to almost three feet of rain throughout some middle and upper areas along the coast of Texas until next Wednesday. Areas in far South Texas, as well as central parts of Texas and Louisiana, are anticipating more than one foot of rain.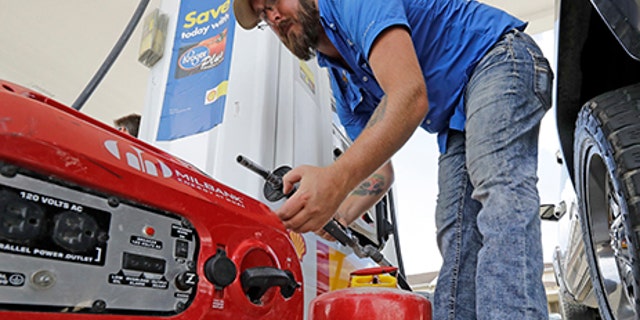 Harvey, with maximum sustained winds of 85 mph, is expected to approach the middle Texas coast on Friday and make landfall by Friday night or early Saturday morning.
As of Thursday afternoon, Harvey was about 305 miles southeast of Corpus Christi and sustained winds were clocked at 85 mph.
"We haven't had a major hurricane (cat 3 or higher) hit the U.S. since Wilma in 2005," Fox News' Senior Meteorologist Janice Dean said Thursday. "Texas hasn't had a hurricane make landfall since 2008, and the fact that this storm is expected to slow down and potentially bring epic floods to the coast from Louisiana to Texas is just dire."
The 68,000 residents in San Patricio County and the 22,000 people living in Calhoun County have been ordered to move inland as a storm surge of 6 to 10 feet is predicted for the area. Brazoria County officials ordered those in the Gulf side of the Intracoastal Waterway to evacuate, and voluntary evacuations have been advised for Corpus Christi.
Port Aransas Mayor Charles R. Bujan sent a mandatory evacuation order at 11 a.m. because of an "imminent threat of widespread and severe damage, injury, and loss of life and property and severe economic and social disruption due to high winds and tidal surges and other public calamity resulting" from Harvey.
The hurricane warning issued Thursday morning covers an area from Port Mansfield to Matagorda, while tropical storm warnings extend north of Matagorda to High Island, and south to the mouth of the Rio Grande on the Mexico border.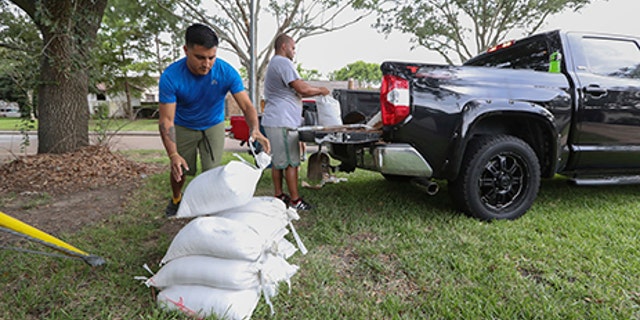 "People need to be in touch with their local officials and listen to the warnings," Dean said. "If you stay in an evacuation zone, you might not get help for days."
TRACK THE STORM AT MYFOXHURRICANE.COM.
Texas Gov. Greg Abbott declared a state of disaster for 30 counties Wednesday ahead of the expected landfall of Harvey, and ordered the Texas Division of Emergency Management's State Operations Center to elevate its readiness level in preparation for the storm's arrival.
The governor wrote on Twitter that he's spoken with President Trump and the heads of Homeland Security and FEMA. Abbott activated about 700 members of the state's National Guard in preparation for Harvey. Military helicopters are on standby in Austin and San Antonio.
Of the people in 16 counties under a hurricane warning, about 325,000 of them are in Corpus Christi. Another 12 million people are under a tropical storm warning, including San Antonio and Houston.
Numerous cities were shipping in sandbags, extra water and other items ahead of the storm.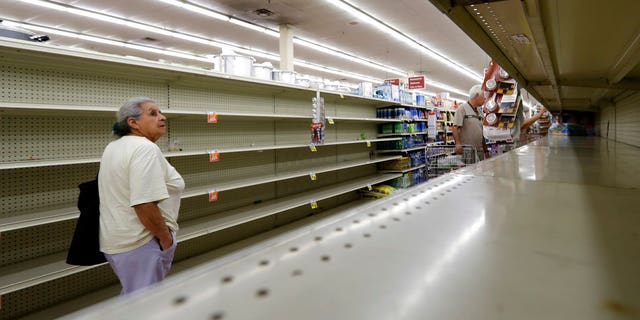 In Corpus Christi, dozens of people were waiting in line early Thursday at a local Sam's Club and city workers spent the day clearing storm drains throughout the area, the Corpus Christi Caller-Times reported.
Crystal Ybanez, work coordinator at the utilities department, told the newspaper the city is asking residents to help pick up trash, debris and grass or leaves in their yards to prevent its flow into the storm drains.
Harvey grew unexpectedly Thursday from a tropical depression into a Category 1 hurricane.
The Associated Press contributed to this report.