Hurricane Florence could strengthen to 'life-threatening' Category 5, as about 1.5M people evacuate
Hurricane Florence, with its 140 mph winds, continues its "life-threatening" push toward the Carolinas and the Mid-Atlantic states -- where more than 1.5 million people have been ordered to evacuate.
President Trump late Monday approved an emergency declaration for North Carolina, which authorizes the Department of Homeland Security and FEMA to coordinate disaster relief efforts for "the hardship and suffering caused by the emergency on the local population," a White House statement said.
"Please be prepared, be careful and be SAFE!" Trump tweeted Monday evening.
The hurricane, which as of 5 a.m. Tuesday was centered about 975 miles east southeast of Cape Fear, North Carolina, had sustained winds of 140 mph and remained a Category 4 as of early Tuesday morning. Scientists warn, however, the unusually warm waters in the Atlantic could accelerate the storm's winds to 155 mph – giving it near Category 5 intensity.
HURRICANE FLORENCE'S PATH: TRACK THE STORM HERE
Florence's center will move between Bermuda and the Bahamas on Tuesday and Wednesday and approach the coast of South Carolina or North Carolina on Thursday, the National Hurricane Center said.
The storm's first effects were already apparent on barrier islands as dangerous rip currents hit beaches and seawater flowed over a state highway.
Florence is expected to make landfall on Thursday and could become one of the most catastrophic hurricanes to hit the Eastern Seaboard in decades.
"Life-threatening freshwater flooding is likely from a prolonged and exceptionally heavy rainfall event," the National Weather Service said in an advisory.
"Life-threatening freshwater flooding is likely from a prolonged and exceptionally heavy rainfall event."
National Hurricane Center Director Ken Graham warned that Florence was forecast to linger over the Carolinas once it reaches shore. People living well inland should prepare to lose power and endure flooding and other hazards, he warned.
"It's not just the coast," Graham said. "When you stall a system like this and it moves real slow, some of that rainfall can extend well away from the center."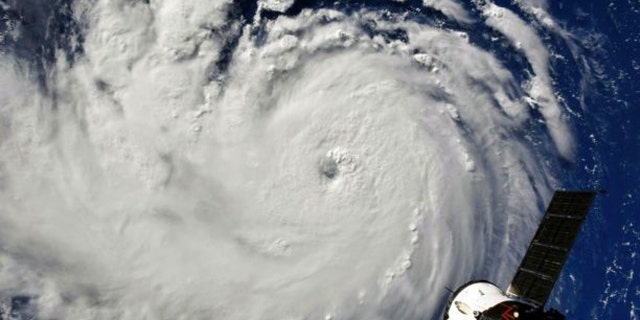 South Carolina Gov. Henry McMaster ordered the state's entire coastline to be evacuated starting at noon Tuesday and predicted that 1 million people would flee.
Virginia Gov. Ralph Northam issued an evacuation order that applies to about 245,000 people.
North Carolina Gov. Roy Cooper said his state was "in the bullseye" of the storm and urged people to "get ready now."
Maryland Gov. Larry Hogan also declared a state of emergency, as officials "are preparing for any possible outcome, including the potential of historic, catastrophic and life-threatening flooding in Maryland."
For many people, the challenge could be finding a safe refuge: If Florence slows to a crawl just off the coast, it could bring torrential rains to the Appalachian mountains and as far away as West Virginia, causing flash floods, mudslides and other dangerous conditions.
"I think this is very Harvey-esque."
The storm's potential path also includes half a dozen nuclear power plants, pits holding coal-ash and other industrial waste, and numerous hog farms that store animal waste in massive open-air lagoons.
Several meteorologists said Florence could do what Hurricane Harvey did last year over Texas, dumping rain for days, although the result would likely not be as bad.
"I think this is very Harvey-esque," said Brian McNoldy, University of Miami hurricane expert. "Normally, a landfalling tropical cyclone just keeps on going inland, gradually dissipating and raining itself out. But on rare occasions, the steering patterns can line up such that a storm slips into a dead zone between troughs and ridges."
The Associated Press contributed to this report