Hurricane Dorian makes US landfall in North Carolina's Outer Banks as a Category 1 storm
Hurricane Dorian's weakened but still dangerous winds battered North Carolina's Outer Banks early Friday as the Category 1 storm made U.S. landfall.
The hurricane, which as a Category 5 storm devastated the Bahamas earlier this week, is moving northeast at 14 mph and usherin gin a deluge of rain and floodwaters near Cape Hatteras, N.C.
More than 370,000 people were without electricity in the Carolinas and Virginia early Friday, a number expected to rise as the storm sweeps up the Eastern Seaboard this weekend.
As of 10 a.m., the National Hurricane Center said Dorian has sustained hurricane-force winds of 77 mph with wind gusts of 89 mph. As it continues to move north, the winds are unlikely to reach land.
TORNADOES HIT CAROLINAS AS HURRICANE DORIAN FLOODS CHARLESTON; 200K WITHOUT POWER
North Carolina Gov. Roy Cooper said hundreds of people are stranded on Ocracoke Island and that rescue teams were ready to move in as soon as it was feasible. He said local authorities are telling people to get to the highest point of their house.
Leslie Lanier, a resident on the island, said via text message Friday morning that some first floors have been flooded, but added the water level has started to drop.
She said she was OK, but "nervous and worried."
The National Hurricane Center said on Twitter that normally dry areas near the coast will be flooded by rising waters moving inland and that the surge will likely be "accompanied by large and destructive waves."
The hurricane has been blamed for at least four fatalities along the coast of the Carolinas and at least 30 deaths have been reported in the Bahamas, where the then-Category 5 storm battered the archipelago for two days starting last Sunday.
In Virginia Beach, residents reported downed trees, power outages and horizontal rain.
"I was in New Jersey for [Hurricane] Maria so I have seen storms but it's different here because of all the flooding," Missy Dalente told Fox News. "I need to go home and make sure my babies are safe."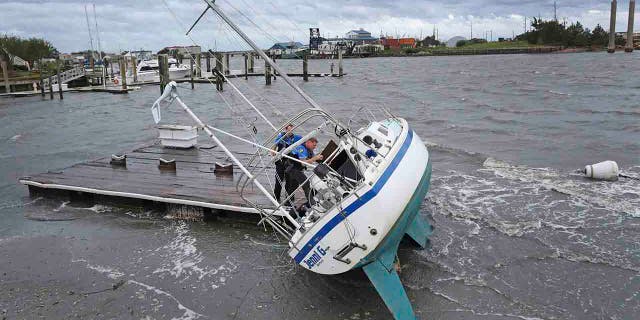 Near the Rudee Inlet in Virginia Beach, Fox News spotted a lone man in dark-gray clothes fishing.
"I've seen a lot of stupid and this certainly ranks right up there," Jeramiah Harris, a passerby, quipped.
HURRICANE DORIAN: NASA'S LAUNCH HARDWARE SURVIVED STORM, KENNEDY SPACE CENTER CONFIRMS
The Virginia State Police urged drivers to stay alert as weather conditions worsened and said they had aviation teams, patrols as well as search and recovery personnel ready for storm-related emergency calls along the Eastern Shore, Hampton Roads, Middle Peninsula and the metro-Richmond area.
"Do not let your guard down," Dare County emergency managers warned people who insisted on riding out the storm.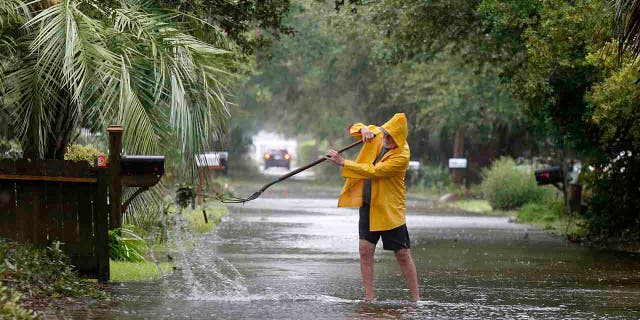 CLICK HERE TO GET THE FOX NEWS APP
At the start of the week, Dorian slammed the Bahamas with 185 mph winds, killing at least 30 people and obliterating countless homes. From there, it swept past Florida and Georgia at a relatively safe distance, then sideswiped the Carolinas on Thursday, spinning off tornadoes that peeled away roofs and flipped recreational vehicles.
Still, the damage was far less than feared in many parts of the Carolinas, including historic Charleston, S.C., which is prone to flooding even from ordinary storms, and Wilmington, N.C., the state's biggest coastal city.
"We prepared for the worst and that didn't happen. That's OK. I was a little worried back when it was a Category 3. We got lucky," said Ross Page, who walked his dogs in Wilmington on Friday morning.
Fox News' Brie Stimson and the Associated Press contributed to this report.