How FEMA is helping Texas as Harvey continues its destruction
President Donald Trump on Monday ensured federal aid for Texas in the wake of Harvey's devastation throughout the state.
Trump said Congress will act "very quickly" on a multi-billion dollar recovery package as the government signaled that current funds could be exhausted soon.
The Federal Emergency Management Agency's disaster fund currently contains more than $3 billion – a sum that Trump said is sufficient for now – but the government agency stressed Monday that it is quickly depleting the balance as it responds to Harvey's damage.
"We have not seen an event like this. You could not draw this forecast up," FEMA chief Brock Long said Monday as flood damage is predicted to reach into the tens of billions of dollars.
FEMA, tasked with providing support in the wake of disasters, has already deployed nearly 2,000 personnel and more than one million meals to Texas to help with relief efforts in the wake of the massive hurricane-turned-tropical storm. And it's expected to do even more.
Here's a look at what the government agency does and how it is helping Texas recover from Harvey.
What does FEMA do?
FEMA, a federal agency under the Department of Homeland Security, is supposed to "support our citizens and first responders to ensure that as a nation we work together to build, sustain and improve our capability to prepare for, protect against, respond to, recover from and mitigate all hazards," according to its website.
HOUSTON TO GET RESCUE BOATS FROM BASS PRO SHOP
"I'm scared about what we will discover in the coming days, but I hope we'll be ready to help."
Due to the amendment of the Disaster Relief Act in 1988, FEMA also has the responsibility of coordinating government-wide relief responses.
Why was it created?
FEMA was created through an executive order by former President Jimmy Carter in 1979 at the behest of multiple governors.
As it wasn't immediately popular or expediently helpful, the Clinton administration set about reforming the agency with the help of James Lee Witt as FEMA's director.
HARVEY RELIEF DONATIONS OVERWHELM AT DALLAS DROP-OFF SITE
FEMA was pulled under the umbrella of the newly created DHS in 2003 under former President George W. Bush's administration. Then, the agency was tasked with a "new mission," according to its website – homeland security. FEMA then was given responsibility for preparing personnel for the event of an attack with weapons of mass destruction, national preparedness and homeland security.
How is it helping Texas in the wake of Harvey?
As Harvey continues to wreak havoc on Texas for the fourth day, FEMA has already deployed more than 1,800 staff members to Texas and Louisiana. It has supplied more than one million meals and one million liters of water to those affected by the storm, as well.
FEMA also has more than 400 Urban Search and Rescue personnel to save those stranded in south Texas, the agency said in a press release Sunday.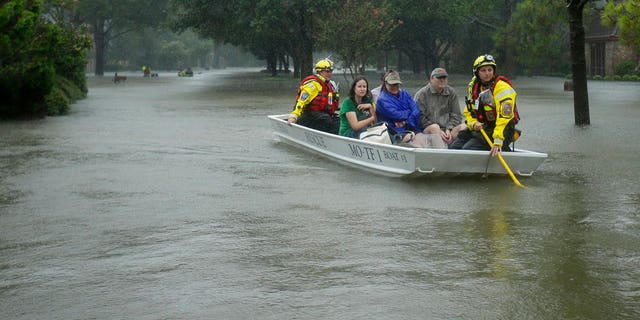 HOUSTON COMBATS HARVEY LOOTERS WITH MANDATORY JAIL TIME
A FEMA official told Fox News that since the full extent of the damage and human loss from Harvey won't be truly known for some time yet, the agency is preparing to send even more resources to the area.
"I'm scared about what we will discover in the coming days, but I hope we'll be ready to help," the official said.
In addition to financial and human aid, FEMA is keeping its Twitter accounts up-to-date with information, a spokeswoman told Fox News. It also has an app available for download – available in English and Spanish – which gives weather alerts, safety tips and directions to shelters, among other information, the spokeswoman said.
Does FEMA help dispel false information pertaining to the storm?
On its website, FEMA is also attempting to dispel rumors that could endanger those in the path of the storm – including one fear that undocumented immigrants cannot go to a shelter without risking deportation.
Immigration and Customs Enforcement and Customs and Border Protection "have stated that they are not conducting immigration enforcement at relief sites such as shelters or food banks," FEMA states on its website, adding that federal agents will only take certain measures in the "rare instance" when a "serious criminal alien" poses a "public safety threat."
FAMILY OF SIX COUNTED AMONG DEAD AS HARVEY DEATH TOLL CLIMBS TO 14
FEMA also notes that many shelters are manned by volunteer agencies and the Red Cross, which do not ask for identification from those wishing to receive assistance.
Additionally, FEMA warns that "scam artists" can pretend to be government officials, aid workers or insurance company employees in order to trick those who have been impacted by Harvey.
The Associated Press contributed to this report.