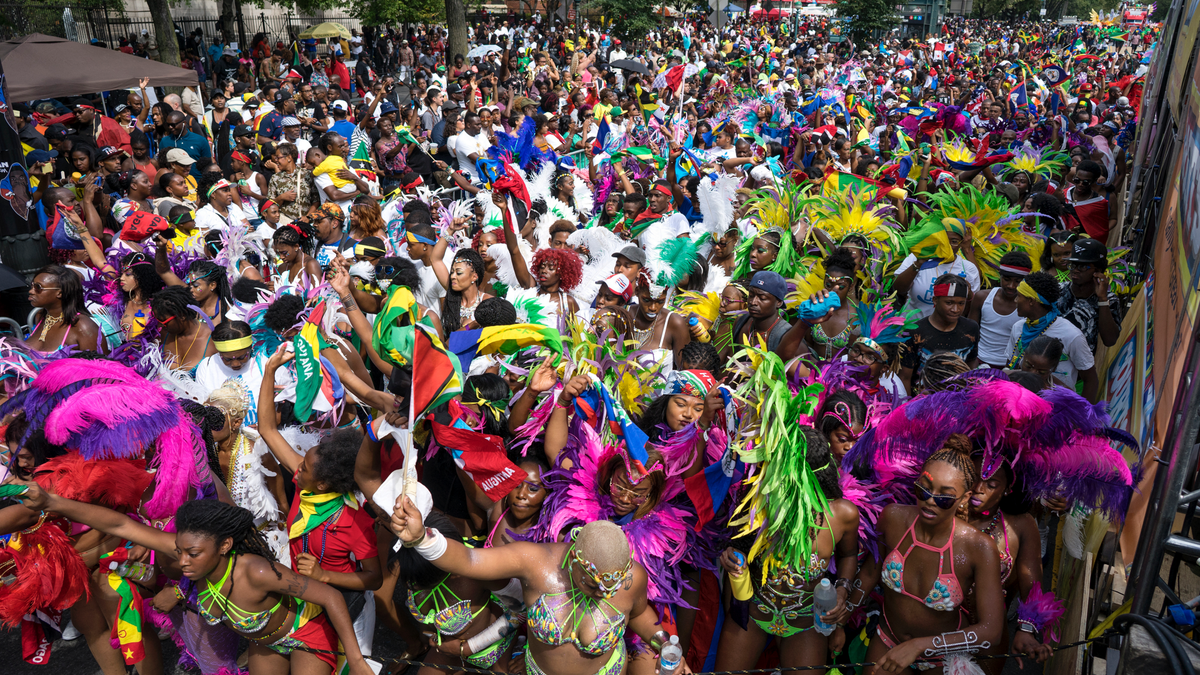 NEW YORK – City officials shifted the start time of a pre-dawn festival celebrating Caribbean culture and are taking other security precautions to stem violence ahead of the West Indian Day Parade this year.
J'ouvert usually begins at 4 a.m. on Labor Day on the streets of Brooklyn but will start this year at 6 a.m. Barriers will be placed along the route. Revelers will have to pass through metal detectors, and no alcohol or backpacks will be allowed. Light towers will be placed at entry points to make it easier to see. Thousands of additional officers will be on patrol and will police party areas outside the barriers.
Police say the precautions are similar to security during New Year's Eve in Times Square.
The changes were the result of community and lawmaker cooperation. Even after stepped-up security last year, three people ended up shot, including two fatally. In 2015, an aide to Democratic Gov. Andrew Cuomo was killed by a stray bullet.
Some had called for the celebration to be canceled, but organizers said it was too important to the Caribbean community and chafed at the suggestion it was intrinsically hospitable to violence. At a news conference Monday, police, organizers and lawmakers acknowledged the need to prevent violence but expressed gladness the event would go on.
"We have struggled to keep our culture alive," said Yvette Rennie, the president of J'ouvert City International. "But this time, the struggle is a bit different. It is with guns. And we are working closely with the mayor's office, with elected officials, to help because ... they're all our children."
The tradition originated in the Caribbean and is celebrated in several North American cities with West Indian communities, including Boston and Toronto. The name, J'ouvert, means daybreak, put together from the French words "jour" and "ouvert."
The formal part of Brooklyn's J'ouvert is the steel drum parade, but celebrations often begin hours earlier. The streets of the Crown Heights and Flatbush neighborhoods fill up with people eating and drinking at barbecues and parties, carrying the flags of their countries, dousing one another with paint, and walking or dancing along with family and friends until daylight.
Last year, 17-year-old Tyreke Borel was shot in the chest and died. A 72-year-old woman was grazed in the arm by a bullet at the same location. Soon after, a 22-year-old woman, Tiarah Poyau, was shot in the head just a block away and also died. Police arrested a suspect in Poyau's shooting, but officers continued to investigate the other shootings, Robert Boyce, chief of detectives, said Monday.
Officials say they hope with the new measures that the violence will permanently tamped down.
"J'ouvert is one of the most vibrant and passionate celebrations of culture in our great city, and it is incumbent upon all of us to make this year's festivities peaceful and enjoyable for everyone," Democratic Mayor Bill de Blasio said.