Hawaii plane crash kills all 9 aboard small craft, officials say
Nine people died when a small, twin-engine aircraft used by skydivers crashed Friday evening near Dillingham Airfield in Mokuleia on the Hawaiian island of Oahu, officials said.
Family members of the skydivers were reportedly not far from the site when the crash happened.
The mangled remains of the King Air plane were seen in a photo posted by a local newspaper and distributed by the Associated Press.
"In my 44 years as a firefighter in Hawaii, this is the most tragic incident that we've had," Honolulu Fire Chief Manuel Neves told the Star-Advertiser, describing the incident.
 "In my 44 years as a firefighter in Hawaii, this is the most tragic incident that we've had."
Hawaii's Department of Transportation confirmed on Twitter that the plane, a type of American-built small utility aircraft, had nine people aboard when it crashed. No survivors were expected to be found.
THREE RUSSIANS, ONE UKRAINIAN TO BE TRIED FOR MURDER IN MH17 TRIAL
Police said the plane was fully engulfed in flames when first-responders arrived, Hawaii News Now reported. Smoke from the crash site could reportedly be seen for miles.
Fourteen units and 39 personnel were called to the Dillingham Airfield around 6:24 p.m., officials said. Capt. Kevin Mokulehua told the Star-Advertiser that the fire was under control in 20 minutes. The department's Air 1 helicopter also conducted an aerial search for debris and other evidence that could help officials determine the cause of the crash.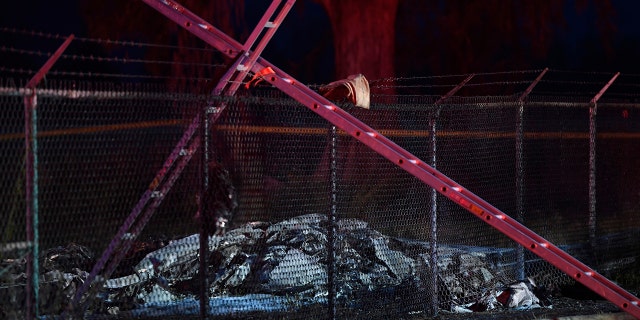 Neves confirmed that the aircraft was a skydiving plane. Family members who did not go up on the flight were present at the crash site. Officials have not released the names of the victims and are working to verify the name of the airline.
"I am closely following the tragic developments out of Dillingham Airfield this evening," Honolulu Mayor Kirk Caldwell said on Twitter. "At this time our thoughts and prayers are with the family and friends of the victims."
CLICK HERE TO GET THE FOX NEWS APP
The Honolulu Fire Department is turning over the investigation to state crash firefighters at this time, Neves said. Officials are waiting for a response from the Federal Aviation Administration on how to proceed.
It was unclear whether the plane was taking off or landing when it crashed. Officials have shut down Farrington Highway as they conduct an investigation.
Officials initially reported that six people had been on board.
This is a developing story. Check back for updates.