Hawaii Fireworks Facility Explodes, Kills 2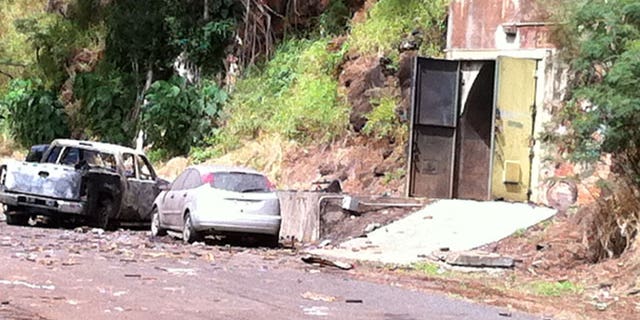 WAIPAHU, Hawaii -- A storage facility containing fireworks exploded in a Honolulu suburb Friday, killing at least two workers, injuring two others and leaving two more missing, authorities said.
The blast happened in a former military bunker where fireworks and other items were stored, said Peter Savio, who handles the leases for the facility. Explosions continued hours after the initial one, preventing firefighters from entering the bunker to search for the two missing men.
"The risk is too great to the rescuers," Honolulu Fire Capt. Terry Seelig said. "It's too unstable to enter the bunker tunnel."
The danger stopped firefighters from actively fighting the fire.
"We can't predict when explosions will happen. There isn't anything we can do but let it cool off," he said. Police sent robots into the bunker to give rescuers a view from inside, Seelig said.
The robots helped rescuers determine the bunker was still too hot to enter and there wasn't more that could be done Friday afternoon, Seelig said. Rescue crews were to return Saturday morning.
The blast was reported at the Waikele Business Center on Oahu at about 9 a.m. local time. One of the injured men was critically burned, and another suffered minor injuries, Seelig said.
The missing men were last seen inside the bunker before the explosion. "That indicates they did not survive the blast," Seelig said.
All the men were employees of Donaldson Enterprises, an environmental services and unexploded ordnance disposal company, Savio said. The company couldn't immediately be reached for comment.
The storage facility was authorized by the fire department to hold fireworks, and Seelig said there was no danger to the surrounding residential neighborhood.
The bunker is about 1 1/2 to 2 miles from the business center's entrance. Karen Pacleb, whose backyard faces the entrance, said she didn't hear an explosion but smelled the smoke.
"I thought someone was having a barbecue early in the morning," she said.
Students and staff at the nearby Waikele Elementary said they didn't hear any explosions.