Guard found dead in Delaware prison standoff was 16-year department veteran
The guard found dead Thursday after a Delaware prison hostage standoff that stretched for nearly a day was a 16-year veteran of the force, investigators revealed, saying they considered all 120 inmates in the building as suspects.
WHIRLWIND HEIST: VIDEO SHOWS THIEVES STEAL $250G OF GOLD AND DIAMONDS IN SECONDS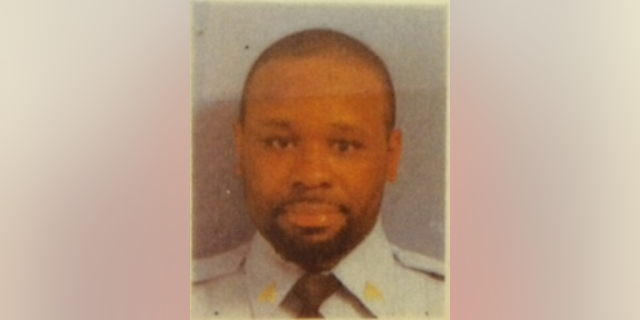 Sgt. Steven Floyd, 47, was found unresponsive at James T. Vaughn Correction Center in Smyrma once police made their way into the building early Thursday, Dept. of Corrections Commissioner Perry Phelps said. He did not reveal how Floyd died.
A relative told Fox News Floyd was a married father. "Sergeant Floyd remained steadfast and never wavered in his duties as a sworn law enforcement Officer," the corrections department said in a statement.
Four prison workers were taken hostage in all. A woman identified as a prison counselor was rescued unhurt as the siege ended. Two other guards escaped Wednesday night.
PAROLE RECOMMENDED FOR FOLLOWER OF CHARLES MANSON
Investigators did not reveal a possible motive. They said the inmates used "sharp instruments" to take over the building, but did not elaborate.
Perry also said three maintenance workers hiding in the prison's basement were able to make their way to the roof where they were rescued early Thursday.
The prisoners blocked doors with foot lockers filled with water, Delaware Safety and Homeland Security Secretary Robert Coupe told reporters. He said corrections officers ultimately knocked down walls with a backhoe.
Gov. John Carney said it was a "very sad day across the state of Delaware with the loss of one of our brave corrections officers" and said flags would fly at half-staff.
"We will no stone unturned … to make sure that our correctional facilities are secured and that our employees are safe," Carney added.
"Our officers work together... but every day is dangerous," Coupe added.
The standoff forced Delaware to lock down all of its state prisons.
A preliminary investigation suggested the disturbance began around 10:30 a.m. when a correctional officer inside Building C --which houses more than 100 inmates -- radioed for immediate assistance, Delaware State Police spokesman Sgt. Richard Bratz said. Other officers responded to help, and the employees were taken hostage, he said.
One inmate who claimed he was a hostage spoke to The News Journal over the phone Wednesday afternoon, saying the hostage-takers' grievances included President Trump.
"Donald Trump. Everything that he did. All the things that he's doing now. We know that the institution is going to change for the worse. We know the institution is going to change for the worse," one inmate said in the call.
That caller said education for prisoners was the inmates' priority, along with effective rehabilitation and information about how money is allocated to prisons.
According to the department's website, the prison is Delaware's largest correctional facility for men, with about 2,500 inmates. It houses minimum, medium and maximum security inmates, and also houses Kent County detainees awaiting trial.
It employs 1,500 corrections officers, according to Bruce Rogers, counsel for the Correctional Officers Association of Delaware.
In 2004, an inmate at the Smyrna prison raped a counselor and took her hostage for nearly seven hours, according to an Associated Press report at the time. A department sharpshooter later shot and killed 45-year-old Scott Miller, according to the report, ending the standoff.
Bratz initially said five workers were taken hostage, but authorities at a later news conference said the number had been revised to four after one person thought to be among the hostages was found in another part of the prison.
Fox News' Serafin Gomez, Griff Jenkins, Lucia Suarez Sang and The Associated Press contributed to this report.