Grass Fires Destroy Homes Near Oklahoma City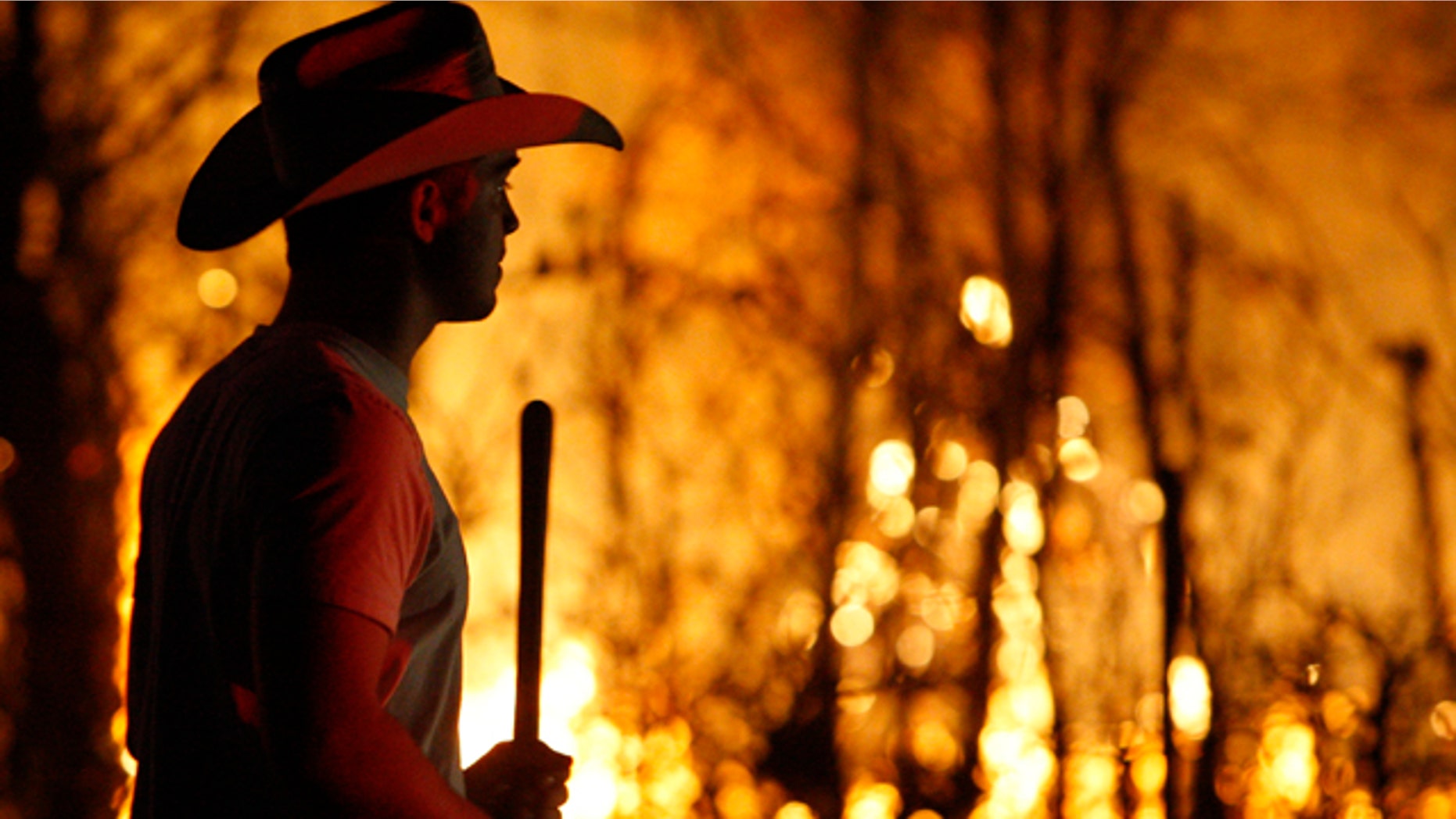 HARRAH, Okla. – Authorities say at least 30 homes were destroyed by fire in Harrah, Okla. on Friday, and perhaps many more.
The fire in Harrah, about 20 miles east of downtown Oklahoma City, was one of 30 that broke out around the state, forcing the evacuation of schools and a nursing home, destroying at least 19 homes and causing minor smoke-related injuries. Wildfires also destroyed nine homes in North Texas' Jack County, and forced the evacuation of dozens of others.
The largest Oklahoma blazes were south and east of the state capital, where winds gusts of over 40 mph were recorded Friday and temperatures were unseasonably high. Like much of the state, the affected areas have been in a prolonged drought.
The Harrah fire destroyed at least 30 homes, and nine more were destroyed in neighboring Choctaw, Oklahoma County Sheriff John Whetsel said. That number could surpass 50 by the time the fires are brought under control, he said.
Investigators are looking into reports that someone was seen setting a fire in Harrah, but they don't currently think the fire was set intentionally, Whetsel told reporters.
Harrah Fire Chief Murrell Coleman said the main fire started between 11:30 a.m. and noon south of Reno Avenue and Luther Road and traveled northeast, burning about 12 square miles.
"It bothers you because all these people you know are losing their homes," Coleman said.
The blaze forced the evacuation of two schools and a nursing home, authorities said.
Phil Stewart, public information office for the Harrah Police Department, said the high school wasn't damaged.
"It got right next to the junior high. It burned to the bricks, to the doors but by that time we had everyone evacuated," Stewart said.
Gov. Mary Fallin, who toured fire damage in eastern Oklahoma County, declared a state of emergency for all 77 counties in the state, marking a first step toward seeking federal assistance should it be necessary.
"State Emergency Management director Albert Ashwood and I went down to visit with local firefighters in the Choctaw area to thank them for the long hours they have put in today under very dangerous circumstances with the high winds and the low humidity and the heat the dry grass," Fallin said. "We've had over 30 fires today and to coordinate services throughout the state has been quite a challenge."
A large fire near Norman, 20 miles south of the state capital, destroyed at least six homes and 10 barns and outbuildings, but Goldsby emergency management director Greg Giltner said that number might rise.
Residents of several subdivisions that were evacuated were allowed to return home late Friday after firefighters brought the huge blaze under control, Giltner said.
"There has probably has been 3.5 miles of burn damage, and it's going to be 3,500 to 4,000 acres total burned," Giltner said. "It was a lot of grass, a lot of pasture and was heavily wooded."
Michelann Ooten, a spokeswoman for the Oklahoma Department of Emergency Management, said four homes had been destroyed in the Shawnee area, about 30 miles east of Oklahoma City.
Earlier, Goldsby residents hurriedly packed a few belongings and left the Crystal Lakes addition. Tom Thompson loaded family pictures and other valuables into his car from his home near the Riverwind Casino south of Norman.
"The smoke is really thick, and I'm starting to see embers flying through the air, which is starting to concern me," Thompson said. "We've got all the sprinklers on, and if it gets much thicker, we'll go ahead and get out of here."
Giltner said a number of those who set out to water their lawns to help defeat the flames suffered minor smoke inhalation and needed oxygen. Two firefighters who were overcome by the heat were given fluids and returned to duty a short time later, Giltner said.
Authorities say wildfires destroyed nine homes and forced the evacuation of up to 75 others in North Texas.
Texas Forest Service spokesman Marq Webb said the biggest fire burned some 3,000 acres and threatened some 150 homes near the town of Jacksboro, which is about 90 miles northwest of Dallas. It was one of about half a dozen across the state.
Jim Crooks, district ranger of the Caddo/LBJ National Grasslands, says a 100-acre fire that started on the grasslands north of Fort Worth caused evacuation of about 24 homes.
The Oklahoma fires erupted on a warmer-than-normal day, when the winds ranged from about 15-30 mph with higher gusts. Oklahoma's wildfire season occurs during the winter months, when grasses and other vegetation are dormant and less precipitation falls.
The National Weather Service issued a red flag fire warning for most of Oklahoma and Texas, as well as for parts of Colorado, Kansas, New Mexico and Missouri.
Ooten said other fires have been reported near Duncan in southwestern Oklahoma and near Stroud, about 50 miles northeast of Oklahoma City.
Mark Goeller, a spokesman for the Oklahoma Forestry Commission, said he didn't know how many acres had burned, but National Guard helicopters equipped with 600-gallon buckets had been dispatched to the fires in Harrah, Goldsby and in Beggs in northeast Oklahoma.
Doug Speheger, meteorologist with the National Weather Service, said the situation will improve Friday night, when winds are expected to drop to 10 mph to 15 mph with gusts of 20 mph. Relative humidity ranging between 10 percent and 15 percent should climb to about 30 percent by mid-evening and to 50 percent overnight, Speheger said.
The higher humidity, lighter winds and cooler temperatures will at least allow firefighters to get control of the fires, he said.