Georgia high school's statue ignites ire of atheist groups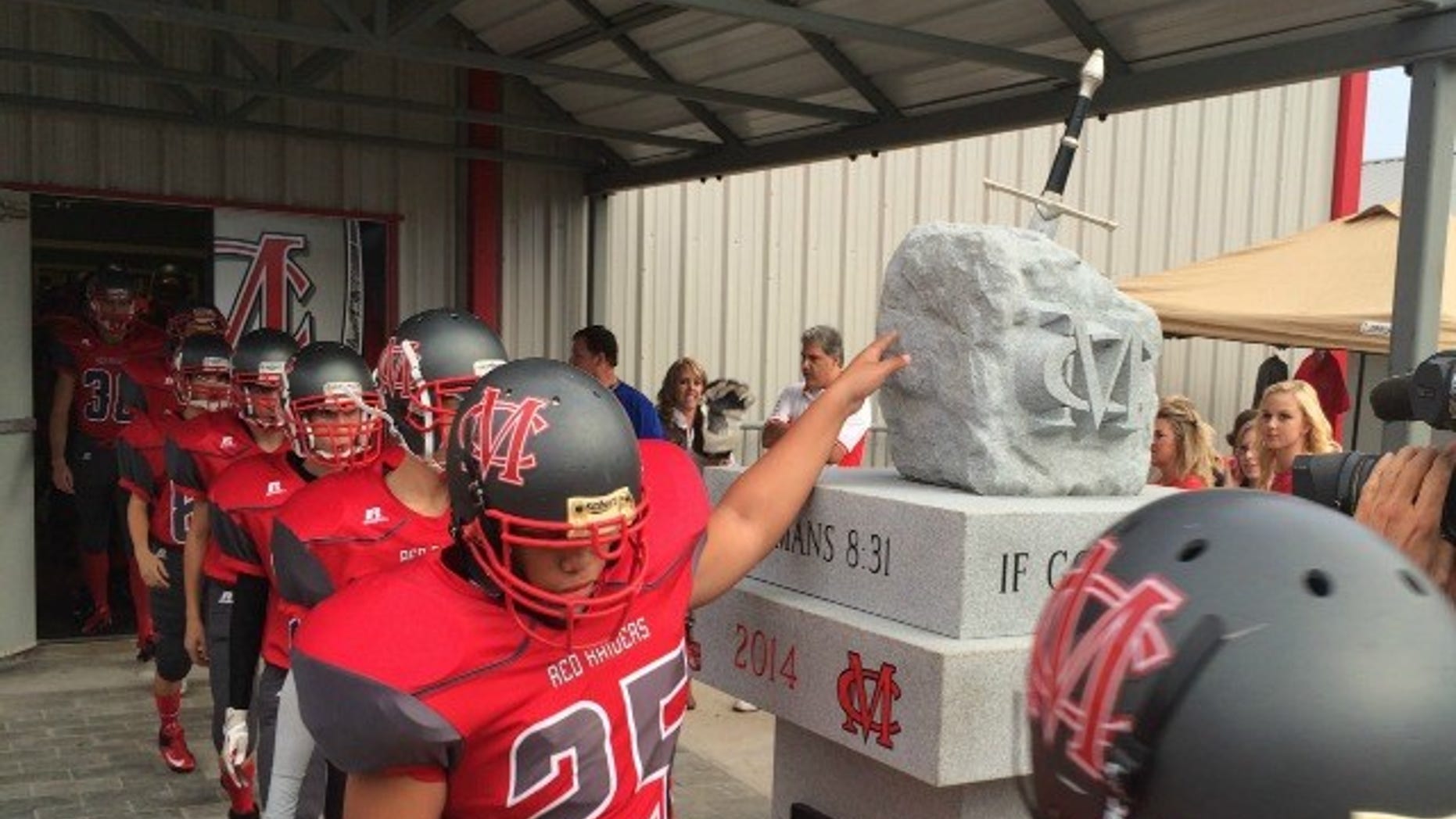 A Georgia high school football team's tradition of touching a stone statue on their way out of the fieldhouse is drawing the ire of two groups that are demanding the statue be removed.
According to MyFoxAtlanta.com, the granite statue at the center of the controversy at Madison County High School in Danielsville has ignited the furor of atheist and humanist groups who say the monument's biblical inscriptions violate the Constitution.
The Freedom from Religion Foundation and the American Humanist Association have written separate letters to the school district, calling the statue "unconstitutional" -- saying it violates the separation of church and state.
The American Humanist Association is demanding the county "remove the monument immediately" or "remove the religious references." Until that can happen, the group is suggesting the school cover up the statue, WXIA reported.
[pullquote]
AHA legal director David Noise says, "It was a colossal lapse of judgment to allow the monument as part of the public school environment. It sends a clear message that the school favors Christianity, despite the fact that it is a public school that must welcome all students."
The statue includes the phrase "Home of the Red Raiders" and two quotes from the Bible -- Romans 8:31: "If God be for us who can be against us?" and Philippians 4:13: "I can do all things through Christ which strengtheneth me"
Morris Stevens' two sons play football for Madison's Red Raiders team, and he says the young men now routinely touch the statue as they make their way onto the field.
"They think it gives them good luck. I say we live in a free nation and let's exercise our freedoms and beliefs," Stevens told WXIA.
"I think everybody ought to just leave it alone and let God run this Earth like he does," Johnny Kinley told MyFoxAtlanta.com.
Private funds reportedly paid for the statue, which was a gift from a donor, and resembles a King Arthur-like sword in the stone centerpiece.
Schools Superintendent Allen McCannon said the board and its attorneys are "investigating options available to it regarding the monument including, but not limited to, removal of the monument or modifying the monument in some manner," according to WXIA.
The school board is expected to meet next month, when residents will be able to voice their opinions on the matter.