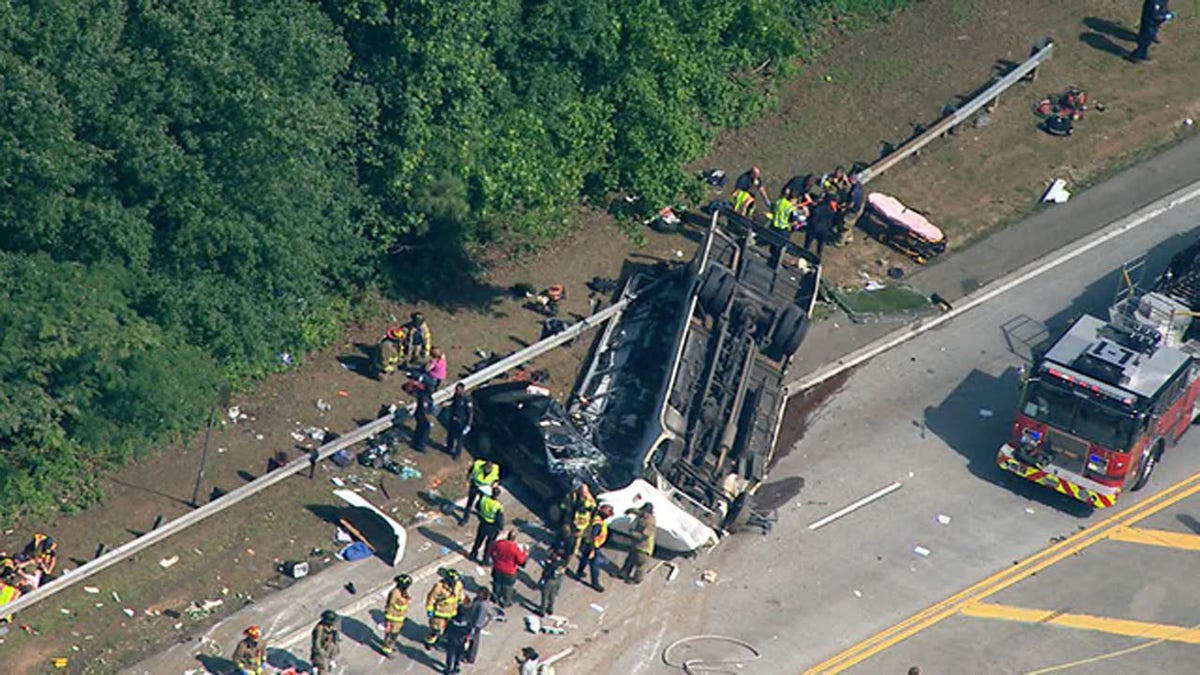 One person was killed and dozens injured after a charter bus carrying carrying student missionaries from an Alabama church overturned Thursday outside Atlanta, officials said.
The crash took place around 3:30 p.m. along Camp Creek Parkway in Fulton County near the Hartsfield–Jackson Atlanta International Airport, where the students were headed to begin a mission trip to Africa, FOX 5 Atlanta reported.
Fire officials told FOX 5 one person is dead, another critical, and 38 injured in total. Some of injured included children.
Fulton County Fire Chief Larry Few told the Associated Press crews are working to cut another person out of the bus, but their condition was not immediately available.
Three air ambulances were brought in to transport patients along with several Grady EMS ambulances, according to FOX 5 Atlanta.
A spokesperson for Grady Memorial Hospital told FOX 5 they accepted nine patients from the crash, including four which were listed in critical condition, three listed in fair condition, and two stable as of early Thursday evening.
Images from television news helicopters showed the charter bus completely overturned, with portions of it crushed and resting next to a dark-colored sedan.
Mount Zion Baptist Church in Huntsville, Alabama, posted on its Facebook page that one of its buses with its student ministry mission was involved in a crash while traveling to the airport.
"PRAY! One of the buses with the student ministry mission had an accident on the way to the Atlanta airport. Several serious injuries. Please pray for those injured and parents as they travel to Atlanta," the post said.
The church's minister of education, Terry Slay, told WXIA-TV 11th and 12th grade students, along with some adults, were on the bus when the accident happened.
"We know there was a wreck, some injuries. Some critical," Slay said. "That's all we know right now, we're trying to get more information."
Circumstances surrounding the cause of the crash were not immediately available.
The Associated Press contributed to this report.