Gas prices fall but pace could be slow because of supply issues; oil prices rise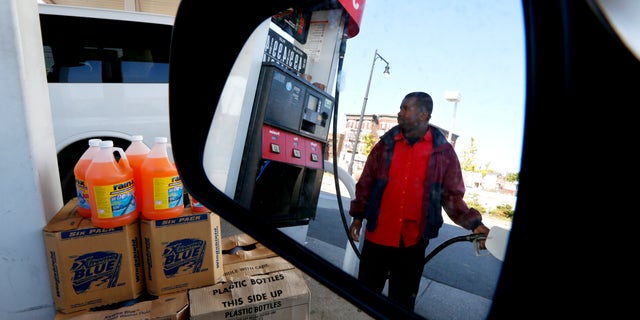 NEWYou can now listen to Fox News articles!
Gas prices are finally heading lower, but motorists shouldn't expect the numbers at the pump to drop quickly this autumn.
The national average for retail gasoline fell about a penny Friday to $3.833 per gallon, according to AAA, Wright Express and the Oil Price Information Service. That's down 4 cents from a week ago, the biggest weekly decline since early summer. The average price is still 50 cents higher than on July 1.
Gasoline prices typically drop in the fall as refiners begin selling winter blends of fuel, which are cheaper than those used in the summer to help curb pollution. This year, however, supplies are tight because of refinery outages in some regions, including the Gulf Coast due to Hurricane Isaac. And the gasoline futures market, which dictates the price at the gas station, has been volatile.
That all adds up to gradual relief at the pump.
"It's going to be a slow pace of decline because it takes a while to catch up with the low stocks that we kind of faced after Hurricane Isaac," said Tom Kloza, OPIS chief oil analyst. "Gasoline supplies are by all measure still pretty tight."
Refinery issues have particularly affected the Northeast and the West Coast. Motorists in those areas, as well as Illinois and North Dakota are paying the highest average prices, from $3.971 per gallon to $4.419 per gallon.
The lowest average prices range from $3.592 to $3.70 and can be found in New Mexico, Texas, the lower Midwest and parts of the South.
In other trading, the price of oil rose, but still had its biggest weekly decline since late June.
Oil got a boost the past few weeks as the U.S. and Europe implemented measures designed to bolster their economies. But demand for oil remains sluggish and supplies are plentiful. Global growth is sluggish, which means less demand for energy products. That led traders to pull back this week, with oil falling $8 per barrel in three days.
Traders have to weigh slower global economic growth against the uncertainty of potential supply disruptions due to unrest in the Middle East. "The market is just trying to find its footings," said Andrew Lebow, senior vice president of energy derivatives at Jefferies Bache LLC.
Benchmark oil rose 47 cents to $92.89 in New York. It fell 6.2 percent for the week.
Brent crude, which is used to price international varieties of oil, rose $1.39 to $111.42 per barrel. Brent dropped 4.5 percent for the week.
In other trading:
— Heating oil rose 2.32 cents to $3.12 per gallon.
— Wholesale gasoline rose 3.85 cents to $2.9425 per gallon.
— Natural gas rose 8.8 cents to $2.89 per 1,000 cubic feet.