Funeral held for Chicago officer who made 'the ultimate sacrifice'
Chicagoans mourned the death of a "model police officer" at his funeral on Saturday. They also celebrated the life of the officer, who was fatally shot on the job earlier this week.
Hundreds gathered at Nativity of Our Lord Roman Catholic Church, including a slew of law enforcement officers from other agencies, to remember Cmdr. Paul Bauer, 53, and honor his memory. His casket, stationed at the front of the church, was adorned with photos and mementos and was saluted by officers paying their respects.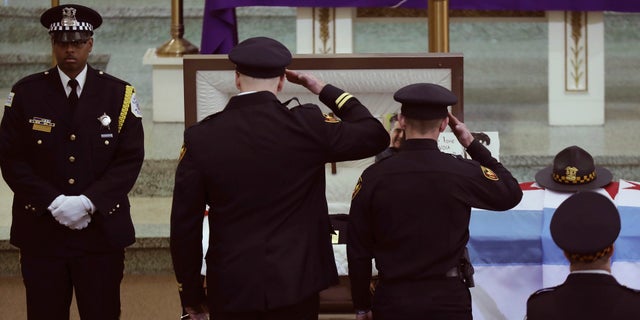 Bauer, a 31-year veteran of the force, was killed in the line of duty on Tuesday while attempting to apprehend a suspect. He was "shot multiple times," Police Superintendent Eddie Johnson said after the deadly episode.
CHICAGO POLICE OFFICER DIES AFTER BEING SHOT MULTIPLE TIMES
Johnson spoke at the funeral, which was the third this week for law enforcement officers killed in the field in various communities and circumstances.
In his remarks, Johnson lauded Bauer as "one of the good guys." Over the course of his "remarkable career," Bauer performed his duties with "quiet sincerity, professionalism and kindness," he said.
The slain officer never allowed his rank to stop him from being "a street cop at heart," Johnson added. And on the day that he was killed, "he was just doing what came natural."
"As police officers, each of us take an oath to serve and protect with impartiality. We know the dangers are out there," Johnson said. "And yet, out of service and sacrifice, we leave our homes every day and our families and run toward the danger. Paul didn't just run toward the danger, he ran into it. And because of that, he made the ultimate sacrifice for all of us."
Former First Deputy Superintendent John Escalante also spoke during the service and told of his lifelong friendship with Bauer, whom he said he met when they were in the first grade.
OFFICERS KILLED IN THE LINE OF DUTY IN 2018
He described Bauer as "a true leader" and said he always put time spent with his family above promotions at work. Bauer,  he said, was never there for awards or accolades.
"Erin and Grace were everything," Escalante said, referencing Bauer's wife and daughter. Grace gave the first reading during her father's funeral Mass.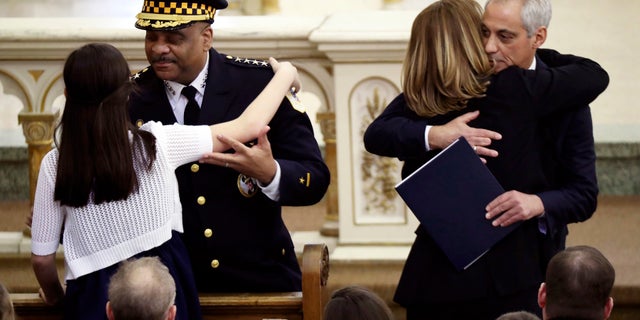 Chicago Mayor Rahm Emanuel, who also spoke, said the slain officer "embodied the best of Chicago."
Bauer's funeral was the third this week for law enforcement officers killed in the field.
A service was held Friday for Officers Eric Joering, 39, and Anthony Morelli, 54, who were killed in Ohio. Another service was held on Saturday for an officer in Georgia, Chase Maddox.
The Associated Press contributed to this report.