FOX NEWS FIRST: Stormy Daniels' Trump affair story has storm clouds; Inflated 'March for Our Lives' numbers?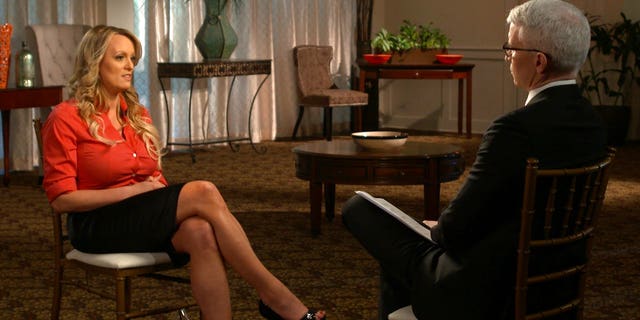 Welcome to Fox News First. Not signed up yet? Click here.
Developing now, Monday, March 26, 2018
In an interview with "60 Minutes," porn star Stormy Daniels said she agreed to keep quiet about her alleged affair with President Trump after she was threatened in a parking lot
The turnout for Saturday's "March for Our Lives" protest in Washington, D.C. was much lower than organizers claimed, an imaging company says
Incoming national security adviser John Bolton defends himself over questions about a 2013 speech he gave to a Russian pro-gun rights group with ties to Putin
Gun maker Remington files for bankruptcy is the wake of faltering sales and lawsuits from the Sandy Hook school shooting
Facebook co-founder Mark Zuckerberg took out full-page ads over the weekend apologizing for the Cambridge Analytica scandal
THE LEAD STORY - STORM CLOUDS: Adult film star Stormy Daniels claimed she agreed to keep quiet about her alleged affair with President Trump after she received a threat in a parking lot and worried that her infant daughter would be harmed, according to a "60 Minutes" interview that aired Sunday ... Daniels, whose real name is Stephanie Clifford, said she was threatened by a man who approached her in Las Vegas after she sold her story about her alleged 2006 sexual encounter with Trump during the American Celebrity Golf Tournament in Lake Tahoe. "I was in a parking lot going to a fitness class with my infant daughter and a guy walked up on me and said to me, 'Leave Trump alone. Forget the story,'" she said. "And he leaned round and looked at my daughter and said, 'That's a beautiful little girl. It would be a shame if something happened to her mom.'" Trump has strongly denied Daniels's claims of an affair. InTouch magazine initially bought her story for $15,000 but opted to kill it after Trump's personal lawyer, Michael Cohen, threatened to sue the publication.
BLOATED MARCH NUMBERS?: Organizers of the March for Our Lives demonstration in Washington, D.C. claimed Sunday that some 850,000 people attended the pro-gun control event, but an imaging company said the turnout was much less ... Virginia-based Digital Design & Imaging Service Inc., which uses aerial photos to calculate crowd sizes, reported the event's peak crowd size was at 202,796 people around 1 p.m., CBS News reported. The firm said the number's margin of error is 15 percent. The January 2017 Women's March turnout in Washington, for comparison, was estimated at 440,000 people.
RUSSIA OBSESSION ENSNARES BOLTON: Incoming national security adviser John Bolton defended himself Sunday after Hillary Clinton's former vice presidential running mate questioned whether he would be able to obtain the necessary security clearance over a video speech given to a Russian pro-gun rights group in 2013 ... On Saturday, Sen. Tim Kaine, D-Va., tweeted out a National Public Radio report about the group Bolton spoke to, known as The Right To Bear Arms. The NPR report described one of the group's founders, Alexander Torshin, as an ally of Russian President Vladimir Putin who served as the deputy speaker of Russia's parliament for more than 10 years. On Sunday, a spokesman for Bolton responded: "The Ambassador [Bolton] was asked by former [National Rifle Association] president Dave Keene to record a video for presentation to the upper house of the Russian parliament, the Federation Council. The Ambassador has never heard of The Right to Bear Arms until recent news coverage of the group."
REMINGTON OUT OF AMMUNITION?: Firearms manufacturer Remington Outdoor Company has filed for bankruptcy protection in the face of falling sales and lawsuits stemming from the 2012 Sandy Hook Elementary School shooting, the Wall Street Journal reported Sunday night ... According to the Journal, Remington announced that it would file for Chapter 11 last month but the actual filing was delayed after the Feb. 14 shooting at Marjory Stoneman Douglas High School in Parkland, Fla. that killed 17 people. The paper reported that Remington officials plan to hand over the reins to its creditors in exchange for writing off most of the company's debt. Cerberus Capital Management LP bought Remington for $118 million in 2007, assuming $252 million in debt in the process.
FACEBOOK CO-FOUNDER TRIES TO MAKE-UP WITH FRIENDS: Facebook co-founder and CEO Mark Zuckerberg took out full-page advertisements in major U.S. and British newspapers to apologize for a "breach of trust" after it was discovered Cambridge Analytica improperly harvested user data ... The ads, which were taken out in papers including The New York Times, The Washington Post, Wall Street Journal and the U.K.'s The Observer, The Sunday Times and The Sunday Telegraph, featured a signed apology from Zuckerberg and an explanation of what the social media giant was doing to fix the situation. Facebook's privacy practices came under fire after accusations emerged that Cambridge Analytica, a political consulting firm affiliated with President Trump's 2016 campaign, inappropriately obtained data.
_____________________________________________________________________________
Consider yourself an Influencer? Become a trusted advisor in our FOX News community and help guide our brand's future. Click here to find out how.
Members of FOX News Influencers:
Have the opportunity to be heard
Be part of a special network of peers
Get to influence new ideas and initiatives 
Receive updates on what we've learned and how your input has made impact 
Fill out our qualification survey and join us. Thank you for your continued support in our company's growth.
______________________________________________________________________________
AS SEEN ON FOX NEWS WEEKEND
'WITHOUT ARMS IN A SEA OF SHARKS': "The omnibus bill that Republicans gave President Trump is a total betrayal of him and those who elected him."– Judge Jeanine Pirro, in her "Opening Statement" on "Justice with Judge Jeanine," ripping House Speaker Paul Ryan and Senate Majority Leader Mitch McConnell for the $1.3 trillion "omnibus" spending bill they shepherded through Congress. WATCH
CELEBRATING MCCABE 'BEING HELD ACCOUNTABLE': "I went through hell for a year and a half. Andy made sure I couldn't get out of the division." – Former FBI counterterrorism agent Robyn Gritz, on "Fox & Friends Weekend," explaining why she celebrating former FBI Deputy Director Andrew McCabe's firing. WATCH
THE SWAMP
Congress passes tax cuts and some gun safety measures; enough for 2018 voters?
GOP Rep. Ryan Costello drops bid for re-election.
Lawyers diGenova, Toensing cannot work on Trump's Russia legal team, Sekulow says.
Mnuchin: Trump will impose China tariffs, not worried about recent market losses.
FOX NEWS POLLS
Voters approve of Trump meeting with North Korea.
Gap narrows on 2018 vote preference.
Voters favor gun measures, doubt Congress will act.
ACROSS THE NATION
Texas teen was beaten, had hot cooking oil poured on her after refusing arranged marriage: Police.
Murder suspect on 'jihad' against US policy in Middle East admits to N.J. armed robbery.
Man sucker punches 5-year-old in face: Cops.
MINDING YOUR BUSINESS
'Sunday Morning Futures': China investigation underway by House Intelligence Committee: Chair Devin Nunes.
New York Auto Show: Cars and SUVs to watch | Auto dealers worry new vehicle prices getting too high
Home construction crisis: Why builders aren't building.
Social Security: Good claiming strategy can net an extra $1 million.
FOX NEWS OPINION
Bucking the 'Blue Wave' -- Republicans would be smart to focus on Hispanic voters in 2018.
I was a committed atheist and then this incredible thing happened to me.
The one thing single parents wish you knew.
HOLLYWOOD SQUARED
'Black Panther' falls to 'Pacific Rim: Uprising' but is still the highest-grossing superhero film ever.
Shaquille O'Neal shares 'dance battle' video with Rob Gronkowski on Instagram.
Kids' Choice Awards gets political.
DID YOU HEAR ABOUT THIS?
Pizza with 111 different types of cheese breaks world record.
China's space station expected to hit Earth soon -- possibly in Europe.
Fast food employee spits in customer's food in viral video.
STAY TUNED
On Fox News:
Fox & Friends, 6 a.m. ET: Washington Times columnist Charlie Hurt reacts to polling that shows GOP narrowing the gap among potential voters ahead of midterms; plus, reaction to the hero police officer who made the ultimate sacrifice during terror attack in France. An inside look at the weekend's "March for Our Lives" rallies with CampusReform.org's Cabot Phillips. A look at the New York International Auto Show. And Gary Sinise opens up about how his foundation is helping military families.
Tucker Carlson Tonight, 8 p.m. ET: Tucker dissects the mainstream media's coverage of the "March for Our Lives" events over the weekend.
On Fox Business:
Mornings with Maria, 6 a.m. ET: Guests include: Christopher Bedford, The Daily Caller editor-in-chief; Rep. Mark Walker, Republican Study Committee chair; Rob Manfred, Major League Baseball commissioner; Gary Locke, former U.S. secretary of commerce; and Harvey Mason, Jr., record producer.
Cavuto: Coast to Coast, Noon ET: Rep. Michael McCaul, House Homeland Security chairman.
Rick & Reward, 5 p.m. ET: Katrina Pierson, Trump 2020 campaign senior adviser; Ben Stein, economist and "The Capitalist Code" author; Marc Lotter, former special assistant to President Trump.
On Fox News Radio:
The Fox News Rundown podcast: The Trump administration is not slowing down in pushing the president's agenda, despite multiple lawsuits against him and the firing of top members of his team. Fox News contributor Guy Benson provides insight. Plus, commentary by 'The Five" co-host Juan Williams.
Want the Fox News Rundown sent straight to your mobile device? Subscribe through Apple Podcasts, Google Play, and Stitcher.
The Brian Kilmeade Show, 9 a.m. ET: New York Post columnist Michael Goodwin on why Trump's recent White House shakeups show he is putting America first. David Bossie on Trump picking John Bolton as his new national security adviser and more potential administration changes ahead; Dana Perino on the Stormy Daniels "60 Minutes" interview and the fallout from the "March for Our Lives" protest events. Mark Ciardi, executive producer of "Chappaquiddick," gives a behind the scenes look at the making of the new movie.
#OnThisDay
1992: A judge in Indianapolis sentences former heavyweight boxing champion Mike Tyson to six years in prison for raping a Miss Black America contestant. (Tyson would serve three years.)
1979: A peace treaty is signed by Israeli Prime Minister Menachem Begin and Egyptian President Anwar Sadat and witnessed by President Jimmy Carter at the White House.
1945: During World War II, Iwo Jima is fully secured by U.S. forces following a final, desperate attack by Japanese soldiers.
Fox News First is compiled by Fox News' Bryan Robinson. Thank you for joining us! Enjoy your Monday! We'll see you in your inbox first thing Tuesday morning.