FOX NEWS FIRST: New info on alleged 'secret society' of anti-Trumpers; Samsung blamed for missing FBI texts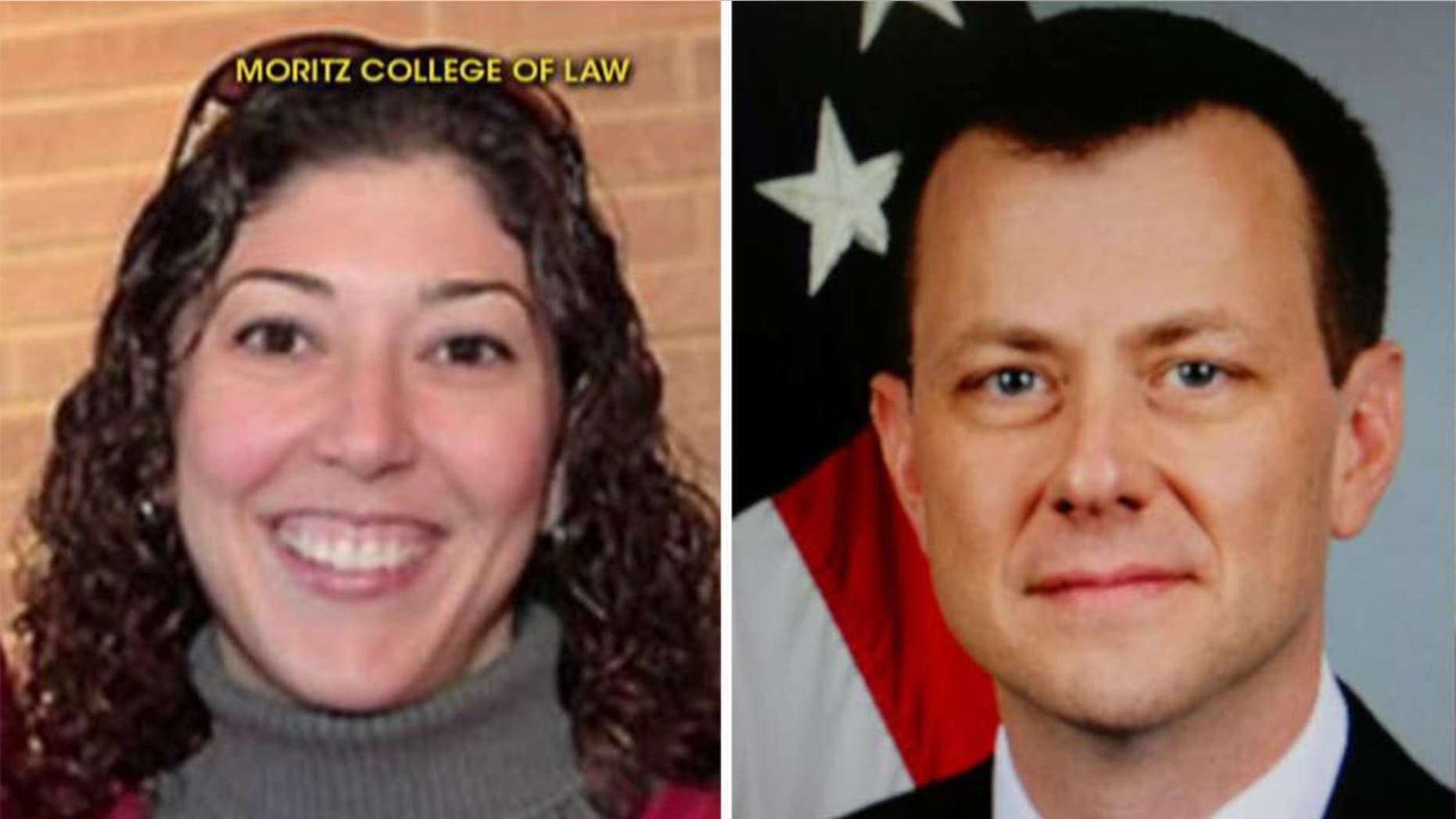 Welcome to Fox News First. Not signed up yet? Click here.
Developing now, Wednesday, Jan. 24, 2018
FBI blames phone supplier Samsung for thousands of missing text messages as new information about an alleged 'secret society' of anti-Trump agents emerges
President Trump slams Senate Minority Leader Chuck Schumer for reneging on a proposed deal to support a border wall funding in exchange for DACA
Trump to meet with Israeli Prime Minister Benjamin Netanyahu and British Prime Minister Theresa May at the World Economic Forum in Switzerland
Kentucky police have not yet revealed a motive as a 15-year-old student awaits charges in a mass shooting at a high school that left two dead and 18 injured
THE LEAD STORY - SAMSUNG AND THE 'SECRET SOCIETY' OF NEVER-TRUMPERS: The FBI blamed phone supplier Samsung for "technical" glitches that resulted in the loss of tens of thousands of text messages exchanged between FBI agents under scrutiny for their anti-Trump views. But new information about an alleged "secret society" of anti-Trump agents within the FBI and Justice Department has raised more concerns about political bias within the embattled agency ... President Donald Trump reacted Tuesday night: "Where are the 50,000 important text messages between FBI lovers Lisa Page and Peter Strzok? Blaming Samsung!," the president tweeted. Earlier Tuesday, GOP lawmakers pressed the Justice Department's watchdog to explain why he did not inform them last month that the FBI "failed to preserve" five months of text messages between Strzok and Page. It was one of two significant developments late Tuesday involving the texts, as Sen. Ron Johnson, the Senate Homeland Security Committee chairman, revealed more to Fox News about the pair's messages exchanged the day after Trump's election victory that spoke of a "secret society." An informant had told lawmakers that a group of FBI officials "were holding secret meetings off-site," Johnson said on "Special Report." He declined to further elaborate, saying that lawmakers "have to dig into it."
'NO WALL, NO DACA': President Donald Trump fired back Tuesday night at Senate Minority Leader Chuck Schumer for offering, then rescinding, a deal to support border wall funding in return for an immigration package that protects illegal immigrants brought to the U.S. as children ... "Cryin' Chuck Schumer fully understands, especially after his humiliating defeat, that if there is no Wall, there is no DACA," the president tweeted. Earlier Tuesday, White House deputy press secretary Hogan Gidley slammed Schumer during an appearance on Fox News' "Outnumbered Overtime." "He comes over here with a phony plan and a fake promise," Gidley said, referring to Schumer, D-N.Y.
A Schumer aide confirmed to Fox News that he withdrew his offer of a boost in funding for the president's proposed border wall. It was initially made during negotiations over the government spending bill with the president last Friday, the aide said.  After a three-day government shutdown, Democrats agreed to re-open the government Monday after Republicans assured them the Senate would soon consider legislation that would protect the so-called Dreamers. Trump signed a bill to fund the government until Feb. 8, giving lawmakers three weeks to negotiate a deal on border wall funding and immigrants who benefited from the Obama-era Deferred Action for Childhood Arrivals (DACA) program. If negotiations fail, the nation could be looking at yet another shutdown.
TRUMP BRINGING 'AMERICA FIRST' MESSAGE TO DAVOS: President Trump will meet with Israeli Prime Minister Benjamin Netanyahu, British Prime Minister Theresa May, and other world leaders when he attends the World Economic Forum in Davos, Switzerland, White House officials said ... Trump is scheduled to take an overnight flight on Wednesday night to Davos, where he will encourage investment in the United States and cooperation on national security issues, including the fight against Islamic State and North Korea's nuclear and ballistic missile programs. Trump will have a full day of meetings in Davos on Thursday and then deliver a keynote address to the forum on Friday before returning to the United States later that day.
'DARK DAY' IN KENTUCKY: A 15-year-old boy was in custody, awaiting charges of murder and attempted murder, while the community in Benton, Ky., reels from a shooting at high school that left two dead and 18 injured ... The suspect, a student at Marshall County High School, opened fire on his classmates Tuesday morning. The possible motive remains unclear, authorities said. Officials have not yet determined whether the suspect will be charged as a juvenile or adult, Kentucky State Police Commissioner Richard Sanders said. The two people killed were a 15-year-old girl, Bailey Nicole Holt, and a 15-year-old boy, Preston Ryan Cope, Sanders said. Holt died at the scene while Cope died at the hospital. Fifteen people suffered from gunshot wounds, while others were injured trying to escape the scene, investigators said.
AS SEEN ON FOX NEWS
MEXICO'S FORMER PRESIDENT DEFENDS ANTI-TRUMP RANTS: "I know better ways of negotiations. We don't need walls, we need borders." – Former Mexico President Vicente Fox, in an interview with Sean Hannity, defending previous obscenity-laced rants against President Trump and explaining his opposition to building a border wall. WATCH
MISSING, BUT NOT 'GONE': "I believe they still exist in some form somewhere. We should search every place to find them." – House Judiciary Committee Chairman Bob Goodlatte, on "The Ingraham Angle," urging the federal government to search "every place" they can to recover five months of missing texts between FBI Agents Peter Strzok and Lisa Page. WATCH
ACROSS THE NATION
Three Alcatraz inmates survived 1962 escape, swim to land, letter suggests.
Florida minors charged with cyberstalking after girl's apparent suicide, police say.
Former staffers admit to circulating lewd photos of Democratic congresswoman, husband.
MINDING YOUR BUSINESS
Senate approves Jerome Powell as Fed chair.
Trump's $1 trillion infrastructure plan was leaked. Here's a look.
Tide won't discontinue detergent pods, calls rumor a 'complete hoax.'
NEW IN FOX NEWS OPINION
California and the definition of insanity: Why do Democrats love tax hikes so much?
John Stossel: Do we really need the government to live?
Dr. Marc Siegel: I hope Neil Diamond will lend his voice and heart to the fight against Parkinson's
HOLLYWOOD SQUARED
Oscars snubs: Tom Hanks, Spielberg and James Franco left out.
Dylan Farrow calls out Justin Timberlake for his association with Woody Allen.

Behind the Oscar campaign for President Reagan.
DID YOU HEAR ABOUT THIS?
Missouri State student emails all 'Claudias' on campus after accidental Tinder swipe.
Tourists say they ordered steaks and water, got $1.3K bill.
Amazon pulls 'slavery gets s--- done' products from site.
STAY TUNED
On Fox News:
Fox & Friends, 6 a.m. ET: Sen. David Perdue on what needs to happen to get a DACA, border security deal; a look at how Trump's proposed border wall is standard practice in other parts of the world; and Tomi Lahren sounds off on the hot political topics of the day.
The Story with Martha MacCallum, 7 p.m. ET: Brit Hume tackles the missing FBI text messages scandal and the new revelations in the alleged "secret society of anti-Trumpers in the FBI and Justice Department.
Tucker Carlson Tonight, 8 p.m. ET: Rep. Matt Gaetz on lawmakers' push for the government to make public a damning memo on alleged FISA surveillance abuses.
Hannity, 9 p.m. ET: Alan Dershowitz on corruption allegations in the Special Counsel Robert Mueller's probe on Russian collusion.
Fox News @ Night, 11 p.m. ET: Sen. Cory Gardner on the latest war of words between President Trump and Sen. Chuck Schumer over DACA, the border wall and the government shutdown.
On Fox Business:
Stay with Fox Business all day for on-location, team coverage of the World Economic Forum in Davos, Switzerland!
Mornings with Maria, 6 a.m. ET: Guests include: Homeland Security Secretary Kirstjen Nielsen; Brian Moynihan, Bank Of America CEO; Bob Nardelli, former Home Depot CEO; Arne Sorenson, Marriott president and CEO; Brad Smith, Microsoft president and chief legal officer; Axel Weber, UBS Chairman of the Board;  Rick Perry, U.S .Energy Secretary; and Denise Morrison, Campbell Soup CEO.
Varney & Company, 9 a.m. ET: Mercedes Schlapp, White House senior communications adviser.
Cavuto: Coast to Coast, Noon ET: John Paul Dejoria, Patron Spirits Company founder.
On Fox News Radio:
The Fox News Rundown podcast: In the face of a growing opioid epidemic, New York City has filed a $500 million lawsuit against manufacturers and distributors of prescription opioids. Dr. Mache Seibel weighs in on how doctors and patients have other options to fight pain. Hollywood is getting ready for the 90th annual Academy Awards in March, announcing the nominees Monday morning. Fox News entertainment reporter Michelle Pollino lends insight on which movies to watch before the awards. Plus, commentary by Fox News Medical correspondent Dr. Marc Siegel.
Want the Fox News Rundown sent straight to your mobile device? Subscribe through Apple Podcasts, Google Play, and Stitcher.
The Brian Kilmeade Show, 9 a.m. ET: Former Mexico President Vicente Fox discusses his new book and disagreements with President Trump; Sara Carter on the latest in the case of the missing FBI texts.
#OnThisDay
2003: Former Pennsylvania Gov. Tom Ridge is sworn as the first secretary of the Department of Homeland Security.
1975: The extremist group FALN bombs Fraunces Tavern in New York City, killing four people.
1848: James W. Marshall discovers a gold nugget at Sutter's Mill in northern California, a find that led to the gold rush of '49.
Fox News First is compiled by Fox News' Bryan Robinson. Thank you for joining us! Enjoy your day and we'll see you in your inbox first thing Thursday morning.