FOX NEWS FIRST: Las Vegas gunman planned to survive, Michelle Obama plays race card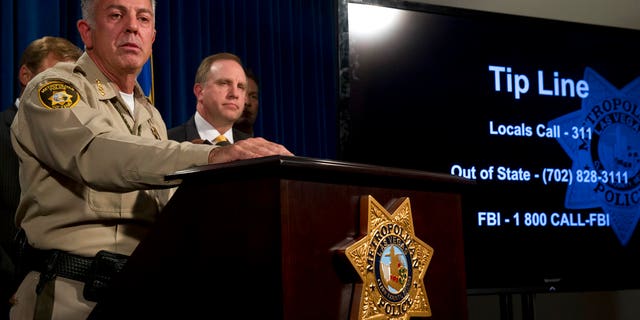 #LasVegasStrong
It's Thursday, Oct. 5, 2017. Welcome to Fox News First, your spot for all the news you need to start the day. To have your early morning news emailed directly to your inbox, subscribe by clicking here.
Here's your Fox News First 5 - the first five things you need to know today:
The Las Vegas gunman planned to survive and escape after firing on concertgoers, police say
Three Green Berets are killed, two wounded in ambush in Niger
Michelle Obama sparks outrage with racially-charged comments about the GOP
NBC refuses to apologize to President Trump for disputed report on Secretary of State Tillerson
Fox News expands the "Fox & Friends" franchise
Let's take a closer look at these stories...
THE LEAD STORY: Evidence suggests that Las Vegas gunman Stephen Paddock planned to survive and escape after firing on thousands of country music fans Sunday night ... But authorities said they weren't ready to provide evidence yet. Paddock, 64, carried out the worst mass shooting in U.S. history when fired down on approximately 22,000 people, killing 58 and injuring 489. He was found dead of a self-inflicted gunshot after police busted into his room. Police still have not uncovered a motive for the attack. Clark County Sheriff Joseph Lombardo described Paddock as a "disturbed" and "dangerous" person who led a "secret life," making it difficult for investigators to uncover details of his personal relationships.
GREEN BERETS AMBUSHED: Three U.S. Army Special Forces soldiers were killed and two others were wounded Wednesday in an ambush in the west African country of Niger ... Both of the wounded Green Berets were "expected to pull through," a U.S. official told Fox News. The attack occurred during a routine patrol in a rural area outside Niger's capital, Niamey, near the border with Mali, the U.S. official said. It was unclear which terrorist group conducted the attack. In addition to Al Qaeda in the Islamic Maghreb (AQIM), other groups affiliated with ISIS are active in the area.
MICHELLE SOUNDS OFF: Former first lady Michelle Obama says many people don't trust politics because the Republican Party is "all white, all men" ... Obama made her observation at the Pennsylvania Conference for Women earlier this week. "On one side of the room, it's literally gray and white. Literally, that's the color palette on one side of the room," she said. "On the other side of the room, there are yellows and blues and whites and greens. Physically, there's a difference in color, in the tone. Because one side: all men, all white. On the other side: some women, some people of color." Last week Obama slammed women who voted for President Trump.

NBC GETS PETTY: The peacock network says it will not apologize for a report on the relationship between President Trump and Secretary of State Tillerson that the president has labeled "fake news" ... The report claimed Tillerson called Trump a "moron" and considered resigning this summer after a meeting at the Pentagon. Tillerson denied he considered stepping down, saying he would not address "petty" stuff. Trump took to Twitter to bash NBC over the report, mock the network's ratings and call for an apology. But NBC reporter Carol Lee, who filed the story, refused to back down. "We stand by it," she said in an NBC video. "We talked to a dozen people for this story."
MORE 'FRIENDS' IN THE MORNING: Fox News Channel has announced it is expanding its early morning lineup, expanding "Fox & Friends First" to two hours, 4 a.m. to 6 a.m. ET., starting Monday ... The first hour of the lineup will be anchored by Heather Childers, while Jillian Mele and Rob Schmitt will co-anchor the second hour, leading into "Fox & Friends" from 6 a.m. to 9 a.m. ET
ABOUT LAST NIGHT
RELIVING SCALISE SHOOTING: "That was the longest wait. It was just terrifying and just awful not being able to get out to Steve." – Sen. Jeff Flake, on "The Story with Martha MacCallum," recounting the horror of being under fire and unable to help his gravely wounded colleague, Rep. Steve Scalise, who was severely injured June 14 when a gunman opened fire on a group of Republican lawmakers practicing for the annual Congressional Baseball Game. WATCH
ROBIN LEACH REFLECTS: "The show must go on. We cannot live in a world where one deranged individual... can affect the lives of so many other people."" – Legendary "Lifestyles of the Rich & Famous" host Robin Leach, on "Your World with Neil Cavuto," pondering the mood in Las Vegas after Sunday's mass shooting. WATCH
MINDING YOUR BUSINESS
Wall Street rally on pause, but more gains seen in 2018: Reuters poll.
GM more than doubles self-driving car test fleet in California.
Google takes on GoPro, Snap with compact smart camera.
These CEOs may mull White House run after Trump's win
NEW IN FOX NEWS OPINION
Greg Gutfeld: The 'heroes and zeroes' of the Las Vegas massacre.
Tammy Bruce: Why gun control won't end mass murder.
Pennsylvania Attorney General: Equifax data breach an inexcusable breach of trust.
The media doesn't understand guns -- and doesn't want to.
HOLLYWOOD SQUARED
Hillary Clinton tries to tell Jimmy Fallon 'What Happened.'
Pauley Perrette leaving NCIS after 16 years.
Ex-Glee star Mark Salling gets prison in child porn case.
Suits star Meghan Markle: What you need to know about Prince Harry's girlfriend.
DID YOU HEAR ABOUT THIS?
Woman put glass in her food to get free meals at restaurants, charged with felony.
Vampire breast lifts are the new beauty fad.
Get set for sex robot revolution, survey says.
Was Santa Claus' grave discovered?
STAY TUNED
On Fox News:
Fox & Friends, 6 a.m. ET: Pete Hegseth learns how a SWAT team stops a threat; "The Property Man" host Bob Massi shares insight about the spirit of Las Vegas community days after the horrific massacre; and don't miss a provocative town hall on gun control.
Your World with Neil Cavuto, 4 p.m. ET: Las Vegas Mayor Carolyn Goodman describes her city's resilience as it tries to recover from tragedy.
Hannity, 9 p.m. ET: Sean continues to be live and on the scene in Las Vegas as he talks to survivors, first responders and other heroes.
On Fox Business:
Mornings with Maria, 6 a.m. ET: John Pistole, former FBI deputy director, and Dave Lapan, Department of Homeland Security spokesman, lend their insights in the search for a motive in the Las Vegas massacre.
Varney & Co., 9 a.m. ET: Stephen Cloobeck, founder of Diamond Resorts International, explains why he gave $400,000 to help Vegas massacre victims.
Making Money with Charles Payne, 6 p.m. ET: Puerto Rico Gov. Ricardo Rosselló reflects on President Trump's visit and the latest in hurricane recovery efforts.
The Brian Kilmeade Show, 9 a.m. ET to 12 noon ET: Marc Lotter, Vice President Pence's former spokesman, separates fact from fiction in reports of a rift between President Trump and Secretary of State Tillerson.
#OnThisDay
2011: Apple founder Steve Jobs dies at 56.
1988: Democrat Lloyd Bentsen lambasts Republican Dan Quayle during their vice presidential debate, telling him, "Senator, you're no Jack Kennedy."
1969: Monty Python's Flying Circus premieres on BBC 1.
1931: Clyde Pangborn and Hugh Herndon complete the first non-stop flight across the Pacific Ocean, arriving in Washington state approximately 41 hours after leaving Japan.
Thank you for joining us on Fox News First! Enjoy your Thursday and we'll see you in your inbox first thing Friday morning!