FOX NEWS FIRST: Dems seek Kavanaugh delay after accuser comes forward; Florence brings dam breach, flooding fears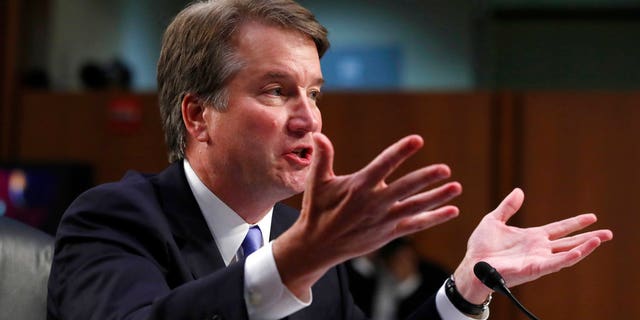 NEWYou can now listen to Fox News articles!
Welcome to FOX News First. Not signed up yet? Click here.
Developing now, Monday, Sept. 17, 2018
Democrats have demanded a delay in a key Senate vote this week on Supreme Court nominee Brett Kavanaugh's confirmation after a woman accusing Kavanaugh of sexual assault when they were teens came forward Sunday
The death toll from Florence has risen to at least 17 as residents of a North Carolina community have been told to evacuate amid fears that a that a dam is about to break
Text messages exchanged by anti-Trump former FBI officials Peter Strzok and Lisa Page are under new scrutiny after Page told lawmakers there was no evidence of Russian collusion at the time, sources told FOX News
Soon-Yi Previn, wife of filmmaker Woody Allen, broke her silence on sexual assault allegations against her husband and accused her adoptive mother, Mia Farrow, of 'taking advantage' of the #MeToo movement
THE LEAD STORY - KAVANAUGH ACCUSER GOES PUBLIC: The confirmation of Supreme Court nominee Brett Kavanaugh was thrown into chaos Sunday when the woman accusing him of sexual assault back when they were teens came forward with her explosive allegations ... The woman is Christine Blasey Ford, a professor at Palo Alto University, according to The Washington Post, which published her account on Sunday. She said the alleged incident with Kavanaugh "derailed" her for years and rendered her "unable to have healthy relationships with men." Ford's decision to go public capped a whirlwind series of events that began when Sen. Dianne Feinstein, D-Calif., sent shockwaves through Washington by announcing she had sent the FBI information about Kavanaugh she received from an anonymous accuser in July. It also threatened to upend Kavanaugh's confirmation, as top Democrats called for a full investigation.
Many Republicans immediately pushed back , saying it was "disturbing" that the decades-old allegations surfaced just days before the Judiciary Committee was set to vote on whether to advance Kavanaugh's confirmation to the Senate floor. Republicans have given no indication that they intend to delay Thursday's key vote. However, Senate Judiciary Committee spokesman Taylor Foy said Chairman Chuck Grassley was working to set up follow-up calls with Kavanaugh and Ford in light of the Post report.
CATASTROPHIC FLOODING FEARS: The death toll from Hurricane Florence rose to 17 Sunday after a 3-year-old died when a pine tree crashed into a mobile home, officials said ... The large pine tree split the mobile home down its center, Police Capt. Jon Leatherwood said. The tragedy happened around 12:45 p.m., the Gaston Gazette reported. The paper identified the child as Kade Gill. Leatherwood said the boy's father and mother were home but not hurt. The rising death count from Florence came as officials in Ashe County, N.C., told residents in the community of Creston to evacuate their homes. A dam holding back water swollen by Florence, officials said, threatened to breach.
Florence has dumped more than 30 inches of rain across North Carolina since it made landfall as a Category 1 hurricane Friday. Tens of thousands have been ordered to evacuate from communities along the state's steadily rising rivers — with the Cape Fear, Little River, Lumber, Waccamaw and Pee Dee rivers all projected to burst their banks.
WEAK CASE FOR COLLUSION? - Text messages from disgraced FBI figures Peter Strzok and Lisa Page, discussing whether to open a "case" in a "formal chargeable way" after Director James Comey was fired, are under fresh scrutiny after Page told congressional investigators there was no evidence of Russian collusion at the time, according to three congressional sources ... Two hours after Comey's termination became public on May 9, 2017, Strzok, a now-former FBI agent, texted Page, his then-colleague and lover: "We need to open the case we've been waiting on now while Andy is acting." "Andy" is a reference to then-Deputy Director Andrew McCabe who temporarily took over the bureau until Christopher Wray was confirmed as director in August 2017.
Page sat for a transcribed interview before the House Judiciary and Oversight committees in mid-July as part of a joint congressional investigation into the Justice Department's handling of the Russia and Clinton email probes. During the deposition, Page said that by the time special counsel Mueller was appointed and Comey was fired in May 2017, investigators still could not say whether there was collusion, according to a transcript reviewed by FOX News.
SOON-YI BREAKS SILENCE, STANDS BY HER MAN: Soon-Yi Previn, the wife of filmmaker Woody Allen, broke her silence in an interview published Sunday, saying the sex-assault allegations against her husband were "so upsetting, so unjust" — and that Mia Farrow, her adoptive mother, has "taken advantage of the #MeToo movement" ... Allen previously claimed that Farrow "coached" her daughter, Dylan, who said Allen sexually assaulted her in 1993 when she was just 7 years old. Farrow has strongly supported Dylan in the wake of the accusations.
Mia Farrow's son Ronan, who's become a prominent reporter in the #MeToo movement and has stood by his sister Dylan, tweeted that he was "angry" at New York magazine for the story, saying he considered the interview a "hit job," and a story that Allen had planted to "attack and vilify" Mia Farrow.
__________________________________________________________
Consider yourself an Influencer? Become a trusted adviser in our FOX News community and help guide our brand's future. Click here to find out how.
Members of FOX News Influencers:
Have the opportunity to be heard
Be part of a special network of peers
Get to influence new ideas and initiatives 
Receive updates on what we've learned and how your input has made impact 
Fill out our qualification survey and join us. Thank you for your continued support in our company's growth.
__________________________________________________________
AS SEEN ON FOX NEWS WEEKEND
FLORENCE'S RAMPAGE: "The debris and the trees down… it looks like a battlefield." – George Zaytoun, a man who was trapped inside his New Bern, N.C., home after choosing not to evacuate ahead of Florence, assessing the damage on "FOX & Friends." WATCH
COUNTDOWN TO THE MIDTERMS
Arizona Senate candidates McSally, Sinema debate border security, public safety at FOX News town hall.
Trump foes Claire McCaskill, Jon Tester vulnerable in pivotal Senate races, poll shows.
Kimberley Strassel: How Republicans could still win.
TRENDING
Athlete banned from all-you-can-eat restaurant for eating too much.
Former NHL player receives death threats after posting pictures of grizzly bear hunt.
Couple allegedly dumped 5-year-old in woods as punishment for wetting pants: report.
THE SWAMP
Biden bemoans not speaking out against Trump sooner as speculation continues over possible 2020 run.
John Kerry raised some eyebrows after comparing Trump to an 'insecure teenage girl.'
Ocasio-Cortez: 'Medicare for all' would save 'very large amount of money,' despite studies showing $30T cost.
ACROSS THE NATION
Kansas sheriff's deputy shot, killed in line of duty.
Illinois schools set up 'active shooter' boxes that look like fire alarms.
New Mexico observatory closed for 'security issue' to reopen.
MINDING YOUR BUSINESS
China tariffs, housing and earnings to headline the week ahead.
China weighs skipping trade talks after U.S. tariff threat.
Salesforce co-founder purchases Time Magazine for $190 million.
Elon Musk says Tesla moves from production problems to delivery problems.
Amazon adds another business worth $10 billion per year.
FOX NEWS OPINION
Liz Peek: As midterm elections approach, Republicans must do this.
Sadie Adams: 'C' is for Constitution: Our kids don't know much about America's founding – It's time we start teaching them.
Harry, J. Kazianis: Trump could still get the Nobel Peace Prize for North Korean denuclearization – Here's how.
HOLLYWOOD SQUARED
Tom Arnold, Mark Burnett get into heated confrontation, report says.
'Predator' hits No. 1 at U.S. box office, needs win in international market to offset high cost.
Paul McCartney reveals new song about climate change is directed at Donald Trump.
DID YOU HEAR ABOUT THIS?
Google's China prototype reportedly links searches to phone numbers.
Wisconsin squirrels freed from 'Gordion knot' of tails.
Rare, mummified Ice Age wolf pup and caribou dug up in Canada.
STAY TUNED
FOX Nation is coming! - Sign up now and find out about its exciting launch!
On Facebook:
Check out 'FOX News Update,' our new Facebook-exclusive news program!
On FOX News:
FOX & Friends, 6 a.m. ET: FOX News contributor Tammy Bruce on Supreme Court nominee Brett Kavanaugh's accuser coming forward and the potential impact on his confirmation. Brian Kilmeade hits the streets to find out how much Americans know about the Constitution. Other special guests include: Counselor to President Trump Kellyanne Conway; Dan Bongino; Stuart Varney.
On FOX Business:
Mornings with Maria, 6 a.m. ET: Special guests include: Nick Denissen, Amazon vice president; Emerald Isle, N.C. Mayor Eddie Barber; Hugh Weber, president of the New Jersey Devils; Susan DeVore, president and CEO of Premier.
Varney & Co., 9 a.m. ET: U.S. Interior Secretary Ryan Zinke; Reps. George Holding and David Rouzer of N.C.; Larry Wooten, president of the North Carolina Farm Bureau; David Fountain, president of Duke Energy; Jerry Howard, National Association of Home Builders CEO.
The Intelligence Report, 2 p.m. ET: Art Laffer, economic adviser under President Reagan; Mike Huckabee; Sean O'Hara, president of Pacer ETFs Distributors; Jeff Brooks, Duke Energy spokesman.
The Evening Edit, 5 p.m. ET: U.S. Rep. Tom Rice, R-S.C.; Rep. Francis Rooney, R-Fla.; Christian Whiton, former Trump State Department senior adviser.
On FOX News Radio:
The FOX News Rundown podcast: Twenty years after the Starr Report and former President Bill Clinton's impeachment, former Independent Counsel Ken Starr finally shares his story in his new book, "Contempt: A Memoir of the Clinton Investigation." He gives the podcast the inside story on his memoir. Todd Crawford's life forever changed when his wife, WABC-TV reporter Lisa Colagrossi, died of a brain aneurysm suffered on the job in 2015. Since that day, Crawford has dedicated his life to spreading the word about the silent killer. As part of "Brain Aneurysm Month," FOX News' Eric Shawn speaks with Crawford about the foundation named after his late wife and the symptoms you should look out for. Plus, commentary from FOX News contributor Kat Timpf.
Want the FOX News Rundown sent straight to your mobile device? Subscribe through Apple Podcasts, Google Play, and Stitcher.
The Brian Kilmeade Show, 9 a.m. ET: New York Post columnist Michael Goodwin on how New York Gov. Andrew Cuomo is setting the stage for a 2020 presidential run. Interior Secretary Ryan Zinke on the government's response to Florence. Jonathan Turley and Bret Baier on the latest developments in the Brett Kavanaugh confirmation battle and the potential ramifications of Paul Manafort's plea agreement with Robert Mueller.
The Tom Shillue Show, 3 p.m. ET: Comedian Joe DeVito and attorney Jonna Spilbor join Tom Shillue's nightly panel to discuss Paul McCartney's new song directed at President Trump and the latest news of the day!
#OnThisDay
1787: The Constitution of the United States is completed and signed by a majority of delegates attending the Constitutional Convention in Philadelphia.
1964: The James Bond movie "Goldfinger," starring Sean Connery, premiers in London. The sitcom "Bewitched," starring Elizabeth Montgomery, debuts on ABC-TV.
2011: A demonstration calling itself Occupy Wall Street begins in New York, prompting similar protests around the U.S. and the world.
FOX News First is compiled by FOX News' Bryan Robinson. Thank you for joining us! Enjoy your Monday! We'll see you in your inbox first thing Tuesday morning.