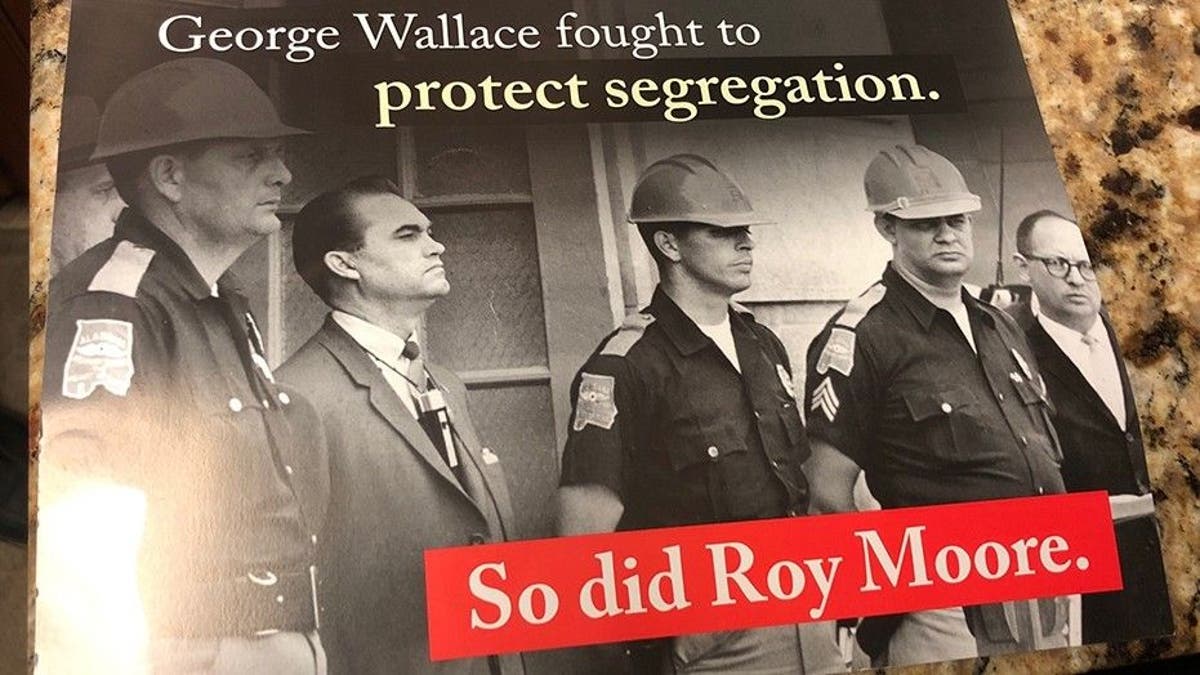 Welcome to Fox News First. Not signed up yet? Click here.
Developing now, Monday, Dec. 11, 2017:
Dems play a new race card in the final days before Tuesday's special Senate election in Alabama between embattled Republican Roy Moore and Democrat Doug Jones
Historic Southern California wildfire explodes in size, forcing new evacuations and threatening the homes of some of Hollywood's rich and famous
Vice President Mike Pence blasts Palestinian President Mahmoud Abbas' snub over President Trump's decision to recognize Jerusalem as the capital of Israel
President Trump slams "Fake News Media" after string of reporting errors on his presidency
Nominations for the 75th annual Golden Globes to be announced today
THE LEAD STORY: Democrats are turning up the race card in the final days before Tuesday's closely-watched and tight special Senate election between Democrat Doug Jones and scandal-plagued Republican candidate Roy Moore. The latest mailer sent by the Jones campaign compares Moore to former segregationist governor George Wallace ... Fox News has obtained a copy of the latest mailer, sent to black voters in the state. It shows an infamous 1963 photo of Wallace standing at the schoolhouse door at the University of Alabama to block black students from enrolling. "George Wallace fought to protect segregation," the flyer reads. "So did Roy Moore." The attack from the Jones campaign is rooted in how Moore in 2004 opposed efforts to remove segregationist language from Alabama's constitution. This is just the latest attempt by the Jones campaign to play the race card on Moore, who has been accused of sexual misconduct with several underage girls when he was in his 30s, a charge he has repeatedly denied. Last week, Jones faced a social media backlash over a different racially-charged flyer.
SO-CAL WILDFIRES FLARE UP: Southern California's largest and most destructive wildfire has exploded in size, forcing people to flee and threatening homes of some of Hollywood's elite ... Southern California is suffering through its second week of brutal wildfires. The so-called Thomas fire has burned about 200,000 acres and was only 15 percent contained, Fox 11 reported. The fire reportedly grew by more than 25,000 acres on Sunday as officials ordered new evacuations for residents living east of Mission Canyon and north of Highway 192. Thousands of homes and businesses in the county were without power. Officials handed out masks to residents who stayed behind in Montecito, the wealthy hillside enclave that's home to celebrities such as Oprah Winfrey, Jeff Bridges, Rob Lowe and Ellen DeGeneres, among others.
TRUMP ADMINISTRATION DEFENDS JERUSALEM DECISION AGAINST DETRACTORS: Vice President Mike Pence's office said it was "unfortunate" that Palestinian President Mahmoud Abbas canceled plans to meet with Pence in the West Bank this month because President Trump announced the U.S. would recognize Jerusalem as Israel's capital ... "The President has asked Vice President Pence to go to the region to reaffirm our commitment to work with partners throughout the Middle East to defeat radicalism that threatens the hopes and dreams of future generations. The Vice President very much looks forward to traveling to the region to meet with [Israeli] Prime Minister [Benjamin] Netanyahu and [Egyptian] President [Abdel Fattah] el-Sisi," Pence's press secretary Alyssa Farah told Fox News. "It's unfortunate that the Palestinian Authority is walking away again from an opportunity to discuss the future of the region, but the Administration remains undeterred in its efforts to help achieve peace between Israelis and Palestinians." Pence's statement came as Nikki Haley, the U.S. ambassador to the United Nations, defended Trump's Jerusalem decision on "Fox News Sunday," arguing the move should "fastball" the Middle East peace process.
TRUMP "WINNING" AGAINST "FAKE NEWS"?:President Trump slammed "the Fake News Media" after a string of major errors in reporting on his presidency emerged over the past week ... "Very little discussion of all the purposely false and defamatory stories put out this week by the Fake News Media," he tweeted. "They are out of control - correct reporting means nothing to them." Trump's comments came after a Washington Post reporter tweeted a misleading photo about the crowd size at Friday's rally in Pensacola, Fla., during which Trump took aim at ABC News' Brian Ross and CNN. In a now-deleted tweet, the Post's Dave Weigel posted a photo of a half-empty arena to mock Trump for saying the rally was "packed to the rafters." But that photo was not taken while Trump was speaking. Trump tweeted photos showing the arena when it was full.
DARK SHADOW OVER THE GOLDEN GLOBES: When nominations for the 75th annual Golden Globe Awards are announced this morning, the shadow of sexual misconduct scandals will be hard to avoid ... The nominations will begin at 8:15 a.m. ET. A second batch of nominees will follow live on NBC's "Today" show, where less than two weeks earlier, longtime host Matt Lauer was fired following multiple allegations of sexual misconduct. Lauer was just the latest media figure to be toppled by the ongoing revelations that have followed the ouster of former Weinstein Co. co-chairman Harvey Weinstein, along with many others, including Kevin Spacey. As a co-star in Ridley Scott's upcoming "All the Money in the World," Spacey – whose performance has been removed in reshoots – might have once expected to hear his named among Monday's best supporting actor nominees. Amazon's "Transparent" and star Jeffrey Tambor have also been regular Globes nominees, and could be again Monday for the show's fourth season.
AS SEEN ON FOX NEWS WEEKEND
NO THANKS, OBAMA: "I think it's laughable that President Obama thinks he has anything to do with the success of where the economy is right now." – White House Press Secretary Sarah Sanders, on "Watters' World," sounding off on former President Barack Obama is trying to take credit for the booming economy. WATCH
PREPARED TO BE A "CHANGE AGENT": "Nancy Pelosi is a stooge ... It's one of the reasons why Donald Trump got elected in the first place. He is not a career politician. He is a change agent that came to Washington to fix Nancy Pelosi's broken status quo." - David Bossie, Trump former campaign adviser, on "Fox & Friends Weekend," responding to House Minority Leader Nancy Pelosi after she said President Trump was "utterly unprepared" to be commander-in-chief. WATCH
ACROSS THE NATION
Self-propelled vessel intercepted smuggling more than 3,800 pounds of cocaine near Texas.
Jerry Brown: Trump doesn't fear 'the wrath of God.'
Tigertown: Morris, Trammell elected to baseball Hall of Fame.
MINDING YOUR BUSINESS
Hotly anticipated bitcoin futures surge 21 percent on debut. | Inside the bitcoin controversy.
Wall Street Journal: Hospital operators in merger talks to form U.S. industry leader.
Business world is 180 degrees from where it was under Obama administration: Bob Nardelli.
NEW IN FOX NEWS OPINION
This is the election that could test Trump's staying power in the Rust Belt.
Here's the incredible story of what we can learn from a man who forgave terrorists who tried to kill him.
Comfort and joy -- 10 ways to beat holiday stress.
HOLLYWOOD SQUARED
Armie Hammer apologizes for comments about Casey Affleck, sexual assault.
Chris Evans, Dana White, other stars go above and beyond for bullied boy.
Comedian Hannibal Buress arrested for disorderly intoxication.
DID YOU HEAR ABOUT THIS?
Neil Young auctions model train, classic car collections for big bucks.
Woman who looked at eclipse suffered crescent-shaped eye damage, study shows.
Outrageous snow globe nail art has mixed reviews on Instagram.
STAY TUNED
On Fox News:
Fox & Friends, 6 a.m. ET: A college Republican speaks out after being booted from a coffee shop for his "Make America Great Again" hat; Kellyanne Conway, counselor to President Trump, takes on Trump's support of Roy Moore, his latest smackdown on "Fake News Media" and more; Sebastian Gorka talks progress being made against ISIS under Trump; and Sen. John Cornyn weighs in on the sanctuary cities debate
The Story with Martha MacCallum, 7 p.m. ET: Bill Clinton accuser Juanita Broaddrick speaks out about being left out of Time's "Silence Breakers" article.
The Ingraham Angle, 10 p.m. ET: Laura takes on Univision anchor Jorge Ramos in a must-see immigration debate.
Fox News @ Night, 11 p.m. ET: Alabama Secretary of State John Merrill previews the key special Senate selection between Roy Moore and Doug Jones before voters go to the polls.
On Fox Business:
Mornings with Maria, 6 a.m. ET: Tyler Winklevoss, Gemini CEO and co-founder and Cameron Winklevoss, Gemini president and co-Founder, talk about their success with bitcoin; House Majority Whip Steve Scalise talks tax reform; Bill McNabb, chairman and CEO of The Vanguard Group, sounds off on the Trump economy.
Varney & Co., 9 a.m. ET: David Bossie, president of Citizens United, gives the inside story on his new book, "Let Trump Be Trump."
Cavuto: Coast to Coast, Noon ET: Ed Tilly, CEO of CBOE Global Markets, Inc, talks bitcoin.
Making Money with Charles Payne, 6 p.m. ET: Linda McMahon, small business administrator, discusses the state of small businesses under the Trump administration.
On Fox News Radio:
The Brian Kilmeade Show, 9 a.m. to Noon ET: New York Post columnist Michael Goodwin on why Trump made the right call on recognizing Jerusalem as the capital of Israel; Rep. Mark Walker discusses the latest in tax reform negotiations; RealClearPolitics co-founder Tom Bevan previews Tuesday's Alabama Senate election.
The Fox News Rundown podcast: Check out the Fox News Rundown! Fox News Radio's new long-form podcast features insights from top newsmakers, along with reporters and contributors from across all Fox News Channel platforms. All episodes of this podcast can be found at: www.foxnewsrundown.com. Want it sent straight to your mobile device? Subscribe through Apple Podcasts, Google Play, and Stitcher.
#OnThisDay
2008: Financier Bernie Madoff is arrested, accused of running a multibillion-dollar Ponzi scheme. (Madoff is serving a 150-year federal prison sentence.)
1980: "Magnum P.I.," starring Tom Selleck, premieres on CBS.
1946: The United Nations International Children's Emergency Fund (UNICEF) is established.
Thank you for joining us on Fox News First! Enjoy your Monday, and we'll see you in your inbox first thing Tuesday morning.